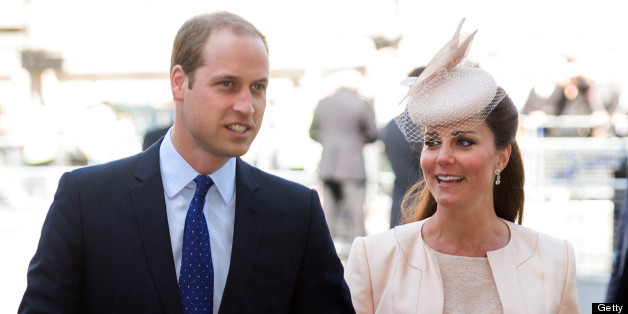 Getty
And while no one who has been following the spectacle of the royal pregnancy and birth -- least of all, probably Kate herself -- can say that it was a process devoid of anxiety, this year, for the first time in history, one of the peculiar pressures of giving birth to a royal heir was off. In terms of the succession, it didn't matter if Kate gave birth to a baby girl or a baby boy, because under the Succession to the Crown Act 2013, either one could inherit the throne. (The Act has not yet been passed in all of the Commonwealth countries.)
Which makes it ironic, in the scheme of things, that the royal baby is a boy.
In the past it was arguably a royal wife or female ruler's primary responsibility to provide a male heir; doing so would ensure that the line of succession remained unbroken. But as The Telegraph's Sarah Gristwood wrote on July 12, this year, the situation was flipped:
Henry VIII would have been baffled. Even the monarchs of 100 years ago might have had a moment's pause. But now, if the Duchess of Cambridge, who is due today, gives birth to a girl, she'll have fulfilled the desires of the whole nation. That must be pretty much a first in the history of the British monarchy.

Of course, the arrival of either a Prince or Princess of Cambridge is going to be cause for widespread celebration. But ..[i]f a blue-wrapped bundle emerges from the Lindo Wing, ... surely, if we're honest, there'll be just the faintest sense that someone has rained on the parade.
"Perusing the web, I've been struck by how many comments indicate a popular preference for a girl," Arianne Chernock, an associate professor of modern British history at Boston University, wrote on CNN last week, arguing that the Succession to the Crown Act was "greenlighted to save the British government from the embarrassment of denying the throne to William and Kate's first-born" but that its "uncontroversial" passage also "reflects a particular historical reality in Britain. Male preference aside, women have worn the crown there for most of the past two centuries."
In the days before the baby was born, Wall Street Journal's Carl Bialik explained that while a baby girl was "the overwhelming favorite" with bookmakers, in reality, "[t]he likelihood of correctly guessing the gender of an expected baby and predicting the result of a coin flip is about the same."
The scholars say that a number of factors can tilt the odds toward a boy or a girl. The wealth of the royal family might mean a boy is coming, while the duchess's case of severe morning sickness, known as hyperemesis gravidarum, often is associated with having a girl. But in general such factors rarely tip the scales much when it comes to individual couples' chances -- no more than a few percentage points.
Today, though some retain what could politely be called a historical mindset, others are left to wonder what a royal baby girl might have meant. Would she have represented a meaningful victory for women in Britain's cultural landscape? The world, perhaps? We'll never know, but what matters most, of course, is that the baby is here and healthy -- and the new mom is too.
Also on HuffPost:
Royal Children! (In No Particular Order)
FOLLOW HUFFPOST