9 Super Sweet Facts About Honey
Your kitchen cupboards are filled with goodness that go beyond preparing your favorite meal. Household goods, including apple cider vinegar, baking soda and oatmeal also make for amazing ingredients in at-home spa treatments.
Wanting to get more use out of our honey bear squeeze bottles, we put a call-out on Facebook, Twitter and Instagram asking followers how they sweeten up their homemade hair and skincare recipes. Here are nine ways to incorporate raw honey into your beauty regimen.
Hair mask: During the summer months, our strands take a brutal beating with exposure to harmful UV rays, chlorine, salt water and humidity. A honey-based hair treatment like this one will add shine to lackluster locks and condition split ends.
Facial scrub: Do you have sensitive skin? Instead of using a harsh, store-bought scrub, try whipping up a face mask with honey, brown sugar, olive oil and lemon juice. It's less abrasive, yet still sloughs away dead skin cells to reveal a smoother and more vibrant complexion.
Hair removal: Many skincare brands are looking back to ancient times and formulating honey-based at-home wax kits. But you can put on your own chemist gloves by mixing honey and lemon juice into a sugaring wax that's safe to use on your face, legs and bikini line.
Scars: Waiting for a scar to fade can be pretty nerve-wracking. Speed up the process by smoothing raw honey on the area before bed and covering with a bandage. In the morning, remove the cover-up and cleanse the skin.
Pimples and acne: Honey's anti-fungal and anti-bacterial properties draw out impurities from the skin, thus targeting breakouts, reducing redness and calming inflammation.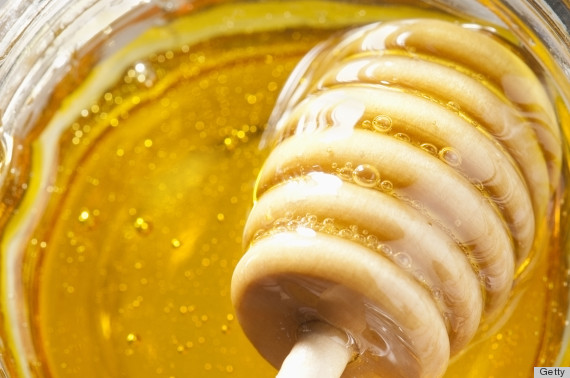 Moisturizer: As a natural humectant, honey is super hydrating. Add a few tablespoons to some whipped or melted shea butter to create a moisturizer that can be used from head to toe.
Bath treatment: Cleopatra -- we're referring to the real Egyptian queen and not Elizabeth Taylor -- was rumored to take luxurious baths in milk and honey. The alpha hydroxy acids in the dairy product breaks down dry, flaky skin, while the enzymes in the sweet food soften skin.
Chapped lips: Much like the homemade facial scrub above, you can use the same remedy (minus the lemon juice) for dry, chapped lips. Your matte lipstick would thank you if it could.
Sunburn: One of the best beauty secrets our grandmothers passed down to us is soothing sunburns with honey. While we take every precaution to avoid this summer skincare mistake, our limbs instantly feel better after dabbing on a little honey.
Do you use honey in your beauty regimen? Share your tips.
Eat and drink your way to better skin!
Drink These Smoothie & Juices For Better Skin, Hair & Nails
"Carrots have a high amount of beta-carotene, the precursor for vitamin A, among the common vegetables," says Snyder. "Vitamin A is necessary for shiny, well-moisturized head of hair, as well as promoting a healthy scalp, which is essential for healthy hair growth."

"Your hair's healthy growth depends on the overall health of your body and the nutrients you're putting into it," says Snyder. "When there are limited nutrients to go around, your hair will inevitably suffer, because your hair isn't an organ the body deems necessary for survival, you'll be left with dull, brittle, hair."

Extra credit: "Try beauty foods like pumpkin seeds, which are an excellent source of zinc, sulfur and vitamin A," notes Snyder. "These three compounds, taken together, are particularly helpful in building strong hair. They also contain B vitamins, which include biotin, an essential nutrient for strengthening hair, helping prevent thin and brittle hair, and increasing hair growth."

"Your nails indicate how mineralized your body is," says Snyder. "Weak or ridged nails indicate mineral deficiencies. In ancient Eastern philosophy, some cultures believe that lack of a white half moon in each nail bed indicates low circulation and vitality in the body."

"Be sure to eat beauty foods high in silica, which include leafy green vegetables, as well as a wide range of plant foods high in minerals and vitamins to grow strong, healthy nails," says Snyder.

Extra credit: Whole grains (preferably gluten-free), like millet, are also an excellent option, advises Snyder.

"Eat lots of potassium," says Snyder. "Potassium is integral in balancing pH levels, maintaining proper fluid levels and the balancing of other minerals, like sodium -- which in excess amounts can dry out your skin or make it look puffy. Potassium-rich foods are important for good health because healthy levels of potassium encourage responsible waste elimination from the body and the assimilation of glucose for muscle energy."

"Drink coconut water, it is one of the best natural hydrators," says Snyder. "Dehydration can make the skin look dried out, withered and leathery, and may lead to signs of premature aging. The key nutrients contained in coconut water include lauric acid, iron, potassium, magnesium and calcium."

"Dull skin may indicate congestion by way of a blocked, toxin-filled colon and/or gallbladder," says Snyder. "This usually means someone is consuming a lot of dairy or cooked animal or vegetable oils, or has a good diet, but is not cleansing as efficiently as they should be to keep up with the toxicity that their diet is kicking up."

"To reverse this, add more fiber to your diet with the Glowing Green Smoothie (which includes spinach, romaine, celery, apples and bananas)," says Snyder. "Cut out or minimize dairy consumption, as dairy is extremely acid forming and cook with vegetable broth or bake instead of always cooking with oils (even olive oil), as oil is dense and too much can congest your system. You can get enough good fats in your diet from small amounts of avocados and other whole plant foods, but oils are always processed as they are not found naturally in nature."

"Pineapple is excellent in promoting efficient digestion, which is what soft beautiful skin is dependent on," says Snyder. "Pineapple is also high in vitamin C, which helps in the formation of collagen, a protein that helps grow new skin and blood vessels."

"Flaxseeds offer vital omega-2 fatty acids that supply the right ratio of essential fatty acids to your body, ensuring peak functioning," says Snyder. "Omega-3 fatty acids also help prevent inflammation, which can lead to dry damaged skin."

"The liver filters toxins and pushes the waste to the colon," says Snyder. "But when these organs become overloaded with waste and toxins (from food), the toxins have to be pushed out through the skin, another eliminative organ, creating those ugly pimples called acne."

"Try beauty foods like coconut yogurt, which contains beneficial bacteria (probiotics), and can help keep your system clean," says Snyder. "It is dairy-free, as dairy is difficult for many to digest and has been to shown to be a potential problematic trigger for acne.
"

Extra Credit: "Raw apple cider vinegar is a strong digestive aid, helping to cure constipation and stimulating stomach acid, which aids in digestion and can help flush out toxins," says Snyder.

Extra Credit: "Onions contain flavonoids that stimulate the production of glutathione, which is the most important antioxidant the liver uses for detoxification," says Snyder.

"The balanced levels of potassium and sodium can flush out excess bodily fluids, which can help reduce puffiness throughout the whole body and the delicate under-eye area," says Snyder. "A potent detoxifier, celery can help make the skin around the eyes (and the skin in general) look healthier."

"Lack of beauty sleep is a big contributor to dark under-eye circles, and bananas are rich in vitamin B6, which helps ward off irritability and insomnia, as well as magnesium, which promotes better sleep patterns," says Snyder.
Want more HuffPost Style beauty content? Check us out on Twitter, Facebook, Tumblr, Pinterest and Instagram at @HuffPostBeauty. (For everything else check out our main HuffPost Style Twitter, Tumblr, Pinterest and Instagram @HuffPostStyle.)
---
Do you have a beauty story idea or tip? Email us at beautytips@huffingtonpost.com. (PR pitches sent to this address will be ignored.)