Detroit's historic bankruptcy filing on July 18 isn't just the biggest and most expensive municipal default in American history -- it's arguably the most complex to date.
This guide won't take you through a 60-year history crash course in how Detroit became essentially insolvent. But we've compiled all the crucial information needed to actually comprehend the situation Detroit is facing today. If you make it through and want more answers, you can find more HuffPost coverage of Detroit's bankruptcy here.
What is Chapter 9 Bankruptcy?
Let's begin with the basics. Chapter 9 refers to the section of the bankruptcy code that deals with municipalities that file for bankruptcy. Congress established the Municipal Bankruptcy Act in 1937, after many attempts to address cities' finances during the Great Depression. Fewer than 500 municipalities have qualified for bankruptcy under Chapter 9 since.
A municipality can mean a big city like Detroit or a small town like Central Falls, R.I., which filed for Chapter 9 protection in 2011. The law also applies to school districts, counties, taxable districts or utilities owned by a municipality.
Detroit is at least $18 billion in debt. Who is going to pay that back?
The short answer is nobody, since a bailout of any kind seems highly unlikely. If Detroit qualifies for bankruptcy protection, a federal judge will ultimately decide how much the city has to pay its creditors. The city will likely go through mediation first in an attempt to compromise with pension fund officials, retirees, bondholders, bond insurers and other creditors who were promised money. But a judge could ultimately rule that lenders to Detroit won't see much of the money they're owed. Once the city leaves bankruptcy, it will still have to abide by a budget and pay off any debts a judge forces it to pay.
Does "bankrupt" mean the city has completely run out of money?
Not exactly. Chapter 9 requires that a city prove to be "insolvent" before it can go through bankruptcy proceedings. That means the city hasn't paid debts when they were due, or cannot reasonably pay future debts. If a city is currently paying its bills, a bankruptcy judge will make a decision based on whether the city's short-term financial future is untenable. Some cities are rejected from bankruptcy proceedings for not being insolvent enough. In 1991, Bridgeport, Conn., was found not to be insolvent, although the city was in financial distress.
How many creditors does Detroit have?
Roughly 100,000. This includes banks, bondholders, and more than 20,000 retirees whose pensions could be severely reduced. Also, many major municipal bond funds have loaned money to the Motor City. You could be a Detroit creditor and not even know it!
Is Detroit still paying its bills?
Some of them. Secured creditors -- those who have collateral (physical property or a revenue stream) they can repossess if a default occurs -- will continue to be paid. Bondholders who funded Detroit's Water & Sewerage Department, which is a city asset, will continue to be paid during bankruptcy. Detroit Emergency Manager Orr already defaulted on many unsecured payments in June; many other bills the city owes will go unpaid for the time being.
Will Detroit still have police officers, firefighters and other services during bankruptcy?
Yes. The City of Detroit maintains that city services will continue uninterrupted during bankruptcy proceedings. Under the restructuring plan Orr released in June, Detroit would spend an additional $1.2 billion on city services over the next decade if a bankruptcy judge were able to negotiate with the city's creditors.
How will bankruptcy change Detroit?
Only time will tell, but Orr's restructuring plan provides some insights into the changes Detroiters might see. Click through the following slideshow for the highlights. (Story continues below.)
How Detroit Could Change After Bankruptcy
We combed through Detroit Emergency Manager Kevyn Orr's 150-page-plus restructuring plan he released to the public in June 2013, weeks before the city's bankruptcy filing, after meeting with bondholders. Orr met with those creditors to negotiate Detroit's structural long-term debt, now said to total over $18 billion. Along with finances, the plan proposes 10 years' worth of improvements, priorities and changes that will affect residents, businesses, neighborhoods and visitors. Click through the slideshow to read our analysis of how Detroit could change after bankruptcy. You can see the nitty-gritty details for yourself by reading the full report here.

Mayor Dave Bing launched a program in April 2010 with the goal of demolishing 10,000 vacant structures by the end of his term. Over 5,000 of those abandoned buildings have been torn down, with the remainder scheduled to go by the end of 2013. But there was never enough money to fully rid Detroit of its blighted buildings. Orr's report says a funding gap of $40 million exists before Bing's goal can be completed. And while 10,000 demolitions is an insanely high number, Orr's report says that only covers 13 percent of the city's vacant buildings, and 26 percent of those that have been deemed dangerous.

Orr's restructuring plan presents a number of ways the city can speed up blight removal. One tactic involves coordinating and simplifying the myriad local, regional and national agencies and statutes that regulate demolitions. Another priority is moving blighted land through the demolition process faster, in order to return those properties to private ownership (Pages 72 and 73). Police and fire departments will integrate their data so demolitions can be targeted to reduce crime and arson. Orr's budget calls for $50 million annually in 2014 and 2015 to battle blight, to be increased to $100 million each year for 2016 through 2018. Some of that money will have to be raised through grants and public-private partnerships.

According to the city's preliminary analysis, Detroit hasn't kept up on its obligations to beneficiaries of the General Retirement System and Detroit's Police & Fire Retirement System. By how much? A staggering $3.5 billion, says Orr, who writes, "At this level of underfunding, the City would have to contribute approximately $200 million to $350 million annually to fully fund currently accrued, vested benefits. Such contributions will not be made under the plan."

Under Orr's plan, pension funds would receive a proportional (pro rata) share of $2 billion in notes that the city would issue. But since that share of $2 billion won't equal the total amount of unfunded pension costs, the report notes, pensioners should expect "significant cuts in accrued, vested pension amounts for both active and currently retired persons." According to the Detroit Free Press, retiree health benefits will likely be transferred to modified medical benefit plans that will come into effect with the Affordable Care Act. Those over the age of 65 would be transitioned to Medicare.

Hiring a new police chief was the first task on Kevyn Orr's Detroit Police checklist, but it's not the only change he recommends. Orr envisions using a data-driven approach to restructure DPD from top-to-bottom. Another priority is improving officer morale and giving the force the tools they need to do their jobs: bulletproof vests, tasers, vehicles and functional IT. He's also a fan of the "Broken Windows" policing theory piloted last year in the city's Rosedale Park neighborhood. In total, Orr plans to spend $26 million more on DPD in 2014, with an additional $66 million investment over the next four years.

It should come as no surprise to readers that Detroit is bonded to the hilt. Creditors may take a huge hit on payments from the city, reportedly as little as 10 cents on the dollar. Orr has stopped paying some debts entirely, and his plan calls for reinvesting that money into city services after bankruptcy.

Aging fleets of fire engines and facilities to maintain them threaten the impact of the Detroit Fire Department, which responds to around 30,000 calls every year. The restructuring plan calls for at least $6 million in additional investment over the next five years, with an $18.4 million facility investment in 2017. But the restructuring plan doesn't talk about hiring any more fire investigators -- as of Dec. 2012, the department only had 12 on staff to investigate more than 5,000 suspicious fires set in the city's neighborhoods every year.

The restructuring plan mentions that DDOT, Detroit's underfunded bus system, could eventually be merged with a private company or SMART, the suburban public transportation system. There's also talk of bringing DDOT under the control of the new regional transit authority. A consultant is apparently studying long-term solutions, including outsourcing (Pages 74 and 75). While it could make more sense long-term to have all of the region's transit under one umbrella, the RTA is too new to make that determination and doesn't yet have funding. In the event of a merger, gains in savings and efficiency may be balanced with layoffs.

Managing and maintaining the 982-acre Belle Isle Park costs the city of Detroit some $6 million annually. Orr's verdict on Belle Isle comes as no surprise: He says the city "intends to enter into lease transaction with State on generally the same terms as the State's prior proposal," though no timetable is given (Page 87). That means "Detroit's crown jewel" is slated to become a state park managed by the Michigan Department of Natural Resources. Under the previous 30-year lease proposal, pedestrians and bikers would still be able to access the park for free. Motor vehicles would have to pay an annual $11 Recreation Passport fee to the MDNR, good for accessing any state park.

Orr proposes possibly transitioning to "paperless" transactions at the 36th District Court (Page 73). Welcome to the 21st century, guys!

Orr's report proposes levying an income tax for reverse commuters -- those who live in Detroit but work outside the city (Page 81). The City loses approximately $30 to $45 million of income tax revenue every year, claimed to be 15 to 20 percent of the total tax collected, from reverse commuter non-filers. Expect new legislation to tax these residents.
Who decides whether Detroit is bankrupt?
Orr, who was appointed as emergency manager after Michigan Gov. Rick Snyder found Detroit to be in a financial crisis, submitted his recommendation that the city file for bankruptcy on July 16. Snyder approved the recommendation and submitted the bankruptcy filing on July 18. But that's only the first step. U.S. Bankruptcy Judge Steven Rhodes will decide whether Detroit is eligible for bankruptcy protection. If the city's filing is approved, Detroit will spend at least 14 months in court, according to Orr, but possibly much longer.
Is Detroit's bankruptcy unconstitutional?
Bankruptcy typically introduces a "stay" of all legal action. If this were a normal bankruptcy, Detroit would not have to address any pending lawsuits that creditors have filed against it during this period. But the state of Michigan has a constitutional amendment barring any reduction of public pensions. A Circuit Court judge in Ingham County, Mich., issued an order July 19 to temporarily halt the bankruptcy proceedings because she said they violated that constitutional amendment protecting public pensions.
On Wednesday, U.S. District Judge Steven Rhodes froze state court challenges to Detroit's bankruptcy filing, allowing the city to move through the eligibility process for bankruptcy.
Read more on the constitutionality argument and Detroit's legal battle.
Will Detroit sell off its art?
This question hasn't been answered yet. Technically, all of the assets in the Detroit Institute of Arts are owned by the city, a collection worth at least $3 billion.
Read more on what bankruptcy could mean to the DIA.
What is Detroit's debt?
The City of Detroit estimates that it owes more than $18 billion in short-term and long-term debt, but even that might be a lowball figure. Detroit currently spends 38 cents of every dollar on "legacy debt," or retiree health care, pensions and other costs. That's money that can't be spent on services desperately needed by businesses and residents, like firefighters, police officers, park upkeep, garbage pickup and streetlights.
The infographic below offers a visual breakdown of Detroit's debt. Read on for definitions of what these various categories of debt actually mean.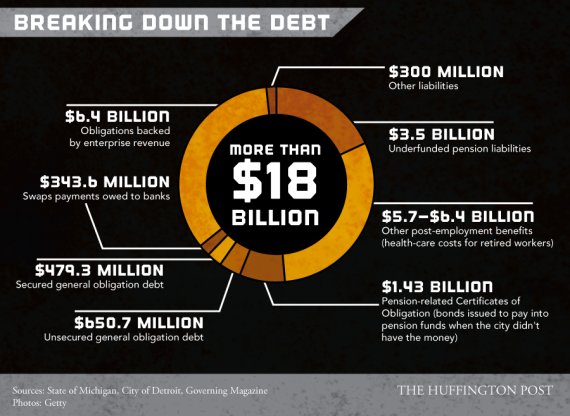 See the full infographic here. By Jan Diehm for The Huffington Post.
OPEB: Other post-employment benefits that are paid out to workers after retirement. This typically includes healthcare premiums, life insurance payments, death benefits based on years of service and deferred compensation. The skyrocketing cost of healthcare for retirees is one reason this category encompasses at least $5.7 billion of the city's estimated debt.
Underfunded pension obligations: Detroit's pension funds are underfunded by a total of $3.5 billion, according to a report from Milliman, an actuarial firm in Seattle. One reason for this: retirees currently outnumber employees paying into the City of Detroit's pension systems by more than two to one. Pension funds are unsecured debts, meaning that workers may see significant cuts to their pensions and higher out-of-pocket costs for their health care. Going forward, legacy liabilities are expected to require more and more of Detroit's net revenue to be fully funded.
Obligations backed by enterprise revenue: This is secured debt, the majority of it going to bonds issued to pay for the city's Water & Sewerage department, which serves much of Metro Detroit. A small amount generates the city's automobile parking fund. These are considered special revenue and will likely be "insulated from the city's insolvency," writes Barron's, a financial investment magazine and website. That means this debt will be paid back before money owed to pensioners and regular bondholders.
Certificates of participation: These are essentially pension obligation bonds. The City of Detroit took out a combined $1.4 billion in COPs in 2005 and 2006 to fully fund its pensions systems. These bonds are unsecured, meaning that bondholders may not have priority, or could be forced to accept partial payment from a bankruptcy judge.
Swaps payments: The City of Detroit set up trusts managed by its two pension funds to enter into swaps agreements on $1.4 billion in pension obligation certificates (see above). The COPs had variable interest rates, but swaps agreements essentially gave Detroit a (supposedly) more stable fixed interest rate. When federal interest rates were higher than the fixed interest rate, swaps holders paid the difference. But when interest rates dropped below the fixed interest rate, Detroit owed the difference between interest rates to the holder of the swaps. The swaps agreement was secured by monthly payments Detroit's three casinos give the city. When Orr decided to default on these payments in June, the $11 million monthly casino revenue went to the insurers of the swaps holders. Orr recently reached an agreement with the insurer that will let the city recoup the casino revenue.
General obligation debt: Totaling over $1 billion, these are bonds Detroit issued to pay for public works and balances of the General Fund, which is the budget for all city departments and services. Just over $650 million of these bonds are unsecured.
Other revenue: This $300 million sum is a catch-all for several different debts owed by Detroit. The city owes workers money for unpaid sick days and vacation time; worker's compensation; capital leases; and almost $64 million in judgments and lawsuits that don't include worker's comp.