Yunel Escobar Flip Behind His Back To Start Amazing Double Play In Rays-Red Sox Game (VIDEO)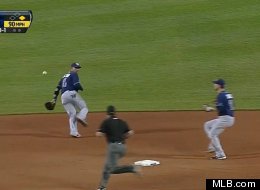 It's hard to make a difficult double play look as routine as the one Tampa Bay's Yunel Escobar and Ben Zobrist turned on Wednesday night against Boston.
With a man on first base, Red Sox All-Star Dustin Pedroia hit a ground ball up the middle. Escobar moved to his left and gloved it and -- without taking the ball out of his mitt -- quickly delivered a perfect behind-the-back toss to second baseman Ben Zobrist. Zobrist made a barehanded catch to get the force out at second and then threw Pedroia out at first. 
WATCH MORE 2013 MLB HIGHLIGHTS BELOW