Leave it to a lingerie company to give a whole new meaning to the phrase "bosom buddies."
Brazilian brand Hope has decided to bring the most unlikely political characters together cheek to cheek in a new ad campaign for its Super Push Up bra. In one, George Bush and Hugo Chavez's likenesses appear on a woman's right and left breasts, respectively. President Ronald Reagan and Fidel Castro occupy another set in a different shot, while Margaret Thatcher and Che Guevara bump heads in a third ad.
The slogan? "Right and Left Together." Looks like Hope has some higher message in its cheeky campaign, as it has forced the most diametrically opposing political figures together (via a woman's cleavage, but no matter). Ad Rants points out that it's not unlike Bennetton's controversial UnHate campaign. With Edward Snowden inspiring playful lingerie ads and Agent Provocateur using a Kate Moss campaign to make a comment on marriage and the Vatican, we're starting to think that bra companies are going to have to stay tuned to politics if they want to keep people talking.
You got that, Victoria's Secret? Check out the Hope ads below and tell us what you think!
PHOTOS: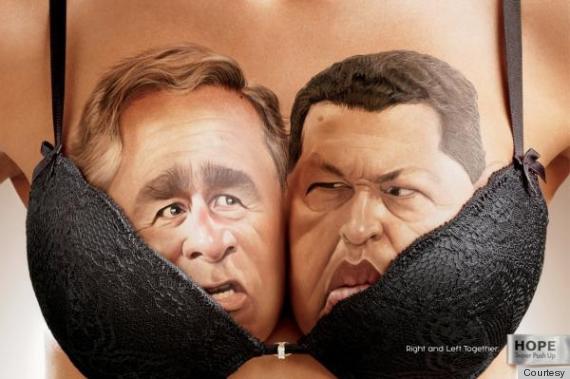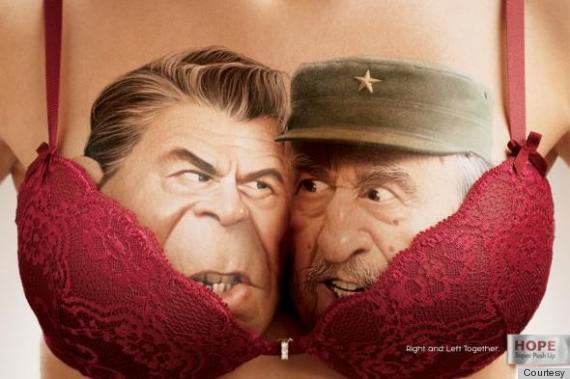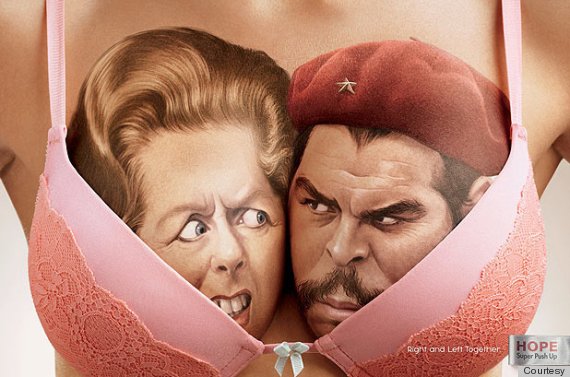 Add this one to the list?
100 Ads That Got People Talking
Levis.

Saatchi and Saatchi's campaign for The Conservative Party ahead of the 1979 general election.

Durex.

Sisley fashion brand.

Sean John's Unforgivable Woman fragrance.

Linford Christie stars in Kleenex's tissue advert.

Lynx.

BMW.

BaF's anti-domestic violence ad.

Red Tape menswear fashion brand.

Controversial French anti-smoking advert,

MacDonald's.

QSOL service provider.

NSPCC

A German MacDonald's advert.

Heinz.

Cadbury's.

Miquita Oliver in Women's Aid advert.

Advert for Chicolate chocolate substitute.

Skin Burn, anti-smoking ad

Barnardo's.

Tipalet cigarette advert.

Benetton

TG4 television program entitled 'Paisean Faisean'.

Courage beer.

Budweiser.

Barcardi rum.

Amnesty International

Skyy alcoholic drink.

Amnesty International

Amnesty International

Anti binge-drinking advert

Van Heusen

BMW

Pitney-Bowes Postage Meter

Government anti-drug driving advert

Anti-abortion advert

Advert against verbal abuse

Fabrica

Benson & Hedges

American Apparel

Amnesty International

Post-It

An M&C Saatchi advert for St Matthew's in the City in Aukland, New Zealand.

Israel is still angry that the supermodel didn't serve in the army, and they are even more angry that she is in a tourism video for the country.

Wonderbra's infamous advert.
Want more? Be sure to check out HuffPost Style on Twitter, Facebook, Tumblr, Pinterest and Instagram at @HuffPostStyle.