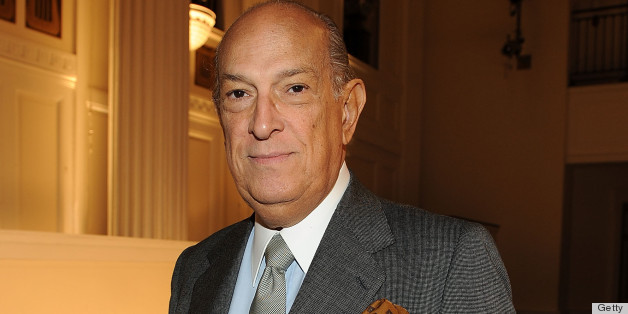 As unforgiving as the fashion world may seem, the industry never ceases to surprise us by dolling out second chances. Perhaps the most merciful of the bunch is Oscar de la Renta, the man who heralded shamed designer John Galliano back into the design world.
De la Renta continues to touch on sensitive topics during an interview today with "CBS This Morning." Chatting with Charlie Rose, the designer explains just why he made the controversial decision to welcome Galliano into his design studio after those infamous racist and anti-semitic remarks:
"Well Anna Wintour asked me if I would have John in my studio for three weeks and I said yes of course. I have known John for 30 years. Over 35 years. He's a very talented man. And who has not done at one point in their life something bad? John has had a lot of issues -- health issues, abuse -- but I like John. He's a great guy and I was happy that I gave him that second chance and I hope that he will survive all of this because he is an extremely talented man."
If you remember, Galliano spoke to Rose as well recently, claiming not to remember uttering the words "I love Hitler." Since the incident, he was fired from his post at Christian Dior and from his own namesake brand and faced a brief period of reclusion. Strangely enough, the fashion world has seemed to put the past in the past, with many top players touting Galliano's "talent" as a reason for his welcomed return.
But don't think de la Renta grown soft when it comes to forgiveness -- the 81-year-old's sympathy only extends so far. When asked to comment on the Anthony Weiner sexting scandal, he didn't seem as understanding (he was the man who designed Huma Abedin's wedding dress, after all).
"I feel very, very sorry for Huma, because I think she's a wonderful, great girl," he said. "You know I think in life, people do deserve a second chance. A third and a fourth? I doubt it."
Do you agree with de la Renta?
WATCH:
The style world can get ugly:
PHOTO GALLERY
BEFORE YOU GO
Craziest Fashion Controversies & Feuds
PHOTO GALLERY
Craziest Fashion Controversies & Feuds
Want more? Be sure to check out HuffPost Style on Twitter, Facebook, Tumblr, Pinterest and Instagram at @HuffPostStyle.