If you don't already know, this is Aubrey Plaza.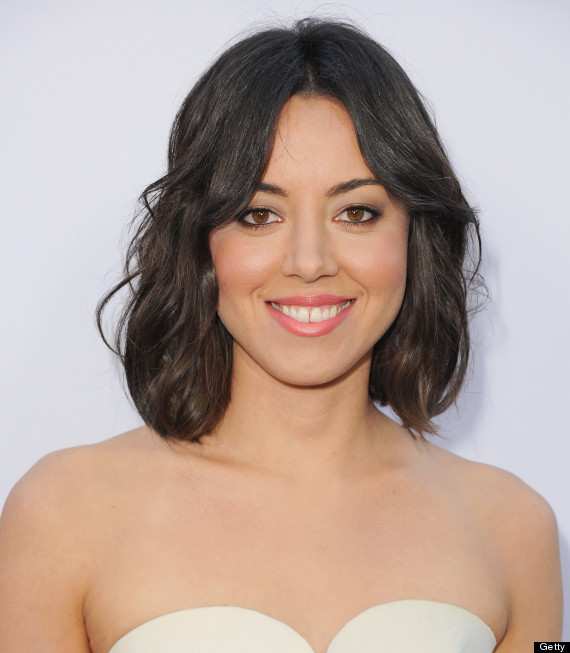 But don't be fooled by her pearly whites ...
She is so wonderfully awkward.
A real-life Daria (this movie needs to happen, like, now!)
She's willing to admit what we all try to hide in our flasks.
November 29, 2012
She can't be bothered with nonsense.
Or by her surroundings/peers/fellow mankind.
everyone is lame and my legs are on fire

— Aubrey Plaza (@evilhag) July 2, 2013
Girl knows her own worth.
She tells it like it is.
TWITTER

— Aubrey Plaza (@evilhag) July 2, 2013
And is the queen of eye-rolls.
She'll easily rain on your parade.
And mock you -- to your face.
Yup, clearly a party animal.
COMIC CONNN #TheToDoList pic.twitter.com/jHIuGkkmH6

— Aubrey Plaza (@evilhag) July 18, 2013
death is near pic.twitter.com/ZNO03YeZ

— Aubrey Plaza (@evilhag) January 21, 2013
And yet, she's got the coolest friends.
#trevorproject!!! pic.twitter.com/tshN6bkp

— Aubrey Plaza (@evilhag) December 3, 2012
She acts all mean and detached but she's a fucking rainbow-colored softie at heart. #CameosAreFun @evilhag pic.twitter.com/cj5eWps172

— Anna Kendrick (@AnnaKendrick47) July 26, 2013
@jasonritter smoking grass kills vine.co/v/bLKOrLg6mm3

— Aubrey Plaza (@evilhag) June 6, 2013 Probably because her comebacks are THE BEST.
She can do sexy.
But never in an obvious way.
Hell, she's so sexy, she blew off Ryan Gosling -- twice!
Her outlook on life is uplifting.
And she's got a healthy relationship with food.
POPCORN IS EVIL #TheToDoList

— Aubrey Plaza (@evilhag) July 9, 2013
EMERGENCY. Need late night Chinese delivery food to west village in NYC. Yummy Noodles won't answer. Help. yUMMY NOoDLES WON'T ANSWER

— Aubrey Plaza (@evilhag) October 16, 2012
bumbely bee. bumbley bah. bars bars bars. you're my only friend. i love you till the end. chocolate bumbley bar.

— Aubrey Plaza (@evilhag) May 24, 2011
At the end of the day, she's us.
is watching Law & Order SVU upside down and through a mirror

— Aubrey Plaza (@evilhag) November 11, 2010
We <3 you, Aubrey!
Also on HuffPost:
Loading Slideshow
No Hablo Español

While Plaza is always outspoken and proud about her Puerto Rican roots and tries to spend every summer in the islands with her family, she's unfortunately lacking in the Spanish-language department. "I wish I was fluent," <a href="http://www.nydailynews.com/latino/girl-slouch-article-1.376882" target="_hplink">Plaza told the NY Daily News.</a> "My grandfather came over from Puerto Rico and raised his kids speaking English so that it would be easier for them to assimilate." "My family speaks to me in Spanish," she adds, "and I respond in English."

Sister Is Her Inspiration

While Plaza is 28 years-old, she's still believable in her role as April the sarcastic assitant with the deadpan delivery in "Parks & Recreation." So where does she get that younger inspiration from? A lot of it comes from her younger sister. "One time I heard her call someone 'schwasty,' and I was like, 'Natalie, what does that mean?' And she was like, 'You know, schwasty.' And I was like, 'No, I don't know.' But I'm gonna use it," <a href="http://www.latina.com/entertainment/tv/parks-recreation-star-aubrey-plaza-explains-why-shes-so-hot-right-now" target="_hplink">Plaza told Latina Magazine. </a>

Stroke

While it's mostly brilliant acting and great jokes for Plaza, the actress went through a big health scare back when she was still a student at NYU. During one of her improv comedy classes Plaza suffered a stroke. "My two friends that were with me at the room at the time thought I was doing a bit with them. And they kept saying 'stop it,' like they thought I was joking or something," <a href="http://www.npr.org/blogs/monkeysee/2012/06/05/154353514/aubrey-plaza-takes-quite-a-trip-in-safety-not-guaranteed" target="_hplink">she told NPR</a>. The stroke was caused by a clot in left temporal lobe of her brain. Plaza says she's completely recovered.

Coolest Name?

Aubrey Plaza was named after a 1970s song, <a href="http://www.youtube.com/watch?v=dwdTcoUHfkw" target="_hplink">"Aubrey,"</a> by the band Bread. Her mother, <a href="http://fashion.elle.com/culture/2012/06/08/aubrey-plaza-on-rejection-tina-fey-and-safety-not-guaranteed/" target="_hplink">who had Aubrey when she was 20 years-old,</a> chose the actress' cool name.

Role In her Honor

In her latest movie "Safety Not Guaranteed" Plaza plays Darius, an intern at a Seattle magazine who goes down to track a story with her colleagues based on newspaper classified ad by a person asking for someone to accompany him in time travel. Darius quickly learns that the ad's writer is a possibly insane but sweet grocery store worker. She pretends to believe he can actually go back in time in order to get the story. Writer Derek Connolly, wrote the script with Plaza in mind for the role of Darius. "I was very flattered," <a href="http://www.huffingtonpost.com/2012/05/31/aubrey-plaza-safety-not-guaranteed_n_1561260.html" target="_hplink">she told Huffington Post about the role being written with her in mind,</a> "Honestly, I didn't think I was even at a place in my career where someone would do that for me. I was just hoping that it was good."

Ryan Gosling, Who?

Apparently some of that April nonchalant attitude is not just acting. Every-ladies-dream-man Ryan Gosling has tried to approach Plaza twice and her response both times? Ignore. The first time was at a Jamba Juice, when the actor approached Plaza with the suave line <a href="http://jezebel.com/5879283/aubrey-plaza-shoots-down-ryan-gosling-for-the-second-time" target="_hplink">"Hey Girl" </a>. Plaza says she didn't recognize the actor, grabbed her drink and walked away. In a second attempt, <a href="http://www.huffingtonpost.com/2012/01/24/aubrey-plazas-murderous-plans-involving-ryan-gosling_n_1228793.html" target="_hplink">Gosling got turned down after he invited Plaza to a magic show.</a> The girl is apparently quite hard to get!

Serenade

At the age of 13, Plaza's first boyfriend asked her out through song as he sang on stage in a room full of people. The kid? Johnny Gallagher, Jr., who won a Tony for Spring Awakening. Good thing <a href="http://www.movieroomreviews.com/safety-not-guaranteed/safety-not-guaranteed-roundtable-aubrey-plaza-and-mark-duplass-97186" target="_hplink">Plaza has a casette with a song that he wrote for her called "When We Get Married"</a> as proof of their teenage love story.