Have you ever tried popping into the drugstore to pick up a nail polish and gotten completely overwhelmed by the abundance of choices? Well, SquareHue understands your agony. The Miami-based company has recently launched a subscription nail polish delivery service for the polish-obsessed. Each month, subscribers will receive three preselected nail polish colors in the mail for $21.
But we think the best part about being a subscriber is that SquareHue allows each beauty-addict to become a donor to important causes and charity organizations. This month, the company is donating portions of their revenue to organizations like the A21 Campaign which fights human trafficking. And we'll gladly jump on board any beauty deal that gives us a great mani while combatting important world issues at the same time.
You can sign up for the SquareHue subscription service here.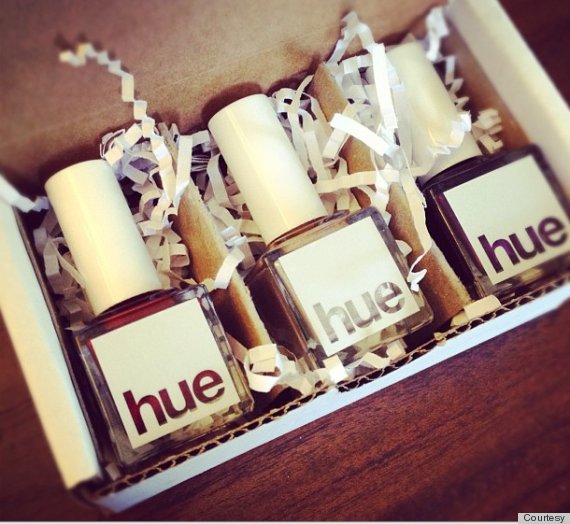 In the meantime, check out the best polish colors for tanned skin...
Nail Polish Colors For Tanned Skin
This opaque white nail will stand out against a bronzed complexion, or you can apply as a base to make neon nail polish pop. $30, chanel.com

Dark-skinned beauties in search of the perfect nude should consider this one-coat latte nail color. $4, beautyencounter.com

This pretty pastel blue will look feminine and flirty against tanned skin. $20, lordandtaylor.com

If you're bored with pastels, paint on this highly pigmented blue nail polish. $18, bloomingdales.com

Medium to dark skin tones can pull off this deeper shade that's not quite navy. $15, lancome-usa.com

This creamy orange shade will look stunning with your new gorgeous glow. (We like it on toes, too!) $8, ulta.com

Women with deeper complexions can get away with this richer shade of tangerine. $14, julep.com

Like the cheerful name implies, this bright nail polish color will perk up tanned skin. $16, nordstrom.com

For those ladies who love pink, this shade has a warmer finish that looks stunning against cool skin tones. $8, zoya.com

We're declaring this the summer's most flattering punchy shade of purple! $8, nordstrom.com

Tom Bachik has helped stars like Victoria Beckham, Gwen Stefani, and Beyoncé get gorgeous manicures on and off camera. As Chanel's top nail expert, he shares his tips on why darker nail polishes peel faster, how to make nail polish last longer on your nails, and why he recommends using an acetone nail polish remover instead. Watch our video for five nail care secrets to know from Chanel's exclusive manicurist.
Want more? Be sure to check out HuffPost Style on Twitter, Facebook, Tumblr, Pinterest and Instagram at @HuffPostStyle.