Need a new tooth? Chinese researchers may have developed a way to grow human teeth, but those in need of a replacement may be a bit turned off when they learn how the substitute is created.
In a study published Tuesday in peer-reviewed journal Cell Regeneration, a team from the Guangzhou Institutes of Biomedicine and Health reveals how they used urine stem cells to grow teeth in mice.
The team compared the teeth grown from urine stem cells with structures developed using human embryonic stem cells, the study's control group.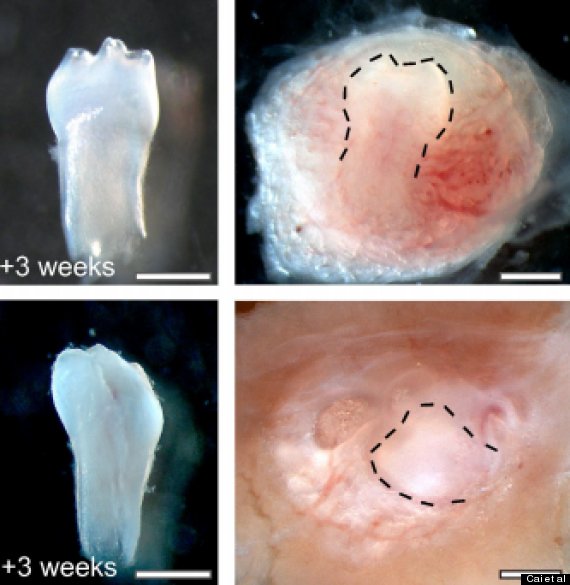 The above figure shows a tooth structure created from human embryonic stem cells (top) and induced pluripotent stem cells (bottom), which are derived from urine. The images on the left show the structures removed from the mouse kidney. (Image courtesy of Cai et al./Cell Regeneration)
The use of urine stem cells may be an unusual method for growing teeth, but it's not the only ongoing research into bioengineering replacement teeth. A recent study in the U.K. published in the Journal of Dental Research, indicated that cells from human gums combined with mouse embryonic cells may be used to form human teeth.
"It is well known that adult dental stem cells have been successfully applied in tissue
engineering research. It has proven to be possible to generate dentin pulp complexes, even whole teeth out of isolated cells," the Chinese researchers write in the study. "Although these approaches could lead to tooth formation, the sources of endogenous dental epithelial stem cells seem to be scarce."
That's why, as the authors explain, they decided to produce substitutes for the specific type of dental cells using stem cells derived from urine.
Guangzhou researchers involved in the study could not be reached for comment.
Also on HuffPost:
7 Foods That Are Bad For Teeth
SUBSCRIBE AND FOLLOW
Get top stories and blog posts emailed to me each day. Newsletters may offer personalized content or advertisements.
Learn more