Presidents' summer homes, as you may expect, are not like yours and mine. The country's chief executives aren't generally chipping in for beach house shares, or holing up with the family in un-air conditioned cabins at mosquitoey lakes -- though, really, both those options actually sound pretty nice this time of year.
But not as nice as these.
John F. Kennedy, Hammersmith Farm

Credit: Getty Images
Jack and Jackie got married at this Newport mansion, and 48 acre property, which is also Jackie's childhood home (and reportedly the site of a small pet cemetery).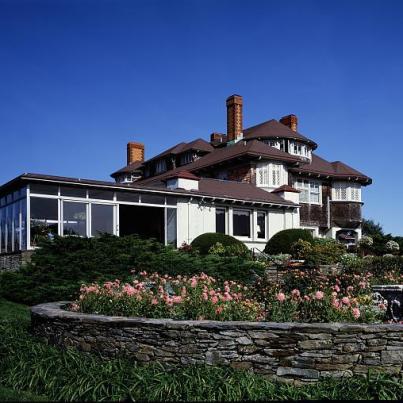 Credit: Library of Congress
Parts of the old Hammersmith Farm property now are used by a group devoted to the preservation of semen and embryos of -- from the website -- "rare and endangered breeds of food and fiber livestock." These facilities are open to the public in June "for a tour of the grounds and to educate the public about endangered breeds and cryo-preservation."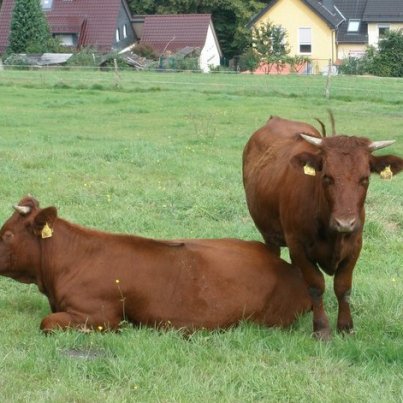 Credit: SVF Foundation via Facebook
Abraham Lincoln, President Lincoln's Cottage
Abraham Lincoln spent his Washington summers a few miles north of the White House. From 1862-1864, his summer White House -- as presidents' summer homes tend to be known -- kept him away from the heat of Civil War Washington, and allowed some space to grieve a dead son.
Lincoln, who would sometimes read Shakespeare out loud to visitors, drafted the Emancipation Proclamation at Lincoln's Cottage, as the 34-room Gothic Revival home, built in 1842, is now called.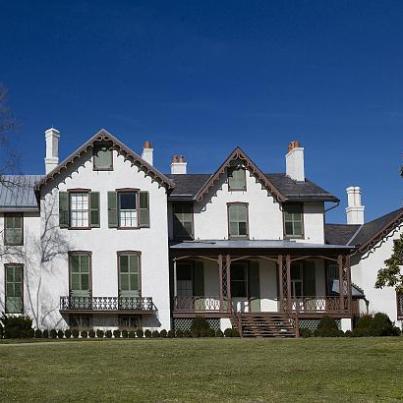 Credit: President Lincoln's Cottage via Facebook
And on his daily commute -- early, after eating toast and eggs -- from the house through the streets of D.C. to the White House, he had some notable encounters, like with the poet Walt Whitman, who wrote:
I see the President almost every day, as I happen to live where he passes to or from his lodgings out of town. He never sleeps at the White House during the hot season, but has quarters at a healthy location some three miles north of the city, the Soldier's Home, a United States military establishment. I saw him this morning about 8:30, coming in to business, riding on Vermont Avenue, near L Street. He always has a company of twenty-five or thirty cavalry, with sabers drawn and held upright over their shoulders. They say this guard was against his personal wish, but he lets his counselors have their way. The party makes no great show in uniform or horses. Mr. Lincoln on the saddle generally rides a good-sized, easy-going gray horse, is dressed in plain black, somewhat rusty and dusty, wears a black stiff hat, and looks about as ordinary in attire, etc., as the commonest man.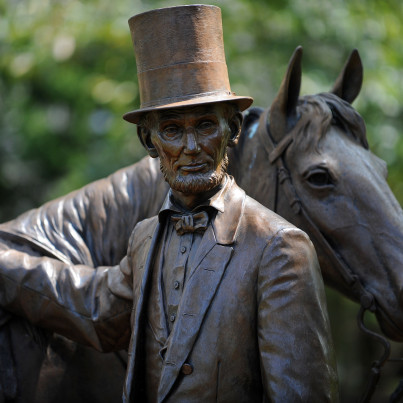 A life-sized statute of Lincoln with his horse, at Lincoln's Cottage. Credit: Getty Images
Lincoln also faced less friendly encounters. In August 1864, he survived a sniper's attack as he was traveling alone, on horseback, back to the cottage. (His hat was not so lucky; it reportedly was shot through.) The last time Lincoln visited the home was the day before his assassination.
Richard Nixon, La Casa Pacifica
One of Richard Nixon's summer homes was a 10-room California villa -- dubbed the Western White House and La Casa Pacifica -- a spacious and private estate in San Clemente where the beleaguered, beleaguering chief executive could get away from Washington, and host foreign leaders.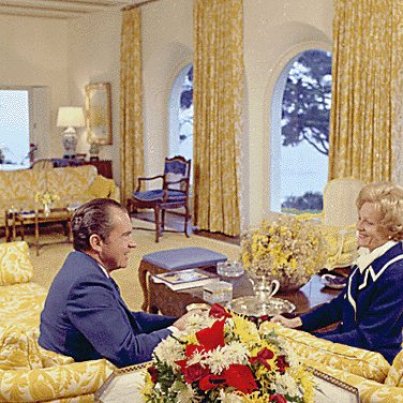 Pat and Richard Nixon in the living room of their San Clemente home. Credit: Richard Nixon Library
Boosters built Nixon a golf course on the property. Taxpayers footed the bill for other improvements, said to be necessary when staff came for long working holidays, though some members of Congress later passed a resolution suggesting the disgraced leader should possibly provide some reimbursement.
Rutherford B. Hayes, Spiegel Grove
This one's not so much odd or extravagant, as it is touching -- assuming you are the kind of person who feels emotional about a president being buried near his spouse and favorite horse.
The 19th president retired to this Ohio home, built as his summer house, in 1881, at the end of his first and only term. Post-presidential improvements included indoor plumbing and a cupola used as an indoor greenhouse. Credit: AP
Hayes died at the house in 1893. He, his wife Lucy Webb Hayes -- known as "Lemonade Lucy" for her teetotaling ways -- and his beloved Civil War horse Old Whitey are buried on the property.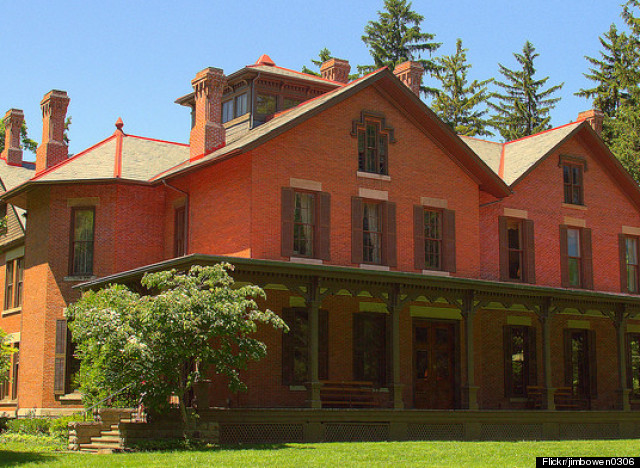 Flickr photo by jimbowen0306, used under a Creative Commons license.
William McKinley, Hotel Champlain
Hotel Champlain first opened in 1890, just outside the New York town of Plattsburgh. The book Past and Present of Plattsburgh: Romantic History of a Prosperous Village has a lovely (dare we say romantic?) description of the tony hotel:
The scenery is magnificent. The hotel is 400 feet long, seventy-five feet wide and has three towers, the top of the central tower being 125 feet from the ground. The hotel is fitted with all modern conveniences and is a delightful summer-resort.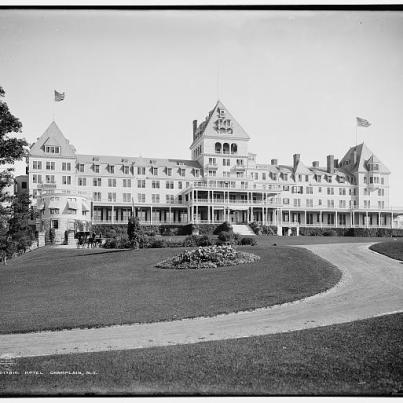 Credit: Library of Congress
"Oh, how beautiful everything is," McKinley's wife, Ida Saxton McKinley, reportedly exclaimed upon arrival during one of the summers she and the president spent at this hotel, where McKinley brought along staffers who kept regular work hours during their visit. Credit: AP
McKinley and his ill wife spent two summers there -- 1897 and 1899 -- partly, according to some sources, to enjoy what was said to be restorative effects of the hotel's water. Was that wise? A document provided to the Assembly of New York had rather unflattering things to say about that water, vis-a-vis a typhoid outbreak, mostly amongst hotel staff.
The hotel became a training ground for Jesuit priests in 1951. Today, it houses a community college.
Thomas Jefferson's Poplar Forest
"When finished it will be the best dwelling house in the state, except that of Monticello," Thomas Jefferson said of Poplar Forest, the Virginia house he designed and started building in 1806. Credit: AP
The home -- a place for the third president to retreat from society, all too present at his primary residence, the afore-mentioned Monticello -- is said to be the first octagonal house in the United States.

Credit: Library of Congress
Jefferson had as many as 94 slaves on the plantation. By some accounts, Poplar Forest is haunted by the ghosts of Jefferson and Sally Hemings, a slave who is thought to have given birth to six of Jefferson's children, and whose brother John helped build the house.
George W. Bush, Prairie Chapel Ranch
We close with 43's Crawford, Texas property, which is notable as much for its size, about 1,600 acres, as for the amount of time Bush spent there during his two terms, about 500 days.
You could see why Bush would want to stay in his Western White House, where he -- like the other presidents -- hosted foreign dignitaries, and unlike the other presidents faced a long-term resident protester, anti-war activist Cindy Sheehan. In a laudatory 2002 story, the magazine Cowboys and Indians wrote that "The Texas Town of Crawford is about as far from Washington D.C., as a Man could Hope to Get."
The piece goes on to talk about Bush's love of running the ranch's many trails, driving his pickup and clearing foliage by himself. Bush's casual ranch attire of "short-sleeved shirts and jeans" also gets a mention.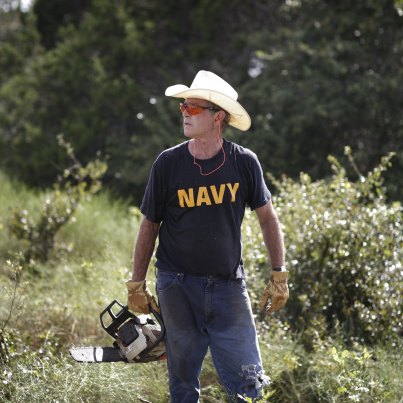 Credit: Getty Images
There were those who averred that the energy-efficient Crawford ranch was just for show, and after Bush left office, speculation began about when he'd sell.
While W seems not as fond of brush-clearing and pickup-driving as he was while holding office -- he's in Dallas most of the time now and this year sold his truck for $300,000 -- he does still own the ranch.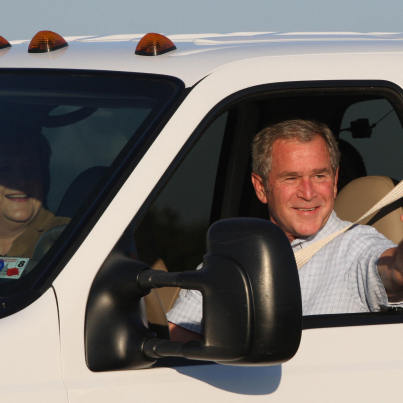 Credit: Getty Images
And, if skywatchers are to be believed sometimes notable visitors still drop by -- now coming by UFO, though, not limousine.
See more photos of presidents on vacation here:
President Kennedy vacations in Maine at the wheel of the U.S. Coast Guard yacht "Manitou" in Boothbay Harbor, Maine on August 12, 1962.

President Franklin Roosevelt on Campobello Island on June 16, 1933.

In this handout photo provided by the White House, former President George H.W. Bush (L) and President George W. Bush (R) watch as Russia's President Vladimir Putin (2nd R) holds up his catch, with the help of fishing guide Billy Bush on July 2, 2007, during a morning outing at Walker's Point in Kennebunkport, Maine.

President Franklin D. Roosevelt in the water at Warm Springs, Georgia. From the Roosevelt Warm Springs site: Founded by Franklin Delano Roosevelt in 1927, Roosevelt Warm Springs continues a tradition of compassion and quality care that spans over 80 years. In its ninth decade as a comprehensive rehabilitation center dedicated to service, technological advancement, program diversity, research opportunities, continuing education and future development on behalf of persons with disabilities, Roosevelt Warm Springs remains a national treasure and Georgia "point-of-pride."

Lyndon B. Johnson on his 60th birthday on August 27, 1968 with his grandson in the pool at the LBJ Ranch, near Stonewall, Texas.

Former President George Bush (L) holds a fish he caught with his son, President George W. Bush (R), June 14, 2003 in Kennebunk, Maine.

President Ronald Reagan riding a horse on his Rancho del Cielo in Santa Barbara, California while in office in the 1980s.

President Bill Clinton rides a horse named Wink August 14, 1996 at the Bar-B-Bar ranch in Jackson Hole where the Clinton's spent a week of vacation.

President Gerald R. Ford and Betty Ford talk while Mr. Ford tries some deep-sea fishing during a vacation trip to Free Town, Eleutheria, Bahamas in April 1966.

President Warren G. Harding reeling in a big one, during a vacation trip to Florida.

President Herbert Hoover with a day's catch.

President Barack Obama holds his shave ice as he greets people outside Island Snow, Thursday, Jan. 3, 2013, in Kailua, Hawaii. President Obama and the first family were in Hawaii for a holiday vacation.

President Bill Clinton (L) eats ice cream with daughter Chelsea (R) during a quick stop the Blue Water Chill shop September 3, 1999 in Skaneateles, New York, before heading to the airport to return to Washington at the end of a two-week vacation.

President Barack Obama eats a shaved ice at Island Snow in Kailua, Hawaii, January 3, 2011, on the last day of his two-week vacation.

In this September 24, 2011, file photo President Barack Obama, right, and former President Bill Clinton talk during a game of golf at Andrews Air Force Base, Maryland.

President Barack Obama (L) waves to spectators as he walks down the first fairway with Dr. Eric Whitaker at Farm Neck Golf Course August 24, 2009 in Oak Bluffs, Martha's Vineyard, Massachusetts.

President George W. Bush (L) finishes a round of golf with his father, former President George Bush (R), June 15, 2003, at the Cape Arundel Golf Club in Kennebunkport, ME as a U.S. Secret Service agent (C back) observes.

Statue of former United States President Bill Clinton in the Irish coastal village of Ballybunion, erected to commemorate his golfing visit on September 5, 1998.

President Bill Clinton stops at the tenth tee to make a cell phone call before teeing off at the Army Navy Country Club during an afternoon golf outing in 70 degree plus weather March 15, 2000 in Arlington, VA.

In this Dec. 28, 2010 file photo, President Barack Obama chips to the ninth green at Mid-Pacific County club near where his holiday vacation in Kailua, Hawaii.

President George W. Bush (left) with his father former President George Bush approach the 12th green at the Cape Arundel Golf Club during a vacation to Kennebunkport, Maine July 8, 2002.

President Barack Obama plays the first hole of the Farm Neck Golf Club while vacationing on Martha's Vineyard on August 23, 2011 in Oak Bluffs, Massachusetts. This is the third year the president has taken his vacation on Martha's Vineyard.

President Barack Obama (R) and his daughter Malia ride bikes in Manuel F. Correllus State Forest in West Tisbury, Massachusetts, August 23, 2011, during their family vacation to Martha's Vineyard.

President George W. Bush (2nd R) and former President George Bush (R) ride on Segway scooters as former First Lady Barbara Bush (L) walks at their family home June 12, 2003 in Kennebunkport, Maine.

President Bill Clinton (R), First Lady Hillary Clinton (C), and daughter Chelsea (L), look at wild Elk (top) August 12, 1996 while touring Yellowstone National Park while on a week of vacation.

In this Sept. 6, 1928 file photo, President Calvin Coolidge shoots at clay pigeons at his vacation home on the Brule at Superior, Wisconsin, He scored 29 out of 37.

President Theodore Roosevelt, standing next to dead elephant and holding gun in Africa. The President left for Africa after leaving office in 1908. Along with his son Kermit, Roosevelt spent a year hunting in Africa.

President Barack Obama tours the Honolulu Zoo in Honolulu, Hawaii, January 3, 2011, with his daughters Sasha (C) and Malia (2nd R) and family friends on the last day of his two-week vacation.

President Bill Clinton (L) holds onto his dog Buddy as he walks back to the motorcade with First Lady Hillary Rodham Clinton (R) and their daughter Chelsea (C) after greeting locals wishing the president a happy birthday after their arrival to Saranac Lake, New York on August 18, 2000.

President Barack Obama, First Lady Michelle Obama and their daughters Malia and Sasha visit the zoo in Honolulu, Hawaii, on January 3, 2010.

Caroline Kennedy and President Kennedy in Hyannisport, Massachusetts, aboard the "Honey Fitz" on August 25, 1963.

President Barack Obama, First Lady Michelle Obama and daughter Sasha watch dolphins as they tour St. Andrews Bay on the Bay Point Lady August 15, 2010 In Panama City Beach, Florida. The First Family visited the area to help promote tourism and check up on cleanup efforts from the aftermath of the Deepwater Horizon Oil spill.

President Jimmy Carter and family spending Christmas in Plains, Georgia in 1978.

President Barack Obama, First Lady Michelle Obama and their daughters Malia and Sasha are greeted the traditonal Hawaiian way as they disembark from Air Force One upon their arrival at the Hickam Air Force Base in Honolulu, Hawaii, on December 24, 2009 for Christmas vacation.

President Reagan giving remarks after a concert by the Beach Boys during a reception and picnic in honor of the 15th Anniversary of the Special Olympics program on the south lawn on June 12, 1983. Reagan was a fan of the group. They also performed for the President's 100th birthday party in 2011.

President Barack Obama with First Lady Michelle Obama and their daughters Malia (L) and Sasha (not pictured) tour along a trail on Cadillac Mountain during the first family's weekend vacation in Bar Harbor, Maine, on July 16, 2010.

President Ronald Reagan and First Lady Nancy Reagan at their California ranch known as Rancho del Cielo in the 1980s.

President and Mrs. Nixon on vacation August 14, 1969 in Key Biscayne, Florida.

President Woodrow Wilson throws out the first pitch at the 1915 World Series. To his left is his mother in-law, Sallie White Bolling and to his right is mayor Rudolph Blankenburg. Wilson was the first President to throw out the first pitch at a baseball game. A former player himself, Wilson attended 11 professional games while in office.

President Barack Obama goes to lunch at Nancy's Restaurant while vacationing on Martha's Vineyard with his family August 25, 2010 in Oak Bluffs, Massachusetts.

President George W. Bush talks with Deputy Chief of Staff Joe Hagin and deputy press secretary Scott McClellan on August 6, 2001 at his ranch in Crawford, Texas.

In 1946 the building served as the winter White House of President Harry S. Truman and a site for the Cold War response for later presidents. Today, the Truman Little White House is a Key West museum.

AUGUSTA, GA - APRIL 12: The Eisenhower cabin is seen during the final round of the 2009 Masters Tournament at Augusta National Golf Club on April 12, 2009 in Augusta, Georgia. (Photo by David Cannon/Getty Images)

Richard Nixon's house La Casa Pacifica, also known as the Western White House, in San Clemente, California.

President Taft's summer home in Beverly, Massachusetts from a 1909 postcard.

This Jan. 15, 2008, file photo shows the newly renovated Anderson Cottage at the Old Soldiers' Home, which came to be known as Lincoln's Cottage located three miles from the White House, in Washington. The President made his first visit to the cottage a few days after his inauguration and rode to the site the day before he was shot. The cottage is one of a number of Lincoln sites that can be visited in Washington D.C.

Cutouts of President James Madison at Montpelier. The mansion and grounds are property of the National Trust for Historic Preservation.

This June 9, 2008 image provided by the Monticello Foundation shows the home of Thomas Jefferson in Charlottesville, Virginia.

The "Old House" in Quincy, Massachusetts, residence of U. S. President John Adams and his family for four generations. It was home to Adams and his wife Abigail Adams, their son President John Quincy Adams and his wife Louisa Catherine Adams, their son Charles Francis Adams (ambassador to the United Kingdom during the American Civil War), and historians Henry Adams and Brooks Adams. This house is now part of the Adams National Historical Park operated by the National Park Service, and is open to the public.
And here are presidents' most treasured companions -- their pets:
Pauline the cow in front of the State, War and Navy Building. This photo was published between 1909 and 1913. Pauline is reportedly the last cow to live at the White House, and provided Taft with milk.

Some sources identify the man holding the horse as Rev. Henry Brown, on May 04, 1865, the day of Abraham Lincoln's funeral. The horse is said to be dressed for mourning.

The portrait was a gift to Mrs. Harding. July 31, 1922.

August 14, 1963. President Kennedy, John F. Kennedy Jr., Mrs. Kennedy, and Caroline Kennedy with Pushinka's puppies Blackie and White Tips, and family dogs Shannon, Clipper, Wolfie, and Charlie. Hyannis Port, Squaw Island.

Pauline was the pet of President William Howard Taft and is seen here grazing on the south lawn of the White House.

President Harding with pet dog Laddie, being photographed in front of the White House on June 13, 1922.

February 03, 1978

President Harding with pet dog, Laddie Boy, outside the entrance to the White House, in 1923.

circa 1903

In this March 15, 2012 file photo, President Barack Obama pets the family dog Bo, a Portuguese water dog, outside the Oval Office of the White House in Washington.

The dog is sitting on the medicine balls that Hoover used for exercise. 1929.

June 30, 1924

published circa 1820

May 25, 1929

Published between 1929 and 1933.

April 11, 1929

Circa 1906

Circa 1910.

The caption on the photo tells the tale of a wandering cat: "Benj. Fink, guard at the Navy Dept. found Tige promenading around the Navy Bldg. and immediately returned him to the White House. "Tige's" disappearance was broadcasted by Wash. radio stations." March 25, 1924.

First Lady Grace Coolidge shows off her pet racoon, Rebecca, at the White House Easter Egg Roll April 18, 1927. The president built a little house for Rebecca.

1929

May 6, 1929

published between 1889 and 1893

President Dwight Eisenhower walks by Heidi, his Weimaraner, as he returns to the White House following a press conference on March 11, 1959 at the Executive Office Building.

The caption identifies the man holding the opossum as "Officer Snodgrass" May 6, 1929.

President Ronald Reagan (1981-89) and his wife Nancy receive a warm greeting from Rex, their King Charles spaniel.

October 10, 1922

1919

1968

Theodore Jr., son of President Theodore Roosevelt, with his macaw, Eli, in the conservatory, 1902

George W. Bush with Barney on the South Grounds of the White House, 2001. recently Barney died in early 2013, at age 12.

Franklin Delano Roosevelt in his wheelchair with Fala and Ruthie Bie, the granddaughter of Top Cottage's caretaker, at Top Cottage, Hyde Park, New York. February, 1941.

This print, from around 1870, shows George Washington at Mount Vernon, his home in Alexandria, Va. It's unclear if the dogs in the print are Drunkard and Sweet Lips.