Wrong place. Wrong time. Wrong costumes.
Over the weekend, Boca Raton police held at gunpoint five men dressed in military-style uniforms and armed with various weapons. But what looked like the makings of mass murder was actually a photo shoot -- by a group of actors.
According to Boca Police Chief Dan Alexander, witnesses in the Mizner Park shopping development became terrified last Saturday night when they saw five men on the top floor of a parking garage putting on body armor and pulling guns from the trunk of a car.
When police officers "naturally concerned about possible active shooter and/or terrorist incidents" arrived, they found five men with various firearms and weapons, including a samurai sword, and ordered them to the ground at gunpoint.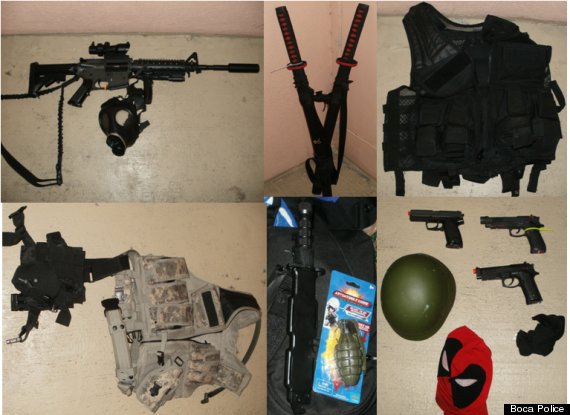 But it wasn't as it seemed.
"We quickly learned that the 'guns' were actually stage props or airsoft type guns," Chief Alexander wrote on his blog.
The actors, all of whom are in their 20s, were issued a trespass warning.
"Some folks are getting carried away in their quest for the next great social media post. Someone is going to get hurt," Alexander wrote. "Parents should have discussions with their kids about the potential risks associated with these stunts. Adults need to consider the appropriate, time, place and manner in regards to acting out their superhero fantasies."