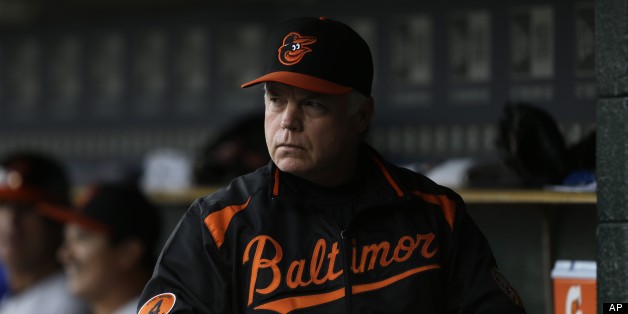 Baltimore Orioles manager Buck Showalter doesn't like the idea of Alex Rodriguez getting suspended for the entire 2014 season as part of Major League Baseball's Biogenesis investigation.
Showalter doesn't feel this way because he necessarily supports the three-time AL MVP. Rather, the 57-year-old skipper thinks any long suspension actually helps the Orioles' division rival.
Speaking to Paul White of USA Today Sports, Showalter said a season-long suspension or a lifetime ban for A-Rod would financially benefit the New York Yankees by allowing them to be big spenders in free agency. The $25 million Rodriguez is set to make in 2014 would be wiped from the Yankees' books if he were to suspended without pay for the entire season, which would help the team get under the $189 million luxury-tax threshold. Rodriguez is set to make another $61 million from 2015 to 2017.
"If Bud lets them get away with that, they're under the luxury tax," Showalter told USA Today Sports. "If they can reset, they can spend again and I guarantee you in two years Matt Wieters is in New York... They're the ones who signed him to that contract."
On Wednesday night, Bob Nightengale of USA Today Sports reported on Wednesday that Selig was prepared to hit Alex Rodriguez with a lifetime suspension. However, T.J. Quinn of ESPN.com subsequently reported that "a source familiar with discussions" said A-Rod's representatives were negotiating a possible settlement with the league which could result in a long suspension.
In 2007, Rodriguez signed a $275 million, 10-year deal with the Yankees.
Kevin Kaduk of Big League Stew wrote an article thanking Showalter for his complaint about the financial implications of a lengthy suspension for A-Rod, writing that "many of us are going to see it as little more than a poorly-disguised "get out of jail free card" for the New York Yankees."
ALSO ON HUFFPOST:
PHOTO GALLERY
BEFORE YOU GO
2013 MLB Season Highlights
PHOTO GALLERY
2013 MLB Season Highlights