After months of anticipation, H&M is offering e-commerce to American shoppers. The Swedish retailer already offered online shopping for Austria, Norway, Denmark, Finland, Germany, the Netherlands, the UK and, of course, Sweden. But despite a strong presence in the United States -- recent reports counted 269 H&M stores in the US -- the fast-fashion retailer did not offer American online shoppers the chance to order directly on HM.com.
In July, H&M finally confirmed that e-commerce on its US site was imminent, announcing via Twitter that it was coming "in August." Sure enough, on August 1, H&M launched its "Shop Online." Ladies, men's, teens, plus-size and children's are now available for online purchase, as well as exclusive "online-only" items.
A press release also notes that additional sizes will be available on HM.com, presumably an important development for plus-size shoppers. As we previously reported, women who buy plus-sizes tend to have trouble finding clothing in stores, forcing them to turn online. H&M only offers up to size 14 in most of its brick-and-mortar locations, while many of its e-commerce sites offer up to a size 24. Now those larger sizes will be available to American women, over half of whom buy plus-size clothing.
The H&M press release also states that the Shop Online launch is also the debut of H&M Home, a range of home decor staples and accessories available exclusively via e-commerce.
Feel like celebrating? H&M has a hashtag for that: #HMShopOnline. Grab your computer, tweet the good news... then get shopping. Check it out at HM.com/us.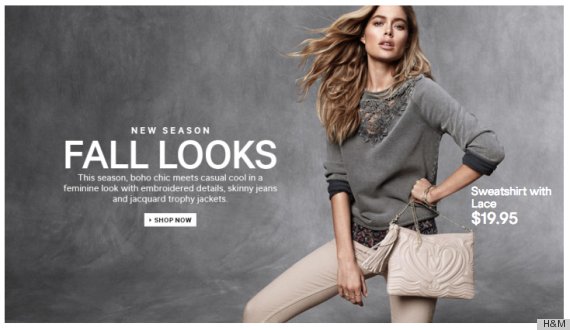 If only these had been available online...
H&M Designer Collaborations
SUBSCRIBE AND FOLLOW
Get top stories and blog posts emailed to me each day. Newsletters may offer personalized content or advertisements.
Learn more