In a world where anyone can fix their nose if they'd like it smaller or plump up their lips if they want them fuller, we expect perfection, especially in Hollywood. One thing stars can't change (without wearing extremely tall heels)? Their height.
We tend to think all leading men should be tall and chiseled and all leading ladies long and lean. However, that couldn't be further from reality. We've picked out some of the most shockingly short celebs to put in a lineup and see how they measure up against other Hollywood elites, and the average American (5-foot-10 for males, 5-foot-4 for females).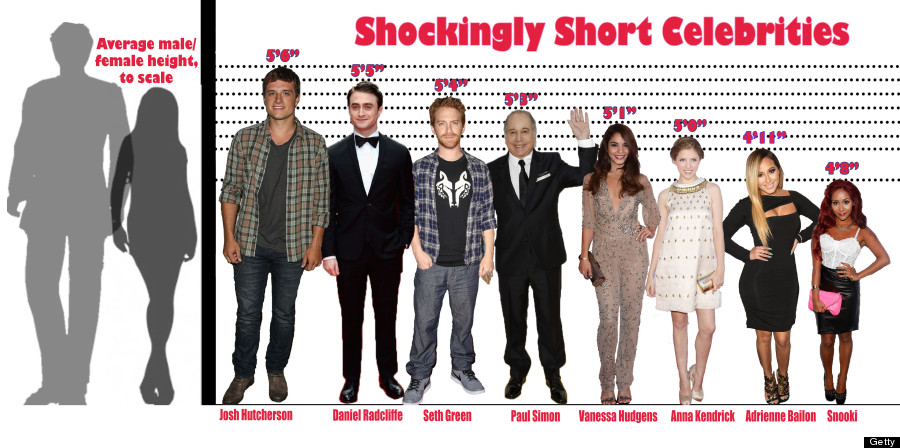 Check out the slideshow below for more short celebrities!
Shockingly Short Celebrities
Another leading man with a stature shorter than we expected! Mark Wahlberg is just 5'8".

Did J.K. Rowling write Harry Potter as a 5'5" boy? Because that's how tall Daniel Radcliffe is!

The "Spring Breakers" star looks tiny at 5'1".

Anna Kendrick's slight frame measures up to just 5'0".

Funnyman Seth Green may have huge humor, but he stands at just 5'4".

We always knew Snooki was petite, but were shocked when we learned she's 4'8".

Michael J. Fox's wife Tracy Pollan is 5'6"...and Fox measures out to just 5'4".

We've seen Raven-Symoné since her younger years, and now she stands at a 5'2" frame.

Was Peeta shorter than Katniss? According to the actors who play them, yes! Josh Hutcherson measures 5'6".

Unfortunately, the giant gene must have only gone to his older brother James, since Dave is 5'7".

Reese Witherspoon's tiny body is just 5'1". We always imagined Elle Woods to be taller.

Even in heels, Kristen Bell looks short next to fiancee, Dax Shepard. She's just 5'1", and he's more than a foot taller than her at 6'2"!

This "Rain Man" star may have some huge movies under his belt, but his stature is short at 5'6".

The teeniest of the Kardashian clan, Kourt stands at 5"0'.

"The Daily Show"'s Jon Stewart spends most of his time behind a desk...subtly hiding that he's just 5'6".

That's a big personality for a little lady. Nicki Minaj is just 5'2"!

Don't let her towering heels fool you. Lady Gaga stands tiny at only 5'1".

The "Malcolm in the Middle" star hasn't changed much since he was a kid. He stands at just 5'5".

Will only exaggerated Jada's height, which is 5'0", making them another couple with more than a foot between them!

You'd never guess Ryan Seacrest is just 5'8"!

The little lady with the big voice is just 4'11".

This Hollywood hunk remains at 5'8".

The "Juno" star must wear heels pretty often. She rounds out at 5'1".

Another big character for a shorter man! Jack Black is just 5'6".

Hayden Panettiere's frame may be small at 5'2", but she makes the most of it.

This leading man remains at 5'7".

Funny gal, little body! Amy Poehler stands at 5'2".

Now we see why his name is "Lil Wayne" ... he's just 5'6"!

All three of the Lawrence brothers, Andrew, Joey, Matthew (in that order in the photo) are 5'7", 5'8", 5'8", respectively.

Standing next to their sister, Elizabeth, these twins look tint at 5'2"!

Hillary's tiny body has always been adorable at 5'2".

Another "Lil" making more sense ... this rapper is just 5'6".

Marc Anthony stand at just 5'7"!

How does that voice come from such a petit girl!? Christina Aguilera rounds out at 5'2".

The ex-"American Idol" host was teeny next to her co-judges at 5'0".

The final "Lil" really makes sense...she's just 4'11"!

The middle Jonas brother is two inches shorter than the others at 5'7"!

There's a lot of sass for a short girl...Adrienne is just 4'11"!

Though Mark Zuckerberg was 5'9", Jesse Eisenberg comes out to 5'7".

The director/actor hasn't lost his spunk at 5'5"!

Who would have known that Paul Simon is just 5'3"?