Ellen DeGeneres will host the Oscars.
The comedian and talk show host made the announcement via her Twitter feed on Friday.
@TheEllenShow

Ellen DeGeneres
It's official: I'm hosting the
#Oscars
! I'd like to thank
@TheAcademy
, my wife Portia and, oh dear, there goes the orchestra.
DeGeneres has experience hosting the Academy Awards: She previously served as emcee during the 2007 ceremony.
"I am so excited to be hosting the Oscars for the second time," DeGeneres said in a press release announcing the big news. "You know what they say -- the third time's the charm."
That DeGeneres was chosen as host should please critics who were unhappy with this year's master of ceremonies, Seth MacFarlane. The "Family Guy" creator was criticized for his opening monologue, which included a parody song called "We Saw Your Boobs" that was directed at actresses who had disrobed onscreen.
"What I really didn't like was the song and dance number about seeing actresses boobs," Oscar-winning actress Jane Fonda wrote after the 85th annual Academy Awards this past February. "I agree with someone who said, if they want to stoop to that, why not list all the penises we've seen? Better yet, remember that this is a telecast seen around the world watched by families with their children and to many this is neither appropriate or funny."
Despite the outrage, Oscar telecast producers Craig Zadan and Neil Meron thought MacFarlane did a good job as host. "We weren't concerned at that level [of shocking people]," Meron said after the broadcast. "We were concerned with putting on entertainment, which we think we did, and people tuned in great numbers."
To that end, the 85th annual Academy Awards were watched by 40 million people, an increase of one million from the year before. The show also saw a 20 percent rise in the coveted 18-34 demographic from the 2012 ceremony.
"We looked at ratings and said, 'Men are not watching, and young men are not watching, and why does that have to be?'" Zadan told The Los Angeles Times in February.
Zadan and Meron made no mention of ratings in the press release announcing DeGeneres as Oscars host:
"We are thrilled to have Ellen DeGeneres host the Oscars," the duo said in a statement. "As a longtime friend, we had always hoped to find a project for us to do together and nothing could be more exciting than teaming up to do the Oscars. There are few stars today who have Ellen's gift for comedy, with her great warmth and humanity. She is beloved everywhere and we expect that the audience at the Dolby Theatre, and in homes around the globe, will be as excited by this news as we are."
The 86th annual Academy Awards will air on ABC on March 2, 2014. Head to the Oscars website for the full press release announcing DeGeneres as host. Watch DeGeneres' monologue from the 2007 Oscars below -- and see a pic of her in action -- below: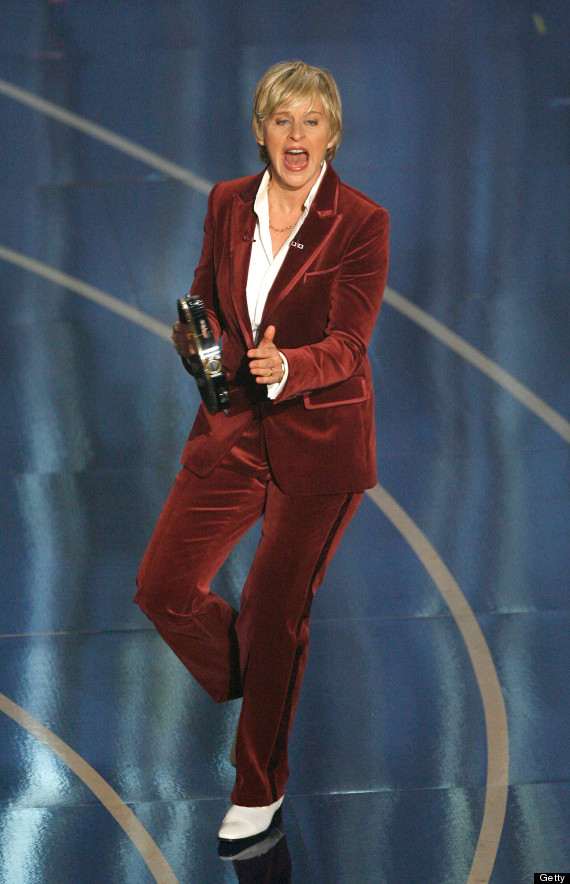 Loading Slideshow
Ben Affleck

Daniel Day-Lewis & Meryl Streep

First lady Michelle Obama

Jack Nicholson

Kristin Chenoweth & Seth MacFarlane

Jennifer Lawrence

Jennifer Lawrence

Jean Dujardin

Daniel Day-Lewis

Ang Lee

Charlize Theron & actor Dustin Hoffman

Quentin Tarantino

Paul Epworth & Adele

Richard Gere, actresses Renee Zellweger, Queen Latifah & Catherine Zeta-Jones

Tom Hooper, Anne Hathaway

Barbra Streisand

Norah Jones

George Clooney

Salma Hayek

Nicole Kidman

Nicole Kidman

Daniel Radcliffe & Kristen Stewart

Hugh Jackman & Anne Hathaway

Adele

Anne Hathaway

Amanda Seyfried, Samantha Barks & Eddie Redmayne

Mark Wahlberg

The Cast of Les Miserables

Jennifer Garner & Jessica Chastain

Anne Hathaway

Jennifer Hudson

Hugh Jackman

John Travolta

Michael Haneke

Ben Affleck & Malik Bendjelloul

Catherine Zeta-Jones

Julie Dartnell & Lisa Westcott

Ben Affleck

Liam Neeson

Channing Tatum & Jennifer Aniston

Halle Berry

Shawn Christensen

Shirley Bassey

Seth MacFarlane

Jamie Foxx & Kerry Washington

Claudio Miranda, Robert Downey Jr., Samuel L. Jackson

John Kahrs

Bill Westenhofer, Guillaume Rocheron, Erik-Jan De Boer and Donald R. Elliott

Mark Andrews

Robert Downey Jr., Chris Evans, Mark Ruffalo, Jeremy Renner & Samuel L. Jackson

Paul Rudd & Melissa McCarthy