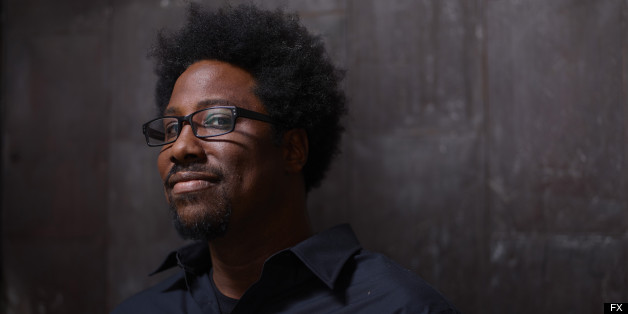 "Totally Biased with W. Kamau Bell" started as an under-the-radar weekly late-night show on FX, hosted by the titular comedian and executive produced by Chris Rock. But now, with the move to FX's new sister network FXX, Bell is going nightly.
"Totally Biased" will air five nights a week (new season premieres Wed., Sept. 4 at 11 p.m. on FXX), Sunday through Thursday, with a best-of compilation show on Sundays.
HuffPost TV caught up with Bell at the Television Critics Association Summer 2013 press tour party for FX and FXX, and he talked about changes you'll see on his show now that they've worked out some kinks, where he falls in the late-night show hierarchy and which "Rocky" he wants to be.
When asked about Jimmy Fallon's new gig as host of "The Tonight Show," and whether or not he thinks the show will tame Fallon's brand of comedy (which many say happened to Conan O'Brien when he took over the helm, albeit briefly), Bell said, "Now he's dog -- he went from underdog to dog," Bell said. "It's a little bit like becoming President of the United States. Whatever your plans were for it, they sit you in a room and go, 'This is how it works.'"
Bell added, "All those dudes who grew up wanting to host 'The Tonight Show' ... that was not what I grew up wanting to do ... It just so happens that there's only like four TV formats, and the one that I fit most into is late-night talk show."
"I think the format that my show fits best is Sunday morning local public affairs show," Bell said with a laugh. "And you can't really sell that. When I was a kid, every city I lived in had the 60-year-old black newscaster who had the Sunday morning talk show and they'd have the woman from the flower show, then they'd go out on the street and talk to the guy from the museum. That's basically what my show is, but a more comedic version of that."
When asked about being on hiatus during the Paula Deen racism scandal and the Trayvon Martin decision, Bell said, "There's kind of a lot going on right now ... My Facebook and Twitter heard a little bit of it -- but I tend to not regret not being on the air, because there's always going to be news."
So what did he learn from his first season? And how much does he think will change? "I feel like the first season was 'Rocky 1,' where he didn't win the fight, but he put in a good effort. The season season is 'Rocky 2' where I kind of have to win the fight now. I'm tying to get to that 'Rocky 4' area -- not 'Rocky 5'! -- but 'Rocky 4,' where it's just a music video where I beat up a Russian. I just want to beat up a Russian. That's all I want to do."
The interviews will be the most drastic change, Bell said. "Now that I understand how to talk to somebody in six minutes a lot better -- not that I've totally nailed it -- we do a six-minute interview, and then we just keep talking and put the rest up online."
Bell said he's "been fortunate enough to be in a position where the people who employ [him] understand that it takes time ... I don't think you can learn it quickly. I read Bill Carter's 'The Late Shift,' and Conan, at the beginning, they were like, 'This guy is never ...' And you look at early days of 'The Daily Show,' and it doesn't even look like the same show. You have to be fortunate enough to be with a network that lets you take time."
What's the next step? During the show's TCA panel on Friday, Bell joked that they'll probably just bump him up to do two shows a day. "It's be like Vegas!" But he also realizes that being nightly means he'll need to start booking more guests. On his wish list: Denzel Washington, televangelist Joel Osteen and Oprah.
Season 2 of "Totally Biased with W. Kamau Bell" premieres Wed., Sept. 4 at 11 p.m. on FXX.