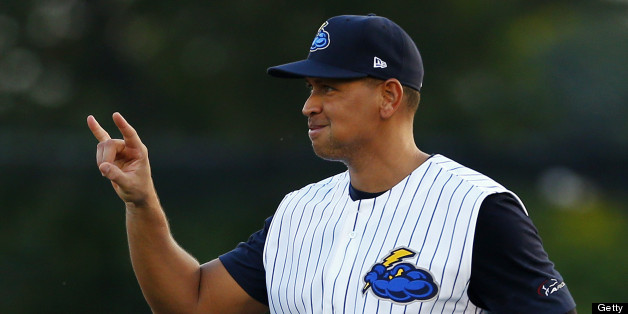 Major League Baseball and the New York Yankees have apparently heard enough public statements from Alex Rodriguez and his lawyers and have rejected 11th-hour requests for private negotiations over a potential suspension, according to media reports.
With MLB poised to levy suspensions against approximately a dozen players pertaining to performance-enhancing drug use on Monday, A-Rod struck a defiant tone while addressing reporters on Friday. According to the New York Daily News, these statements "clearly angered" the brass at MLB. After belting a two-run home run for the Double-A Trenton Thunder as he continued to rehabilitate a leg injury, Rodriguez not only insisted he has "a lot more fight" in him but insinuated that the Yankees may even actively working toward having his contract wiped off the books by a suspension.
"There are a lot of layers," Rodriguez told reporters on Friday at Arm & Hammer Park after belting a two-run home run for the Thunder. "I will say this: There is more than one party that benefits from me not ever stepping back on the field. And that's not my teammates and it's not the Yankee fans."
A day later, the players union reached out to MLB on Rodriguez's behalf, according to the Daily News, New York Post and The New York Times. Citing an unnamed baseball source familiar with the situation, the Daily News first reported that MLB rebuffed Players Association executive director Michael Weiner on Saturday and had no interest in further negotiations with Rodriguez. Without further negotiations, Rodriguez faced a minimum 214-game ban that would keep him off the field until 2015, according to the Daily News.
"They asked for a meeting this morning and were told 'no,'" the source told the Daily News. "Baseball is more than comfortable with what they have."
CLICK HERE for complete Daily News report
MLB had no comment on the reports, according to MLB.com.
A subsequent report by T.J. Quinn and Andrew Marchand of ESPN on Saturday indicated that Rodriguez's suspension would be announced on Monday and would sideline him "likely through the end of the 2014 season." Citing several unnamed sources who spoke with ESPN's "Outside The Lines," Quinn and Marchand reported that talks over a settlement broke down on Saturday and that MLB Commissioner Bud Selig was "furious" that A-Rod publicly insisted he wouldn't negotiate while his reps engaged in talks behind the scenes.
CLICK HERE for complete ESPN report
Earlier in the week, Bob Nightengale of USA Today reported that Rodriguez faced a choice between agreeing to a suspension through the 2014 season or being hit with a lifetime ban from baseball, according to an unnamed baseball official.
Rodriguez had met with baseball officials four times already before his late bid for further talks, reported The New York Times on Saturday. The 38-year-old third baseman also attempted to open talks with the Yankees, according to the Daily News and The New York Times. If Rodriguez remains eligible to play, the Yankees are on track to activate Rodriguez on Monday. As reports proliferated in the New York media on Saturday afternoon, Rodriguez was set to play again for the Thunder. First pitch at Arm & Hammer Park for Saturday was set for 7:05 p.m. EST. Without a setback or suspension Rodriguez expected to join the Yankees on Monday when he spoke on Friday.
"Unless I get hit by lightning, and these days you never know," Rodriguez said on Friday when asked about his return to the majors.
Earlier negotiations between Rodriguez's camp and MLB stalled when the parties reached an impasse over the duration of the potential ban as well as the impact the suspension would have on his contract with the Yankees, ESPN reported on Thursday.
Although Rodriguez and his representatives had reportedly been negotiating with MLB behind closed doors -- albeit without success -- during the week and were supposedly asking for more talks over the weekend, their public comments have indicated an intent to fight any suspension. Rodriguez also told friends that he would appeal and "fight to the end," according to Ken Rosenthal of FOX Sports.
"We're still involved in the process of preparing for an eventual appeal in this matter," Rodriguez lawyer David Cornwell said on ESPN New York Radio on July 29, via The Associated Press. "My understanding is that the next step that is going to be taken is that the players' association and baseball will meet to discuss the investigation and baseball's focus on particular players. So we'll see how that process plays out. But at this point my understanding or my expectation is that we're going to be working through the process towards an appeal."
Speaking to reporters on Friday, Rodriguez not only reiterated his intent to fight any punishment but claimed that his contract could be a factor in MLB's decision.
"I think we all agree that we want to get rid of PEDs," Rodriguez said on Friday. "That's a must. I think all the players feel that way. But when all the stuff is going on in the background, and people are finding creative ways to cancel your contract and stuff like that, that's concerning for me, that's concerning for present, and that's concerning for future players as well."
Rodriguez is due $25 million in 2014, $21 million in 2015 and $20 million in both 2016 and 2017 based on his current contract, according to Baseball-Reference.com.
A suspension of any length would cap weeks of media reports on the potential punishment levied against Rodriguez for his connections to anti-aging clinic Biogenesis and its founder, Anthony Bosch. Rodriguez, Bosch and Biogenesis have been at the center of MLB's latest scandal since January 2013 when the Miami New Times published documents purportedly chronicling the use of performance-enhancing drugs -- including human growth hormone and anabolic steroids -- by several prominent MLB players. Rodriguez's name appeared 16 times in the Biogenesis records obtained by the Miami New Times.
Milwaukee Brewers outfielder Ryan Braun was the first player disciplined by MLB following its investigation into the clinic and Bosch. Shortly after Braun's suspension on July 22, Wallace Matthews of ESPN New York reported that "sources familiar with the investigation" said the evidence connecting A-Rod to Biogenesis is "far beyond" what the league had against the Brewers' slugger. Milwaukee had 65 games remaining on its regular-season schedule when Braun was sidelined for the remainder of the 2013 season.
ALSO ON HUFFPOST:
PHOTO GALLERY
BEFORE YOU GO
2013 MLB Season Highlights
PHOTO GALLERY
2013 MLB Season Highlights