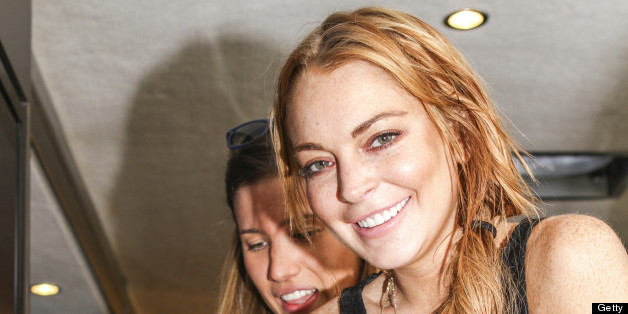 LiLo's back!
After spending 90 days in rehab, the 27-year-old is out of treatment and ready for a fresh start. Lohan looked happy and well-rested as she emerged from Cliffside Treatment Center in Malibu on July 30 wearing a daisy-print dress and suede-fringe jacket. Rumor has it the star will head off to Europe for a while, but for now she's finding her bearings in Los Angeles while staying with a sober coach.
Also this week, reports swirled that Simon Cowell is expecting a baby with his friend's wife, socialite Lauren Silverman. According to Us Weekly, Silverman is technically still married to her real estate mogul husband Ace Silverman, but the pair is estranged. She is reportedly 10 weeks along. According to the New York Post, Lauren's husband Andrew has filed for a fault divorce based on adultery, and he's named Cowell as a co-respondent in divorce papers.
Speaking of baby news, Evan Rachel Wood welcomed her first child, a son, with Jamie Bell on Monday, July 29. The actress and Bell tweeted their excitement and thanked fans:
This pretty much sums up my feelings today. My heart is ready to burst! http://t.co/Sv2Ov4xT4l

— Evan Rachel Wood (@evanrachelwood) July 30, 2013
Amazing outpouring of love & congratulations from you Twitter folk. Thanks so much.

— Jamie Bell (@1jamiebell) July 30, 2013
Raven-Symone made serious headlines this week when she came out on Twitter, after years of dodging bullets regarding her sexual orientation. Symone tweeted this yesterday afternoon:
I can finally get married! Yay government! So proud of you

— Raven-Symonè (@MissRavenSymone) August 2, 2013
Then explained to E! News that she is "very happy that gay marriage is opening up around the country and is being accepted. I was excited to hear today that more states legalized gay marriage. I, however am not currently getting married, but it is great to know I can now, should I wish to."
In other news, Lea Michele stepped out for the first time since her boyfriend Cory Monteith's tragic death earlier this month. The "Glee" star wore big sunglasses and a necklace that read "Cory" as she chatted with a friend in a car. Our thoughts are with her during this tough time.
See the best photos of the week below:
PHOTO GALLERY
BEFORE YOU GO
Celebrity News & Photos
PHOTO GALLERY
Celebrity News & Photos