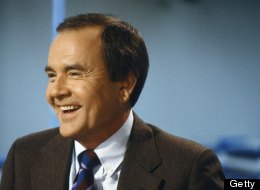 Former NBC News anchor John Palmer died Saturday at age 77 after a brief illness, NBC stated in a press release.
Wife Nancy Palmer told the Associated Press that he died from pulmonary fibrosis at George Washington University Hospital.
The Tennessee native worked for the news organization over the course of 40 years until his retirement in 2002. During his time there, he was the White House Correspondent for the Carter and Reagan administrations and anchored "Today" from 1982-1989.
According to the NBC statement:
On the evening of April 25, 1980, broadcasting live from the north lawn of the White House, he delivered the first news reports of the aborted rescue attempt of American hostages in Iran. For breaking that story and his subsequent reporting, Palmer's colleagues in the White House press corps honored him with the Merriman Memorial Award for Excellence in Presidential news coverage. He was the first broadcast journalist to receive that coveted award. Palmer also anchored the first hours of NBC's coverage of the Challenger Space Shuttle tragedy on January 28, 1986, as well as other NBC News Special Reports.
Members of the media expressed their condolences Saturday over Twitter.
USA Today's Susan Page posted to Twitter:
@SusanPage

Susan Page
First met John Palmer at Reagan White House; one of the kindest/most joyful reporters on the beat. RIP. (Nice sendoff on
@NBCNightlyNews
.)
Reuters' Steve Holland tweeted:
@steveholland1

Steve Holland
Real sorry to hear of the death of former NBC White House correspondent John Palmer, a true gentleman.
Former CNN host Campbell Brown posted:
@campbell_brown

Campbell Brown
NBC's John Palmer was a kind wonderful mentor when I was a new correspondent. RIP John. Much love to Nancy and family.
Click here to read the full NBC News statement.
WATCH John Palmer retire below: