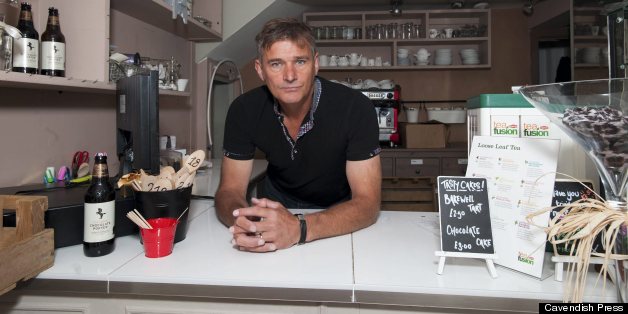 U.K. chocolatier Simon Dunn is drawing attention to the rising costs for small businesses with a farewell note he wrote after closing his shop in Wilmslow, England. Dunn's note, which detailed the crippling expenses he faced, has prompted dismay from his former customers, according to the Daily Mail.
He had been "lying awake at night trying to work out how to increase sales and doing everything possible," Dunn wrote, but "with deep sadness," he decided he had no choice but to close the doors.
The letter was posted on the Wilmslow store's front window and also on the Facebook page of his family-run business. And Dunn's clientele wrote back their support.
"That is such a shame -- Wilmslow will be sorry to see you go ... Can fully understand the issues though," one person wrote on the Facebook page.
"I'm so sorry to hear this. No one makes hot chocolate as good as you do!" another said.
A U.K. Treasury official weighed in on the struggles of small businesses, according to the Daily Mail. "Small businesses are the backbone of the British economy," he said. "We know for many that times have been tough. The Government has focused what help we can give on small businesses."
The shop in Wilmslow, an upscale community in northwest England, made about 208,000 pounds (about $314,000) a year. But after rent, wages, supplies, insurance and taxes, Dunn claimed he only made about 100 pounds in profit a week.
"It's as though business owners are punished for being successful," Dunn told the Daily Mail.
His troubles are not unlike the ones faced in the U.S., where small-business owners and associations are calling on President Barack Obama to lower tax rates for small businesses.
Dunn's family business still has seven other chocolate shops around the United Kingdom. He has run the business for 25 years, according to local news site Wilmslow.co.uk, and his patrons include such celebrities as Sir Alex Ferguson, former manager of Manchester United, various professional soccer players and TV actors, according to HuffPost UK.
All is not lost for Dunn's loyal patrons in the Wilmslow area either. As he pointed out in his goodbye letter, they can buy their favorite sweets from him online.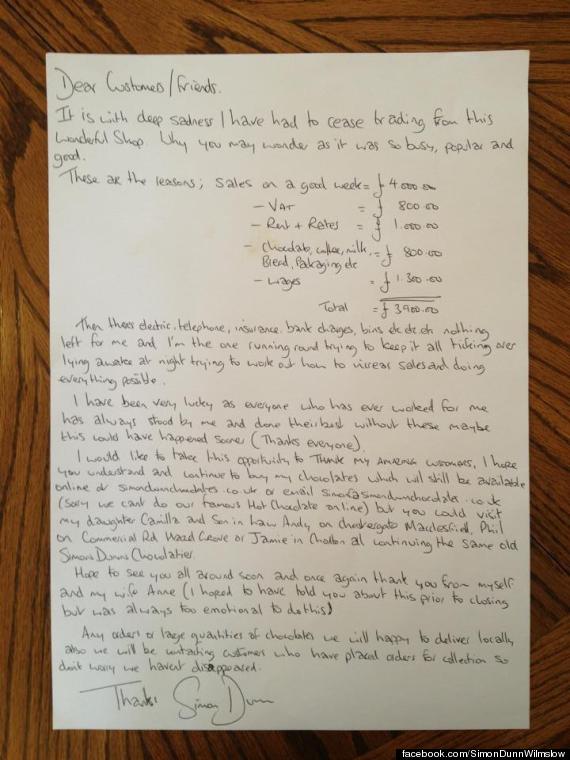 (h/t HuffPost UK)
ALSO ON HUFFPOST:
PHOTO GALLERY
BEFORE YOU GO
7 Celebrity Business Flops
PHOTO GALLERY
7 Celebrity Business Flops