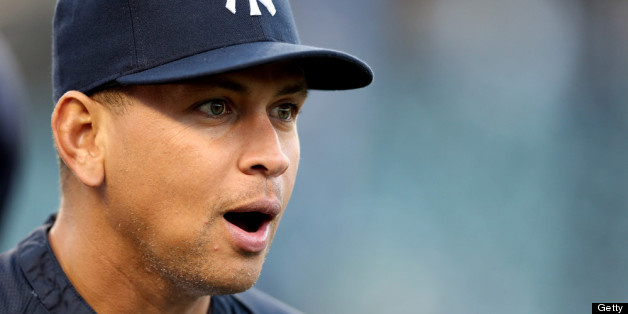 Just hours after Major League Baseball announced that he is facing a 211-game suspension, Alex Rodriguez will make his 2013 debut for the New York Yankees.
Sounds bizarre? Then it also sounds about right for the latest chapter in A-Rod's career.
When the Yankees released the lineup for their series-opening game against the Chicago White Sox on Monday, Rodriguez was listed as the team's third baseman. The man at the center of MLB's latest performance-enhancing drugs mess is batting cleanup.
#Yankees lineup vs CWS: Gardner CF, Soriano DH, Cano 2B, Rodriguez 3B, Wells 1B, Granderson LF, Ichiro RF, Nunez SS, Stewart C, Pettitte P

— New York Yankees (@Yankees) August 5, 2013
The 38-year-old slugger will be permitted to play for the Yankees as he has appealed MLB's punishment. Rodriguez will remain eligible to play for the Yankees until his case is heard by an arbitrator, according to MLB.com. At the time of his suspension, Rodriguez had yet to play for the Yankees as he worked his back from offseason hip surgery.
UPDATE 6:38 P.M. EST: Alex Rodriguez and Yankees manager Joe Girardi addressed the media during a press conference on Monday evening before New York faced the Chicago White Sox. Girardi spoke first, addressing his decision to insert Rodriguez back into the lineup.
"If he's here, he's going to play, Girardi told reporters before A-Rod's statement. "It really doesn't really change anything for us. You know, when he's healthy and he feels good, we expect him to be productive and I'm going to play him."
A short while after Girardi's took questions from reporters, Rodriguez issued a short statement
"I want to express to you guys and the fans of baseball that the last seven months have been a nightmare. It's been probably been the worst time of my life, for sure. Obviously for the circumstances that are at hand but also dealing with a very tough surgery and a rehab program and being 38," Rodriguez told reporters before taking questions. "I am thrilled and humbled to have the opportunity to put on this uniform again and to play Major League Baseball again. I feel like I was 18-years-old back in Fenway Park back in 1994 when I went in to face the Red Sox for the very first time. And it's been 20 years. I'm just very excited to have the opportunity to go out there and play baseball and help my team win and prove to myself, my teammates, the fans in New York, the fans of baseball that I still have a shot to play the game at a high level and I'm going to give it my best."
After his opening statement, Rodriguez took questions from reporters in English and Spanish. He declined to go into detail about his suspension and appeal but did indicate that his camp was aware of all evidence against him. Rodriguez also passed on an opportunity to deny that he had used performance-enhancing drugs.
ALSO ON HUFFPOST:
PHOTO GALLERY
BEFORE YOU GO
2013 MLB Season Highlights
PHOTO GALLERY
2013 MLB Season Highlights