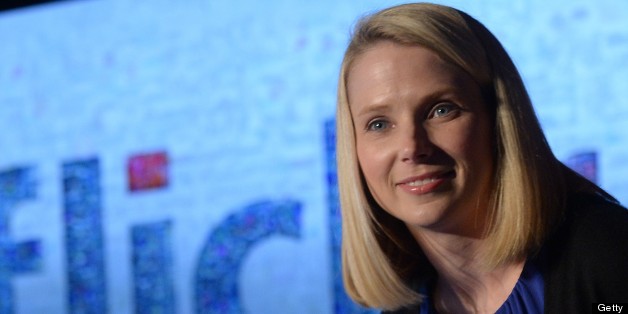 Marissa Mayer fancies herself an underdog as the CEO of Yahoo. The company's sales peaked in 2008 and have fallen by 50 percent since, and Mayer was brought in to revitalize the tech giant. And in that role, Mayer has one very specific role model -- Olympic gold medal winner, Sarah Hughes.
Hughes is an American figure skater who won a gold medal at the 2002 Olympics in Utah. In a profile published August 1st, Mayer told Bloomberg Businessweek the reason she looks up to the Olympic champion:
No one thought Sarah Hughes had a chance to win [but she came out on top after the favored winners made errors and she landed seven triple jumps flawlessly]. Afterward, Hughes said that she didn't quite know how she had done it, and she wasn't sure she would ever be able to repeat it. It was the routine of her life ... I feel like Sarah Hughes. Actually, I still have her performance saved on my TiVo.
While Mayer considers Hughes a role model, the CEO isn't concerned with being seen as one herself (despite the fact that she most certainly is by some). When Savannah Guthrie asked how she felt about people looking at her as a role model on the "Today" show in February, Mayer responded: "I haven't spent a lot of time looking at it or even thinking about it. I've really been focused on the products."
[H/T Business Insider]
ALSO ON HUFFPOST:
PHOTO GALLERY
BEFORE YOU GO
The Most Buzzed About Female-Led Tech Startups Of 2013
PHOTO GALLERY
The Most Buzzed About Female-Led Tech Startups Of 2013