The world's most show-stopping bicycles have vintage styling, built-in baskets, killer paint jobs, a chic red chain, and a new home in Miami Beach.
Meet the lineup from Martone Cycling Co., the brainchild of fashion PR exec Lorenzo Martone and the most eye-popping collection to ever hit city streets. Inspired by fashion and with an eye for design, Martone launched the line earlier this year for urban cyclists who demand performance -- each bike is powered by SRAM'S duomatic gear system-- but desire beauty and personality, too.
Of course, that's right up Miami's alley. There's no fun like biking around the Beach, but let's face it: Deco Bikes aren't exactly turning heads, and we're all about looks down here. That's why we love MCC so much: both men's and women's versions come in stark white, black, silver, or uber-bright tomato red or glitzy gold. And each sports matching tires, a signature red chain, and a handlebar basket that holds up to 20 pounds of picnic snacks, yoga mats, or shopping bags.
They're guaranteed to draw stares and start conversations -- and what's not to love about that? Karl Lagerfeld himself bought two (one silver and one red) from Parisian boutique Collette.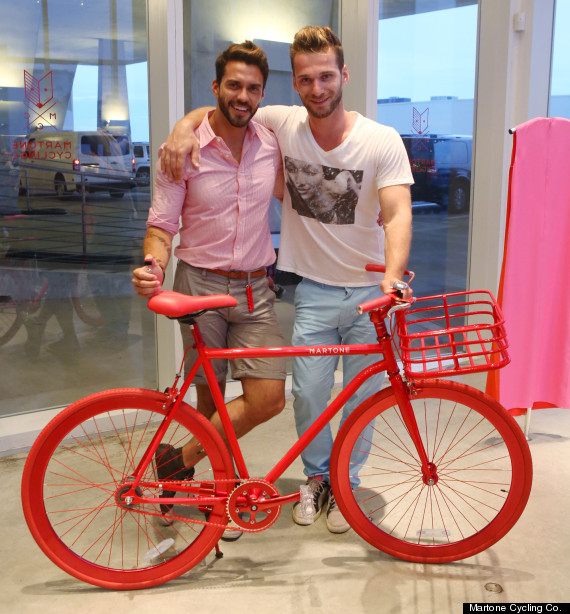 "I strongly believe that choosing a bike should be a reflection of your personal style," he told Refinery 29. "I designed bikes in monochromatic tones because I feel you can pair your favorite color to the outfits you want to wear -- matching or not matching. If you choose an all-white, all-gold, or all-red bike, that will say something about your personality, n'est–ce pas?
"A bike is a bold statement of choice of lifestyle, so the design should follow. My advice is to choose a bike that will say something about who you are!"
Fortunately, Miamians can now choose their colors in person. With a launch party during Swim Week, Martone unveiled his bikes at Alchemist on Lincoln Road. Head over to the Alchemest space in the 1111 building to pick a color in person, or order your own ($899) at Martonecycling.com.

Martone Cycling Company Miami Launch
SUBSCRIBE TO & FOLLOW THE MORNING EMAIL
The Morning Email helps you start your workday with everything you need to know: breaking news, entertainment and a dash of fun. Learn more