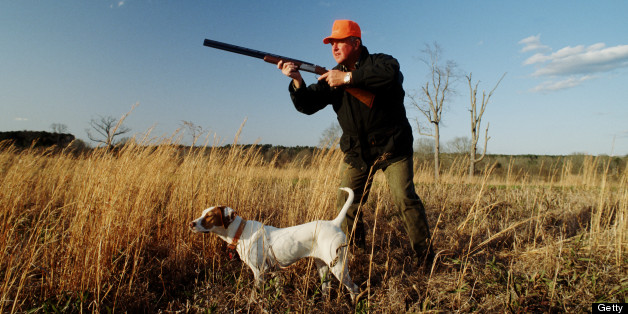 WASHINGTON -- The Alabama Wildlife Federation bestowed its highest honor, the "Conservationist of the Year" award, on National Rifle Association president James Porter just hours after the NRA launched a national smear campaign against wildlife scientists and conservation groups.
The Alabama Wildlife Federation's awards ceremony and banquet Friday in Alabama recognized Porter, a lifelong hunter, among other things for spearheading efforts in the state to allow hunting on public land.
The gun lobby's campaign against scientists, wildlife groups, even zoos, which the NRA announced earlier on Friday, is part of its fight against regulations proposed in some states to limit the use of lead-based ammunition. Studies have shown toxic lead from ammunition poisons as many as 20 million wild birds every year in the U.S.
The NRA's enemies list includes some of the nation's most venerable conservation groups, including the Audubon Society, the San Diego Zoo and the Peregrine Fund. The Alabama Wildlife Federation is not included on the NRA list. A spokeswoman for the group was unavailable for comment Tuesday.
The Alabama Wildlife Federation claims to be the "oldest and largest non-profit conservation organization in Alabama." What that means depends on how you define "conservation." The group is geared toward hunters, who typically view the conservation of land and the shooting of its wildlife as compatible.
Federal law has banned lead ammunition for waterfowl hunting since 1991. Alabama state law contains no further restriction on lead ammunition.
In its website description of why Porter deserved to be "Conservationist of the Year," the Alabama Wildlife Federation focused mainly on his decades-long support of Forever Wild, a statewide public-use land trust, and Porter's volunteer work, helping the state to buy additional land for the Forever Wild program.
Aside from the land-use program, the conservation group's description of Porter for the award, which it announced in mid-July, doesn't exactly scream conservationist. Porter and his family, the federation says on its website, have "actively managed" family properties in the state for more than a century, and used their "lands to provide quality timber, productive wildlife habitats, and hunting opportunities for family and friends." These "roots," the group says, are the foundation on which "Jim Porter's conservation ethic is anchored."
Porter took the reins at the NRA in May, succeeding David Keene. Porter is an outspoken critic of the Obama administration, and drew criticism from Democrats for referring to President Barack Obama in June 2012 as a "fake president" whose "entire administration is anti-gun, anti-freedom, anti-Second Amendment."
ALSO ON HUFFPOST:
PHOTO GALLERY
BEFORE YOU GO
People Who Want More Guns In Schools
PHOTO GALLERY
People Who Want More Guns In Schools