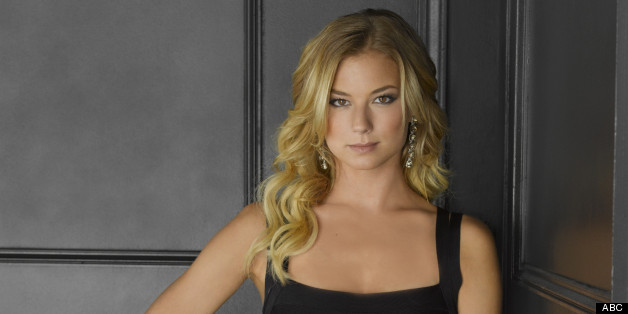 Viewers, critics and ABC president Paul Lee all seem to agree that "Revenge" may have "stumbled" in Season 2, but in Season 3, Lee promises that fans can expect "a slightly less complicated" approach.
Apparently, that means streamlining some of the show's more convoluted relationships, including Emily Thorne's (Emily VanCamp) romantic entanglements with Daniel (Josh Bowman), Aiden (Barry Sloane) and Jack (Nick Wechsler). At the recent Television Critics Association summer press tour, VanCamp told TVLine that part of Season 3 will be spent "defining her relationship with these men, because it got very muddled. No one is going to love three men in the same way. We really needed to define: Who does Emily Thorne love?"
The answer is pretty clear to VanCamp: "There really is not the element of love between Emily and Daniel. It's part of her plan. Jack and Aiden are her two great loves, for very different reasons. Emily and Aiden understand each other on a totally different level than anyone could ever imagine. And yet the nostalgia and the childhood love and the purity and the wholesomeness of love with Jack is such an appeal to her, too ... She's battling these different emotions of two different men, and yet she's marrying another one."
ABC is counting on incoming showrunner Sunil Nayar to right the ship after a creatively uneven sophomore season which saw "Revenge" creator Mike Kelley exiting the show in what was described as a "mutual decision" with ABC.
"What Sunil Nayar is bringing to us is a slightly less complicated and a really interesting take," Lee said of Nayar's promotion. "The first episode back -- I don't know how much we can reveal; we're not allowed to reveal anything -- is a fantastic episode starting with a magnificent hook. I do think you are going to see that one enjoying itself in its third season -- and we certainly are."
"Revenge" is already set to look different in Season 3, following the death of Declan (Connor Paolo) and the departure of Ashley (Ashley Madekwe), plus the additions of Justin Hartley (playing Victoria's long-lost son Patrick), Diogo Morgado and Karine Vanasse.
For more from VanCamp, head over to TVLine.
"Revenge" Season 3 premieres Sunday, Sept. 29 at 9 p.m. ET on ABC.
Are you excited for the return of "Revenge"?
ALSO ON HUFFPOST:
PHOTO GALLERY
BEFORE YOU GO
TCA Quotables, Out Of Context
PHOTO GALLERY
TCA Quotables, Out Of Context