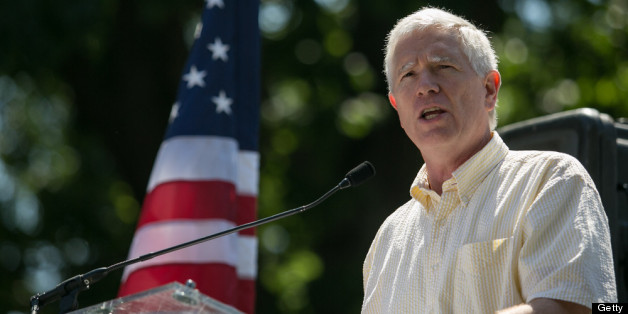 Rep. Mo Brooks (R-Ala.) told constituents on Tuesday that many Republicans in fact supported the National Security Agency's domestic spying programs, and had only recently opposed a measure to scale back the agency's broad data surveillance in order to avoid attracting primary challengers and attacks.
Speaking at a town hall in Morgan County, Brooks -- who last month voted against a failed amendment meant to halt the NSA's bulk collection of phone record data -- brushed off the measure's final vote count. The bill received strong bipartisan support in the House and fell just a few votes short of passage. A total of 94 Republicans backed the the measure, sponsored by Rep. Justin Amash (R-Mich.), but Brooks claimed the vote wasn't indicative of his GOP colleagues' actual stance on the issue.
"There were a number of folks who were concerned about attacks on their right in primaries," he said, according to WAFF. "So, although they support the NSA metadata program, they chose to oppose it just for the purpose of preventing campaign attacks in Republican primaries."
NSA spying has emerged as a complex issue on the right, helping to underscore an emerging rift between establishment Republicans and more libertarian-leaning conservatives.
Brooks also defended his support for the controversial programs, telling constituents the NSA had successfully thwarted planned terrorist attacks.
"I've been privy to the classified documents, and just counting the types of attacks that were planned but which we were able to prevent, if we had been unable to prevent them, it would easily have cost thousands of American lives," Brooks said.
NSA officials made a similar argument in the wake of the leaks by former contractor Edward Snowden, saying the sweeping surveillance systems had foiled around 50 attacks around the world.
Brooks wasn't as eager to defend the agency when the programs' existence was first made public. In June, the congressman suggested the scale of the programs could "undermine the trust" of the American people.
He's since made it clear that he believes the NSA's collection of telephone metadata is of critical importance to national security. Alabama blog The Attack Machine recently posted a copy of a letter he wrote to constituents giving an in-depth explanation of his vote against the Amash amendment.
ALSO ON HUFFPOST:
Conservatives Pointing Fingers
SUBSCRIBE TO & FOLLOW POLITICS
How will Trump's administration impact you? Learn more