 The 2013 NBA offseason -- with the Dwight Howard saga, massive draft night deals and deep free agency class -- has proved entertaining, even if it lacked the cadre of superstar talent that's expected to arrive next summer. Now that the full schedules have been released, fans are wondering if this season might be Miami's final run with the Big 3, whether Derrick Rose will show up and just how dynamic the Western Conference can become.
But none of those questions can be answered until one considers which teams made the most of the offseason. Here are five teams that came out ahead:
Houston Rockets
Say what you want about Dwight Howard, but he instantly bolsters Houston's defense, which was downright awful last season, and provides a deft pick-and-roll partner for James Harden. It's not a perfect fit -- Howard has made it clear he doesn't love to play the two-man game -- but assuming he is finally healthy, the Rockets should be one of the elite teams in the West. And second-round draft pick Isaiah Canaan can play both guard spots and might be the best 3-point shooter in his class. He could steal some minutes from Jeremy Lin at the point.
Los Angeles Clippers
Eric Bledsoe could have co-existed with Chris Paul, but it's understandable why the Clippers felt they had to deal him. Paul is the cornerstone, and locking him up long-term was priority A, B and C. Adding 25-year-old point guard Darren Collison for cheap was an excellent move -- he can easily give 20 solid minutes a night -- while both Jared Dudley and J.J. Redick are two of the league's best marksmen. Rookie Reggie Bullock had an excellent summer league, and the Clips poached head coach Doc Rivers from Boston, a tremendous upgrade from Vinny Del Negro. Perhaps most importantly, they have yet to go into the luxury tax.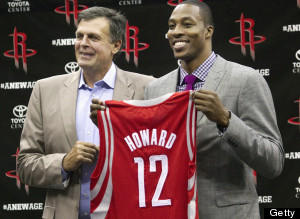 Houston swung for the fences with Dwight Howard's mega deal. (Getty Images)
Cleveland Cavaliers
Taking Anthony Bennett first overall in the draft may have been a stunner, but it wasn't crazy, either. Bennett will be boom or bust, a rare talent who should be highly versatile at the offensive end, alongside Tristan Thompson in the front court. Of course, also up in the air is the matter of one Andrew Bynum, who inked a two-year, $24.8 million deal. Bynum has zero guaranteed cash in the second year and should still be motivated to get a major contract after 2015. His potential upside with the Cavs at both sides of the floor is still huge. Cleveland also added free agent point guard Jarrett Jack, who ought to make things a whole lot easier for both Kyrie Irving and Dion Waiters. Overall, an excellent offseason for Dan Gilbert's crew.
Portland Trail Blazers
Lottery pick C.J. McCollum is going to be a monster. He can really shoot and is terrific on and off the ball, the perfect complement to Rookie of the Year Damian Lillard. It's unclear how happy LaMarcus Aldridge is with his situation, but Robin Lopez will help at center and Aldridge should enjoy running screen-and-roll with McCollum. Portland is rebuilding with awesome young talent and could compete for the playoffs next season.
Golden State Warriors
A pretty good team just got better. Adding Andre Iguodala, who is just 29, gives the Warriors a premier perimeter defender to help Harrison Barnes shoulder the load. Iggy's athleticism and natural unselfishness are an ideal fit for a team that doesn't need more scoring; he is one of the few All Star-caliber players who will defer offensively to fit in. Andrew Bogut becomes a free agent next summer, but because of the sign-and-trade with Iguodala, Golden State still has some cap room moving forward, as it unloaded salary deadweight Andris Biedrins and Richard Jefferson.
Email me at jordan.schultz@huffingtonpost.com or ask me questions about anything sports-related at @Schultz_Report. Also, be sure and catch my NBC Sports Radio show, Kup and Schultz, which airs Sunday mornings from 9-12 ET, right here.