Americans now eat 50 percent more seafood than they did 50 years ago, according to a new report by Oceana [pdf] that details the cost of seafood fraud on consumers' wallets. But although people are eating more seafood, one-third of it may not be what it seems, based on a different Oceana report from earlier this year.
The group interviewed seafood industry experts to figure out what drives cost differences and reviewed 300 menus from 12 different cities to estimate retail prices for various seafood products.
"Swapping a lower cost fish for a higher value one is like ordering a filet mignon and getting a hamburger instead," said report author and Oceana senior scientist Margot Stiles in a press release. "If a consumer eats mislabeled fish even just once a week, they could be losing up to hundreds of dollars each year due to seafood fraud."
Here's how your wallet may be affected (though you might not know the difference!).
Story continues below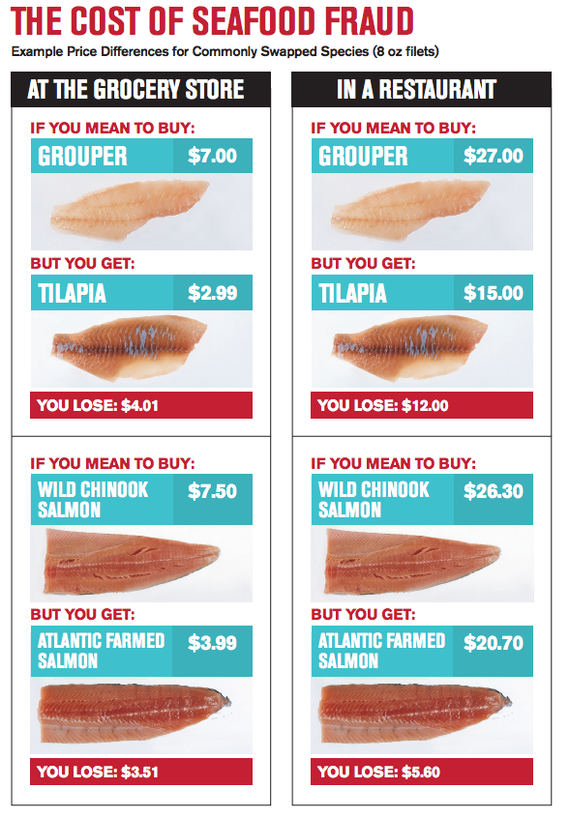 The report argues that seafood traceability is key in stopping fraud. And while that seems like an easy enough thing to support -- who wouldn't want to know where their food comes from? -- it hasn't happened yet.
In fact, seafood fraud is actually fairly controversial as a subject. Oceana's February report has been criticized for being unfair in its characterization of mislabeling and exaggerating health risks.
So are you paying too much for your fish? Read the full report here to learn more.
Also on HuffPost:
Loading Slideshow
10. Clams

Clams take the number 10 spot on the list of seafood most consumed by Americans, with 0.341 pounds per capita. According to Monterey Bay Aquarium's <a href="http://www.montereybayaquarium.org/cr/seafoodwatch.aspx" target="_hplink">Seafood Watch</a>, most varieties of clams are considered "best choices" in terms of sustainability.

9. Pangasius

Pangasius, perhaps more commonly known as tra, swai and basa, is consumed at 0.405 pounds per capita, a 14 percent jump from 2009. Pangasius is a flaky, tender white fish that is typically both <a href="http://www.montereybayaquarium.org/cr/SeafoodWatch/web/sfw_search.aspx?s=pangasius" target="_hplink">imported and farmed</a> (see <a href="http://www.nytimes.com/2008/10/12/magazine/12catfish-t.html" target="_hplink">this fascinating article</a> from The New York Times). It is also referred to as <a href="http://en.wikipedia.org/wiki/Pangasius" target="_hplink">iridescent catfish</a>. <br><br> Seafood Watch score: Good Alternative.

8. Cod

Every year, 0.463 pounds of cod is consumed per capita. Cod is a complicated species; a <a href="http://www.amazon.com/Cod-Biography-Fish-Changed-World/dp/0140275010" target="_hplink">whole book</a> has been dedicated to how the fish changed the world. The many varieties of cod range from "best choice" recommendations (hook-and-line-caught Atlantic cod) to species better to avoid (wild-caught imported Pacific cod).

7. Crab

As participants in crab feasts are well aware, there isn't a lot of meat in an individual crab. Perhaps that's why the shellfish hasn't broken the Top 5, with 0.573 pounds per capita eaten per year. <br><br> Like cod, there are some crabs deemed more sustainable than others. Best to avoid imported King crab, while Dungeness crab seems to be a safer bet.

6. Catfish

We eat 0.8 pounds per capita of this bottom-dwelling, bizarre-looking fish. Seafood Watch calls catfish a "best choice." It's also the topic of the TV show "<a href="http://animal.discovery.com/tv/hillbilly-handfishin/" target="_hplink">Hillbilly Handfishin'</a>."

5. Alaska Pollack

The Top 5 seafood all break the one-pound-per-capita consumption mark. Alaska pollack is consumed at a rate of 1.192 pounds per capita. Pollack is widely used in the fast food industry: Think <a href="http://www.treehugger.com/files/2009/02/mcdonalds-seafood.php" target="_hplink">McDonald's Filet-O-Fish</a>. <br><br> Seafood Watch score: Good Alternative.

4. Tilapia

In recent years, tilapia seems to have become many cooks' go-to white fish, thanks to its relatively cheap price and the ease of farming it. Americans ate a staggering 20 percent more tilapia in 2010 than they did in 2009. <br><br> Seafood Watch score: Farmed tilapia from the U.S. and Latin America tend to be OK, but best to avoid that fish coming from Asia.

3. Salmon

Nearly 2 pounds of salmon (1.999 to be exact) are eaten per person per year. That explains why there are so many concerns about overfishing and depletion of stocks. The Monterey Bay Aquarium suggests avoiding farmed salmon.

2. Canned Tuna

Americans eat 2.7 pounds per person per year of canned tuna. Many tuna species are best to avoid, according to Seafood Watch, but albacore canned tuna remains a good alternative.

1. Shrimp

Bubba in "Forrest Gump" had it right ("shrimp soup, shrimp stew, shrimp salad ..."). There are a lot of ways to eat shrimp. That's why the average American consumes 4 pounds of it every year. Like other diverse seafood species, shrimp can be either a <a href="http://www.montereybayaquarium.org/cr/SeafoodWatch/web/sfw_search.aspx?s=shrimp" target="_hplink">good or bad choice</a> for your dinner table. Safer bets are spot prawns and rock shrimp.