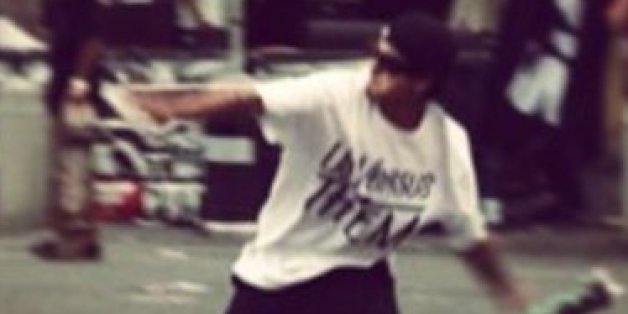 After the U.S. Open of Surfing in July, dozens of rowdy spectators went on a rampage through the streets of downtown Huntington Beach in Southern California. The violent mob destroyed shop fronts, cars, portable toilets and street signs, causing tens of thousands of dollars in damage, and it took over 100 police with pepper balls and rubber bullets to quell the riot.
And they would have gotten away with it too -- except for the fact that many of these crimes occurred in full view of security cameras and smart phones. Thanks to footage and photos that were uploaded to social media, the Huntington Beach police department has so far arrested at least 9 people in connection with the riot. The arrests include a 30-year-old firefighter with the Fullerton Fire Department, as well as a 15-year-old resident of Huntington Beach.
But oh, there's more. The police department released 25 photos on their Facebook page Wednesday, asking for the public's help to identify possible suspects who were caught on camera during the melee. All of them are male, and many are sporting highly-identifiable tattoos.
Some of the images capture people in the act. Picture 21A shows a group of people uprooting a stop sign, while picture 2 shows someone getting ready to throw a chair. However, other pictures are simply images of people standing on the street, which is why police ask that the public refrain from naming anyone online, as they could be completely innocent.
If you think you know the people depicted in these photos, get in contact with authorities at hbpdfiles@gmail.com or call 714-375-5066.
Photos released by the Huntington Beach Police Department.
Huntington Beach Police Release Suspect Photos (Aug. 7)
SUBSCRIBE TO & FOLLOW THE MORNING EMAIL
Start your workday the right way with the news that matters most. Learn more