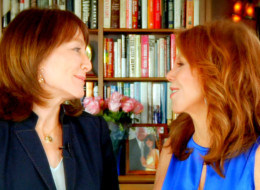 Some people can get by little sleep, but Chief Medical Editor for NBC News Dr. Nancy Snyderman stressed that most people need 7-8 hours per night. When she joined me on Mondays With Marlo, she told me that when you don't get enough sleep, your body perceives it as stress. Without adequate sleep, your stress hormones will multiply, you'll crave carbohydrates and fat and you might even become irritable. It's also a stressor on your heart and lungs.
Click here for the full interview.
For more tips on optimizing your health, see Dr. Snyderman's healthy living tips:
Dr. Nancy Snyderman's Healthy Living Tips
When searching for a new doctor, you shouldn't just go to the first person who accepts your health insurance. Does the doctor have office hours that work for you? Can you call the office with questions? You should look into the doctor's cancellation policies and see if you'll be charged for missing an appointment. Ask whether the doctor has a policy for weekend emergencies. When you visit, look around the office. Is it clean? Is the staff courteous? Trust your gut!

Most cigarette smokers try to quit multiple times before they are successful. The brain does feel sharper on nicotine, but that's not what gives you cancer – it's the tar and carcinogens within cigarettes. If you're trying to quit, get a nicotine patch or gum. Minimize triggers as much as possible, and seek support from loved ones.

If you have a family history of Alzheimer's disease, it is wise to have a genetic profile done. In the meantime, anti-inflammatory medicines like Advil and Aspirin may make a difference. Keep your mind active – read, listen to music and learn new skills. There is strong evidence that these activities can delay the onset of Alzheimer's.

You can eat after 7 PM and not gain weight. There is no secret -- the reality is that you need a reasonable distribution of carbohydrates, fat and protein. Start your day with protein to get things going. At the end of the day, you have to spend more than you take in.

Sleep is the new sex – no one is getting enough of it. Most of us need seven or eight hours to stay healthy. When you don't get an adequate amount of sleep, your body perceives it as stress, and begins producing stress hormones. This will make you crave carbohydrates and fat, which can lead to weight gain. You may also become irritable. Nothing good comes from not getting enough sleep – it's also a stressor on your heart and lungs. Sleep allows your body to heal and restore itself.

Parents don't need to sanitize and control everything their baby comes into contact with. When kids get outside and spend time in a natural environment, they build up immunity to bacteria that could harm them if they exist in a sterile landscape. Here are the key things you should do to protect your kids: Wash your hands before preparing food. Separate raw meat from vegetables. Wash your hands after you go to the bathroom.

Although many people have begun using natural hormone therapy to retain their youthful appearance, it could pose a huge risk to your health. There is no evidence that this treatment actually works, and we don't know if it's safe. Long-term exposure to estrogen and testosterone can be dangerous. If you're injecting hormones or using them in suppository or cream form, you don't know how much you're getting.

Before you worry about getting rid of your current age spots, focus on preventing future ones by wearing sunscreen every day. If you're willing to invest in Retin A and use it regularly, it will take away fine wrinkles. There are over-the-counter fading creams that work, but you need to stick with them if you want to see results. Red spots can be removed through laser treatments performed by your dermatologist.

If you're caring for an elderly parent or relative, it's easy to let your own needs fall by the wayside. Caregivers have an increased risk of heart attack, stroke, depression and weight gain, so it's more important than ever to stay vigilant about your wellbeing. Don't try to do it all on your own -- call on friends, neighbors and siblings to help with caregiving duties.

We've all felt lethargic after lunchtime, and it's likely because blood sugar rises, then plummets after a meal. Keep dried fruits and nuts at your desk to give you a boost of energy. If you metabolize coffee quickly, have a cup to get energized.

You may hate taking medication, but if you've got high blood pressure, it's crucial. High blood pressure increases your chances of heart disease and stroke. If you're not overweight or smoking, these meds could save your life. Go to your doctor and find out why you're hypertensive – lifestyle changes like diet and weight loss can dramatically improve your situation.

Avoid skin cancer by maintaining a good relationship with your dermatologist and going in for yearly checkups. Wear at least 30 SPF when you're outdoors. If you have a mole or another blemish that's changing color, bleeding or looking different, get it checked out. The American Cancer Society has a great guide – the ABCD of skin cancer that you can look to for guidance.
Add Marlo On Facebook:
Follow Marlo on Twitter:

Weekly Newsletter

Sign up to receive my email newsletter each week - It will keep you up-to-date on upcoming articles, Mondays with Marlo guests, videos, and more!

Sign up here