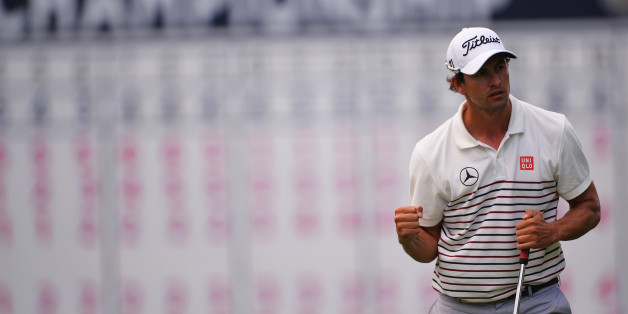 Many will point to the five consecutive birdies. Others will cling to the lone bogey.
But Adam Scott's round might have been made on the very first hole.
Upon getting to the ball, Scott sought out a rules official to see if he could get free relief, as the ball was resting on a root. He was denied and simply had to punch out and get back into the fairway. A brilliant third shot to 4 feet and a solid putt for par seemed to calm the Aussie down.
"Obviously a poor tee shot on one and in trouble right from the start to make a bit of a curler on the first to settle down is very nice," said Scott.
Scott's new-found focus seems to be the difference in remaining mentally tough through nervy moments.
"I put a lot into my game the last two years with a focus on the big tournaments," Scott said. "Everyone around me has had the same focus, as well. We come here to do business."
With those five consecutive birdies – which Scott called "probably the best run I've ever had" – it seemed as though Scott was going to challenge the all-time major record of a 62. But, after pars at Nos. 9 and 10, Mother Nature had other plans. She sent the field back to the locker room with a good bit of rain and thunderstorms. Play was halted at 4:24 p.m. EDT and didn't resume until 5:35 p.m.
Scott lost a bit of momentum, picking up a single birdie on No. 14 and a bogey on No. 16 to stall in his quest for a major record.
"I was hot when the rain came," Scott said, then needing "to go and do the whole settling down thing again like teeing off at the first.
"I was scrambling and not quite in the same rhythm as I was in. I was going along nicely, I still felt. It's always tough with a rain delay like that when you're playing really well."
Scott is becoming a perennial contender in majors. He lost the lead Sunday in the past two Open Championships, the latest coming just 19 days ago. That has also taught Scott to take advantage of what a major will give you and run with it for as long as possible.
"When you get something going for you in a major, sometimes you have got to be not afraid to get out of your own way and let go, and I did that at (Royal) Lytham (in 2012) and I did that here for 10 or 11 holes," he said. "It's a good feeling when you can swing freely like that."

PHOTOS: PGA Championship Round 1
SUBSCRIBE AND FOLLOW
Get top stories and blog posts emailed to me each day. Newsletters may offer personalized content or advertisements.
Learn more