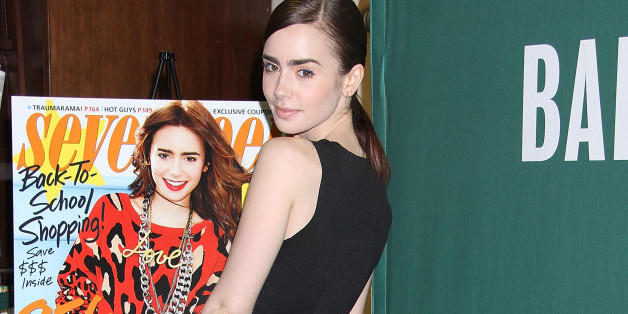 By Riley Griffin, 17
As I walked into the back corner of Barnes & Noble in New York City, fans and photographers were already stationed ever-so restlessly at the opposite end of the floor. Anticipation hung over the room like a thick electric pulse, all eyes scoured the area for Lily Collins. Though the event was in honor of her recent cover for the September issue of Seventeen, it's obvious that the fans have bargained for more -- with the promise of her new movie, "The Mortal Instruments," premiering this month.
Though the recent hype for Lily Collins has surged, her career is as versatile and impressive as the best of Hollywood. Not only has Lily been a model, reporter, movie and TV starlet in her short 24 years, but she has also made time for an education. The college degree from USC is merely a cherry to top her successes. She has lived all around the world, which is evident in how cultured and articulate she is. I could go on and on...
Eventually she appeared, gracefully walking towards the back in a black cropped shirt and below-the-knee leather pleated skirt. Lily is a modern take on a classic beauty, with an edge that hints at her "Shadowhunter" alter ego. But she also came off as super approachable, which was a relief to me because I was nervous. Let the interview begin!
HPT: Congratulations on your cover for Seventeen! What does it feel like to be the face of the September issue?

Lily: It's crazy because I've always loved fashion, and the September issue is like, the biggest fashion issue. I've always read it like the bible! I think the Seventeen girl, for me, has always stood for passion, drive, determination, courage… all these things that I think Clary, the character that I play, embodies. I was a fan of the books before I was cast as Clary and I'm a fan of Seventeen, so to be on the cover is an honor. It's just so weird seeing your face on the cover of a magazine! But it's really great. It's the perfect magazine, I think, to embody this project.

Clary Fray is unlike any character you've ever played. How did you prepare for this role?

Physically, we did a lot of training. I did about three months beforehand with a physical fitness trainer and before work every day. You know -– martial arts, sword fighting, knife fighting, acrobatics, all that crazy stuff. Then, emotionally, it was really just re-reading the book again. I think the amazing part about this job is that half my character was created before I walked in the room, obviously from what was written in the book. Then, half of it is created when you get the other actors in the room, because it's all about how you get along with each other and how it all blends. Clary became who she was because of the other characters.

What is one of Clary's personality traits that you wish you had?

She doesn't seem to worry too much about voicing her opinion. That's just naturally how she is. I have found that I am able to do that more now. I think Clary taught me that. It is something that she was born with that I think I am now learning.

How did you get involved in this series?

I was a huge fan. I had read the first one and then heard they were making it into a movie, so I made all the phone calls and emails to see how I could get involved.
Do you have a celebrity role model that you look up to?

Old school would be like an Audrey Hepburn. "Funny Face," "Sabrina," "Roman Holiday" -– those are my favorites. Just because she says so much without needing to say anything. And all the charity work she did... she just was amazing. My modern day role model would have to be Meryl Streep. Someone, again, who just is who she is. She embodies everything beautiful about a woman and doesn't change herself for anybody. I respect that so much.

What hopes do you have for the future of your career?

I hope to continue breaking outside of the box, not just having one type of role that I always do. Also, I'd like to be able to one day raise a family as well as have my career. The women that I've worked with, like Julia Roberts, Julianne Moore and Jennifer Connelly, they are first and foremost mothers and yet they've had such amazing careers. I have learned from the best that it's possible, so I would love to have that.

You've worked with such accomplished actors. At what point did you realize you had made it?

It's still very strange having moments like this, a signing for a cover of a magazine! It's a very bizarre, surreal kind of experience to have. Going to "Jimmy Fallon," going to signings that are just about signing a cover that I'm on -– that's very weird. I will never feel like I've fully made it, because there is always something to learn and there's always more that I want to experience. For me, every single one of them is an amazing opportunity that makes me ask, "why me?" I'm never going to become complacent. It's never going to get jaded for me. It's all going to stay very exciting.

We know you majored in broadcast journalism. Is writing something that you will continue to pursue now that you've become the focus of Hollywood?

I love journalism. You know, the core of a journalist is wanting to ask questions, meeting new people and loving all sorts of topics. That's just who I've always been. I'd love to continue writing at some point, when I have the time. But journalism is just kind of a bug that never really goes away. You either have it or you don't, and you either love it or you don't. And I love it.

You've become quite the fashion inspiration. What's your go-to outfit for this fall?

I quite like slouchy, silk pants. I was just in Aritzia today going a little bit nuts. But most of this upcoming fall I'm going to be filming, and if I'm not filming I'm going to be traveling a lot for promotions. So it's all about looking chic but comfortable and fitting as little in a suitcase as possible. These thin-material, soft, chic-looking pants with layered tops and a really cool throw-on, big sweater or jacket with boots –- that's my look.

Last but not least, how do you find ways to step out of the limelight and relax?

I love baking. I love photography and tea shopping. My closest friends really are still from school, you know? So we just do normal things, even though I live in L.A. Really the hype is just now kind of starting for this movie. I am now experiencing paparazzi and all that for the first time more intensely. Either way, it's never going to stop me from going to my local spots, and I don't want it to! I love going to the movies and I love doing all these things. Even if it makes it a little more difficult, I still won't let it stop me from doing what I want to do. If anything ever gets out of line, my mom, my dad and my friends will call me out on it. I rely on them for that. I feel like I always will be brought back down if anything goes a little weird!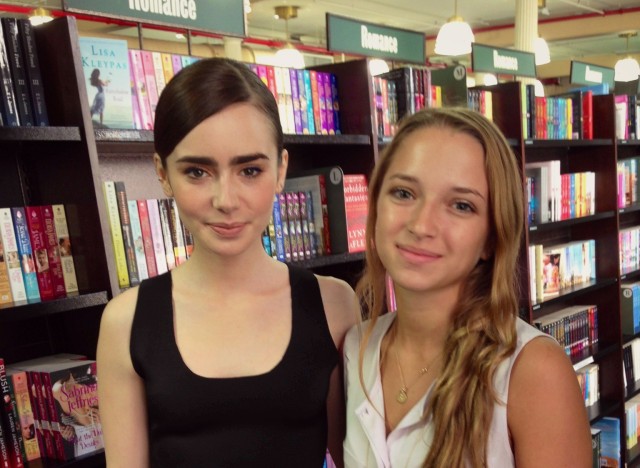 ALSO ON HUFFPOST:
PHOTO GALLERY
BEFORE YOU GO
Awesome YA Books-Turned-Movies
PHOTO GALLERY
Awesome YA Books-Turned-Movies