Music icon and legend Whitney Houston would have been 50 years old today (Aug. 9).
The superstar died on Feb. 11, 2012 due to a "cardiac event" after using cocaine.
Her legacy includes 31 Billboard Music Awards, 22 American Music Awards, seven Grammys, two Emmys and countless other awards and nominations. Her recently revealed tombstone reads, "I Will Always Love You," as an homage to one of her most famous songs. The "Greatest Love Of All" singer's talent will live on in music and film history for decades to come. And who could forget her iconic '80s style and hair?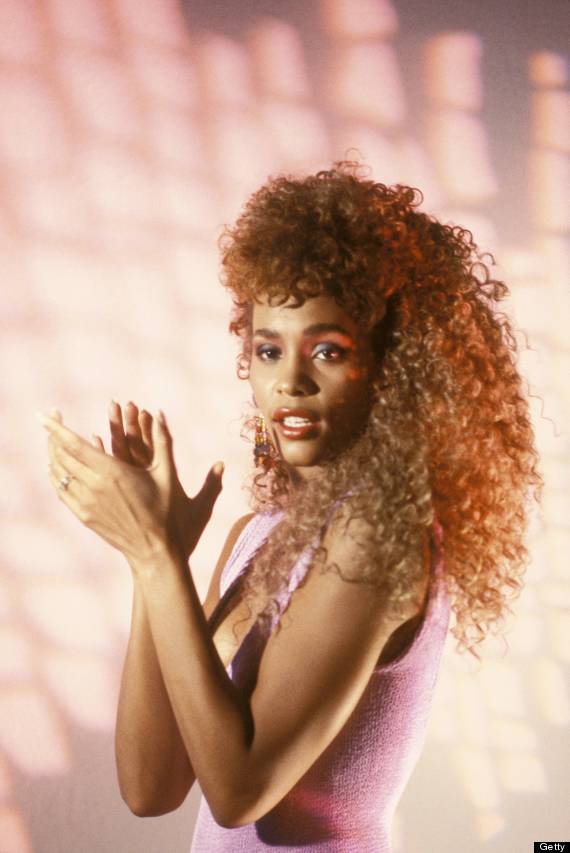 Also on HuffPost:
Loading Slideshow
Feb. 9, 2012

Two days before her death, Whitney Houston and longtime friend and collaborator Clive Davis visited Brandy and Monica during their rehearsal for David's annual Grammy party. Later that same day, <a href="http://entertainment.nbcnews.com/_news/2012/02/12/10391173-watch-whitney-houstons-final-performance">she joined Kelly Price onstage in Hollywood</a>, where the two sang "Jesus Loves Me," which would go on to be Houston's final performance.

Feb. 11, 2012

Houston was found dead in her suite at the Beverly Hilton Hotel at 3:30 p.m. on a Saturday. She was submerged in the bathtub. At the time, no cause of death was revealed. An instant outpouring of grief, from both <a href="http://www.huffingtonpost.com/2012/02/11/whitney-houston-dead-stars-react_n_1271044.html">the entertainment world</a> and the general public, took center stage, as evidenced by the memorial from the Philippines seen here.

Feb. 11, 2012

That same night, while onstage in Mississippi, <a href="http://www.huffingtonpost.com/2012/02/12/bobby-brown-whitney-houston-death-breaks-down_n_1271195.html">Houston's ex-husband Bobby Brown had a meltdown over her death</a>. Brown was reportedly having "crying fits" before taking the stage, according to the Associated Press. "First of all, I want to tell you that I love you all," he said to the crowd. "Second, I would like to say, 'I love you, Whitney.' The hardest thing for me to do is come on this stage." Brown and Houston were married for <a href="http://rapfix.mtv.com/2012/02/12/whitney-houston-bobby-brown-years-bobbi-kristina/">14 tumultuous years</a>, during which time Brown was charged with misdemeanor battery and the couple were scrutinized for their worsening drug problems.

Feb. 12, 2012

Because the Grammy Awards were the following night, the show's producers scrambled to piece together a last-minute tribute performance in honor of the late singer. A visibly emotional Jennifer Hudson belted out "I Will Always Love You," arguably Houston's most popular song. (<a href="http://www.huffingtonpost.com/2012/02/12/jennifer-hudson-whitney-houston-grammys-tribute_n_1271952.html">See a video of the performance here.</a>)

Feb. 13, 2012

Two days after Houston's death, rumors swirled about the true cause of her passing. Authorities revealed there were <a href="http://www.huffingtonpost.com/2012/02/13/whitney-houston-cause-of-death-investigators_n_1272784.html">prescription drugs in her room</a> when she was removed from the bathtub where she was found. An autopsy was performed on Houston's body, but the initial report indicated no obvious signs of trauma, the Associated Press reported. It would be weeks before the full toxicology report came back. Houston's body was then flown to New Jersey, where her family was making funeral arrangements.

Feb. 15, 2012

New Jersey Gov. Chris Christie, seen here arriving at Houston's funeral, received flak for <a href="http://www.huffingtonpost.com/2012/02/15/whitney-houston-new-jersey-funeral_n_1280082.html">lowering the flags at state government buildings to half-staff in the singer's honor</a>. Detractors argued that lowering flags should be reserved for members of the military, first responders and elected officials, and that it is unbecoming to pay tribute to a drug addict in such a way. Christie defended his decision, saying, "What I would say to everybody is, 'There but for the grace of God, go I.'"

Feb. 18, 2012

<a href="http://www.tmz.com/2012/02/18/whitney-houston-funeral-program/">A private funeral</a> was held for Houston's close friends and family members in Newark, N.J., at the church where the singer grew up. A public memorial service was originally planned at the Prudential Center, but <a href="http://www.huffingtonpost.com/2012/02/14/whitney-houstons-funeral-_n_1275732.html">the family decided it did not want such a large-scale event</a>. Among those who spoke or sang at the service were Alicia Keys, Clive Davis, Stevie Wonder, R. Kelly and "Bodyguard" co-star Kevin Costner.

March 11, 2012

Houston's family members gave their <a href="http://www.huffingtonpost.com/2012/03/11/bobbi-kristina-brown-whitney-houston-oprah-winfrey_n_1338173.html">first major interview</a> after the singer's death when they sat down with Oprah Winfrey on an episode of "Oprah's Next Chapter." The interview featured daughter Bobbi Kristina, brother Gary and sister-law/manager Pat. The 90-minute television special featured the family recalling Houston's final days, with Pat swearing the singer was not abusing drugs immediately before she died. "She's always with me," 19-year-old Bobbi Kristina said. "Her spirit is strong; it's a strong spirit. I feel her pass through me all the time." The episode is still the <a href="http://www.huffingtonpost.com/2012/03/12/oprahs-next-chapter-bobbi-kristina-whitney-houston-ratings_n_1339825.html">highest-rated airing of "Oprah's Next Chapter" to date</a>, attracting 3.5 million viewers.

March 22, 2012

The Los Angeles County Coroner <a href="http://news.blogs.cnn.com/2012/03/22/coroner-drowning-heart-disease-cocaine-use-killed-houston/">officially ruled Houston's death an accident</a>, but the autopsy showed that the "effects of atherosclerotic heart disease and cocaine use" contributed. The toxicology test also showed marijuana and several other drugs that did not directly contribute to Houston's death, including Xanax and Benadryl.

March 22, 2012

Houston's mother, gospel singer Cissy Houston, <a href="http://www.tmz.com/2012/03/22/whitney-houston-mom-mother-cissy-houston-cocaine-heart-attack-cause-of-death/">spoke out for the first time</a>, saying she was shocked to learn that her daughter was using cocaine again at the time of her death. Sources told TMZ that Cissy believed Whitney was sober while shooting the film "Sparkle." The Houston matriarch assessed that it was the anxiety of Whitney's upcoming Grammy comeback performance that made her fall back to her previous habits.

April 5, 2012

The most thorough details yet regarding Houston's death emerged, including the fact that she had been dead for at least an hour by the time her assistant found her, according to <a href="http://www.huffingtonpost.com/2012/04/05/whitney-houston-death-report-last-day_n_1405206.html">the official autopsy report</a>. The water in the bathtub was so hot that it had scalded part of her body. It was also revealed that investigators found a spoon with a "crystal-like substance" on it, as well as a white powdery material, in her hotel room. Several days later, investigators closed the case on Houston's death.

May 21, 2012

The last song Houston ever recorded, a track with Jordin Sparks from their film "Sparkle," hit the Web after premiering on Ryan Seacrest's radio show. <a href="http://www.huffingtonpost.com/2012/05/21/whitney-houston-celebrate-jordin-sparks-sparkle_n_1532870.html">"Celebrate," written by R. Kelly,</a> debuted at No. 84 on the U.S. Hot R&B/Hip-Hop Songs chart, peaking at No. 62.

Aug. 1, 2012

One of the people who spent much time with Houston in her final days, <a href="http://www.tmz.com/2012/08/01/ray-j-whitney-houston-beverly-hilton-tca-junket-rickey-smiley/">boyfriend Ray J, returned to the hotel</a> where she died for the first time since February. Ray J had said he'd avoided the area because it was "too hard" to return, but TMZ reported that he had to overcome his reservations in order to attend a media event he couldn't miss. Ray J reportedly was overcome with emotion upon his arrival, saying "it hurt inside" to revisit those memories.

Aug. 17, 2012

Houston's final project before she died, the musical film "Sparkle," premiered to mixed reviews. The movie co-starred Jordin Sparks, Derek Luke and Mike Epps. It grossed a disappointing $24.4 million at the box office.

Oct. 24. 2012

What do you do if you're a family that's bombarded by sudden overexposure? The only American thing to do: get a reality show. <a href="http://www.huffingtonpost.com/2012/10/25/the-houstons-on-our-own-bobbi-kristina-wine-video_n_2015378.html">"The Houstons: On Our Own"</a> premiered on Lifetime and featured the clan in the aftermath of Whitney's death. Bobbi Kristina, Cissy, Gary and Pat joined Rayah Houston -- Gary and Pat's daughter -- and Nick Gordon -- Bobbi Kristina's boyfriend -- for the 14-episode documentary series. The Los Angeles Times called the show <a href="http://www.latimes.com/entertainment/music/posts/la-et-ms-the-houstons-on-our-own-20121024,0,7953797.story">"an uncomfortable, intrusive watch." </a>

Dec. 12, 2012

Google unveiled its list of the <a href="http://www.huffingtonpost.com/2012/12/11/most-googled-deaths-of-2012-whitney-houston_n_2280147.html">most-searched deaths of the year</a>, and Houston came in at No. 1. She topped Neil Armstrong, Etta James, Andy Griffith and Mike Wallace, among others.

Feb. 9, 2013

Almost one year after Houston's death, <a href="http://www.examiner.com/article/clive-davis-makes-speech-honoring-whitney-houston-a-year-after-her-death">Clive Davis once again used his pre-Grammy party</a> to celebrate the singer's legacy. Davis invited the family to join in, with Gary and Pat accepting the invitation but Cissy calling the gesture "obscene" and "unheard of." At the party, Davis said, "Words don't express, for those who weren't there to see Whitney, the younger people, to see Whitney at various performances. She was so unique."