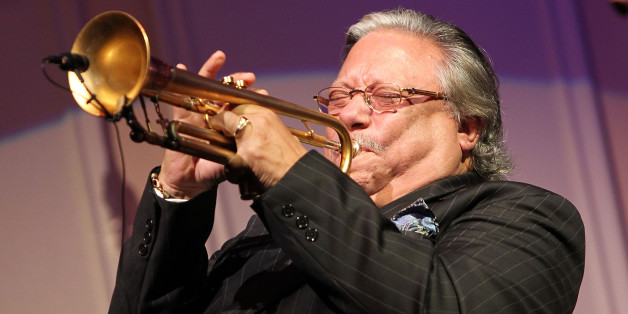 President Barack Obama will award two Latinos — Grammy winner Arturo Sandoval and Nobel Prize winner Dr. Mario Molina — the prestigious Presidential Medal of Freedom.
The two Latinos are in a very exclusive list that includes former President Bill Clinton and Oprah Winfrey this year.
The Presidential Medal of Freedom is the country's highest civilian honor, presented to individuals who have made especially meritorious contributions to the security or national interests of the United States, to world peace or to cultural or other significant public or private endeavors, according the White House.
The awards will be presented at the White House later this year.
Arturo Sandoval featured among big names for Presidential Medal of Freedom
Among the 16 recipients of the medal this year are former Sen. Richard Lugar, The Washington Post's Ben Bradlee and Sally Ride, the first American female astronaut to travel to space.
"The Presidential Medal of Freedom goes to men and women who have dedicated their own lives to enriching ours," Obama said in a statement. "This year's honorees have been blessed with extraordinary talent, but what sets them apart is their gift for sharing that talent with the world. It will be my honor to present them with a token of our nation's gratitude."
This year marks the 50th anniversary of the establishment of the Presidential Medal of Freedom by President John F. Kennedy, as well as the first ceremony bestowing the honor on an inaugural class of 31 recipients.
Since that time, more than 500 exceptional individuals from all corners of society have been awarded the Presidential Medal of Freedom.
The White House pointed out that Arturo Sandoval has gained "international acclaim as a dynamic performer."
Sandoval is considered one of the greatest jazz trumpeters besides being recognized as a good pianist and composer. He was born outside Havana and he defected to the United States in 1990. During his career, Sandoval has been a strong critic of the Castro regime.
He has been awarded nine Grammy Awards and is widely considered one of the greatest living jazz artists.
The other Latino being honored, Dr. Mario Molina, is considered by the White House as a visionary chemist and environmental scientist. Born in Mexico, Molina came to America to pursue his graduate degree.
He later earned the Nobel Prize in Chemistry for discovering how chlorofluorocarbons deplete the ozone layer. Molina is a professor at the University of California, San Diego; Director of the Mario Molina Center for Energy and Environment; and a member of the President's Council of Advisors on Science and Technology.
SUBSCRIBE AND FOLLOW
Get top stories and blog posts emailed to me each day. Newsletters may offer personalized content or advertisements.
Learn more