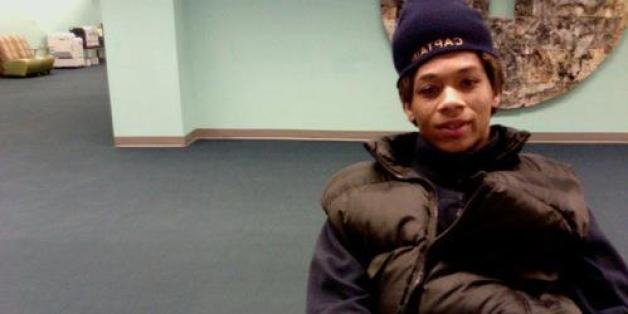 A college student in Georgia is still in jail six months after writing that he was going to carry out a shooting at the university he attends.
Caleb Clemmons, a 20-year-old psychology major at Georgia Southern University, posted the following message on his Tumblr page in early February: "hello. my name is irenigg and i plan on shooting up georgia southern. pass this around to see the affect it has. to see if i get arrested."
A few hours later, Clemmons was arrested after authorities received an anonymous tip, according to student newspaper The George-Anne. However, the university's director of public safety said no weapons or any signs of a planned attack were found at Clemmons' residence.
It wasn't until over a month later that school officials notified the student body about the apparent threat, and the incident had received no major press coverage until Sunday, when Gawker's Max Rivlin Nadler published an article about Clemmons.
Clemmons has been charged with "making terroristic threats via computer," a spokesman for Bulloch County Jail, where Clemmons is being held, told The Huffington Post on Monday.
The spokesman said the bond had been set at $20,000 -- an amount his family cannot afford to pay, according to an anonymous post on Clemmons' Tumblr page. (A GoFundMe page set up to help Clemmons' family hire a lawyer has raised about $2,000 of its $5,000 goal.)
Under Georgia state law, making terroristic threats is punishable by a $1,000 fine or a five-year prison sentence.
But some say that since Clemmons was probably not serious, law enforcement may be overreacting.
"He essentially said he was doing it as an experiment to see how long it would take to have authorities respond. That's foolhardy, but not illegal," First Amendment Center President Ken Paulson told HuffPost.
Paulson, who is also dean of the College of Mass Communication at Middle Tennessee State University, explained that what Clemmons did is different from what's known as a "true threat," where there is a reasonable belief that a violent act will be committed.
"[Clemmons'] blog offered insightful, satirical commentary on contemporary culture," writes one commenter in Georgia Southern University's newspaper. "He often posted in character, playing a role that his entire audience understood as such."

"This kid has made my nights through his blog. I in no way have ever taken what he's said to be anything more than entertaining," said another commenter on a Change.org petition asking for Clemmons to be released.
Paulson noted that the length of time Clemmons has been in jail means that a prosecutor decided his case was worth pursuing and a judge decided against dismissing it, which is "extraordinarily unusual."
Clemmons' mother, Andrea Morris, made a heartfelt appeal for her son's freedom in a comment on Change.org.
"My son was attempting to do something with his life, by attending college. He needs another chance at making things right," wrote Morris, who lives in Smyrna, Ga. "Caleb has a little sister, 7, who misses her big brother. She wants him home."
Georgia Southern University did not immediately return a request for comment from HuffPost.
ALSO ON HUFFPOST:
PHOTO GALLERY
BEFORE YOU GO
Most Conservative Colleges According To The Young America's Foundation
PHOTO GALLERY
Most Conservative Colleges According To The Young America's Foundation