Christie's auction house is best known for its fine art sales -- bidding soirees that frequently involve Pablo Picasso paintings or Andy Warhol screen prints selling for millions of dollars. But then, every once in a while, the classy art haven hosts an auction that's more likely to catch the attention of your eccentric science teacher than the institution's typical black tie investor.
Enter the "Out of the Ordinary" sale, hosted next month at Christie's London location. The auction boasts a bizarre menagerie of artifacts, from a caged taxidermy ostrich to a massive triceratops skull to a 1950's Italian robot. Comprised of over 150 lots of equally strange objects, the sale is geared towards the history buffs and science fiction fans rather than the avid modern art collectors.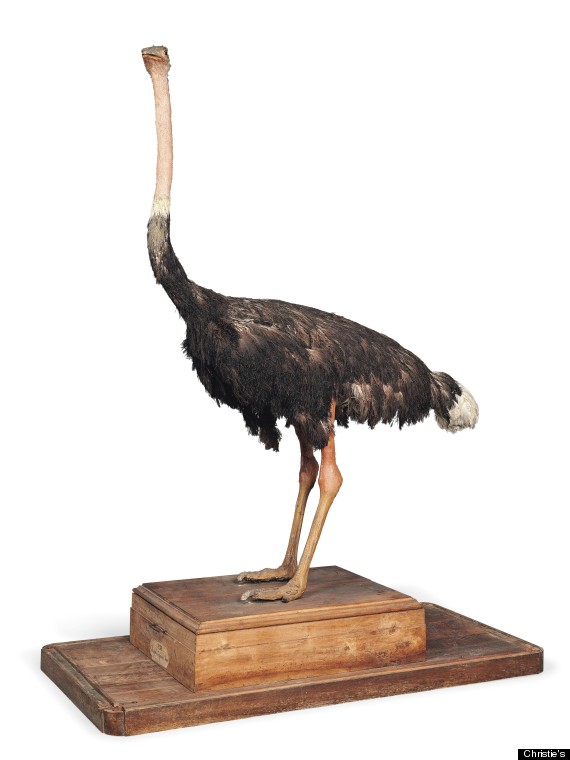 A RARE NORTH ITALIAN TAXIDERMY OSTRICH, BY JOSEPH VULPINUS, DATED 1785, Estimate: £8,000 - £12,000
Most of the oddities on the bidding block are eye-catching on their own, but each of the items comes with a background story that brings a bit more allure to the collection of misfit antiques. Take the taxidermy ostrich, for example. The well-kept specimen is thought to have once resided on the famous Italian compound known as "Little Versailles." The retro robot? It wowed audiences at the 1958 Olympics with its ability to respond to voice commands and light rays.
The list of weird offerings goes on to include the world's largest caviar dish, a two-story rocking horse, and a vintage "flying machine" imagined by Steven Spielberg in the 1980s. There's even something for the die-hard art admirers who might be shocked to see skeletons and industrial relics on the floor of their friendly neighborhood auction house. A set of eight paintbrushes once used by the great abstract painter Francis Bacon are also up for bid, poised to fetch well over $30,000.
The surprising objects are on view in South Kensington until the auction, set for September 5, 2013. If you happen to be in the area, we recommend catching a glimpse of the auction-house-turned-odditorium before it converts back to its more conservative gallery appearance. In the meantime, scroll through a preview of the curious sale below.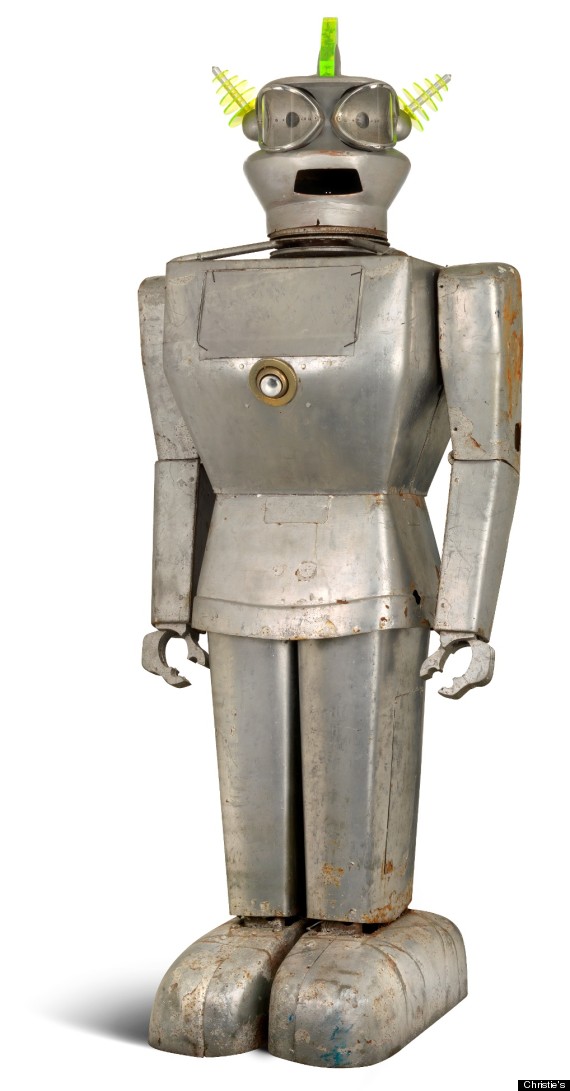 AN ITALIAN HUMANOID ALUMINIUM ROBOT ENTITLED 'CYGAN', CIRCA 1957, DESIGNED BY DR. ING FIORITO, Estimate: £8,000 - £12,000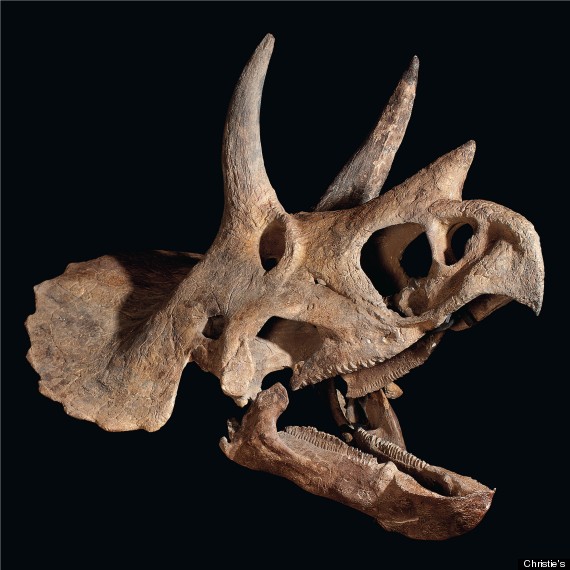 THE SKULL OF A TRICERATOPS, HELL CREEK FORMATION, MONTANA, Estimate: £150,000 - £250,000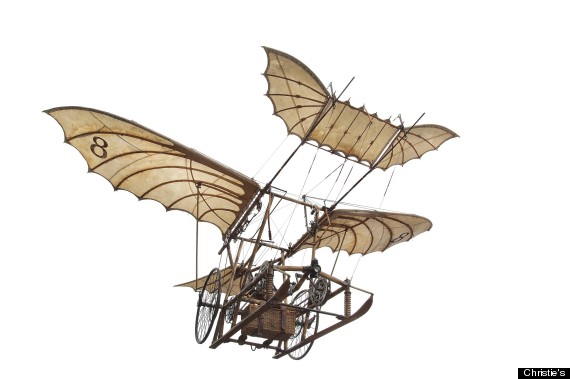 THE 'WAXFLATTER' ORNITHOPTER, BY ELSTREE FILM STUDIOS AND BIANCHI FILM AVIATION SERVICES FOR THE STEVEN SPIELBERG FILM PRODUCTION 'THE YOUNG SHERLOCK HOLMES', 1985, Estimate: £50,000 - £80,000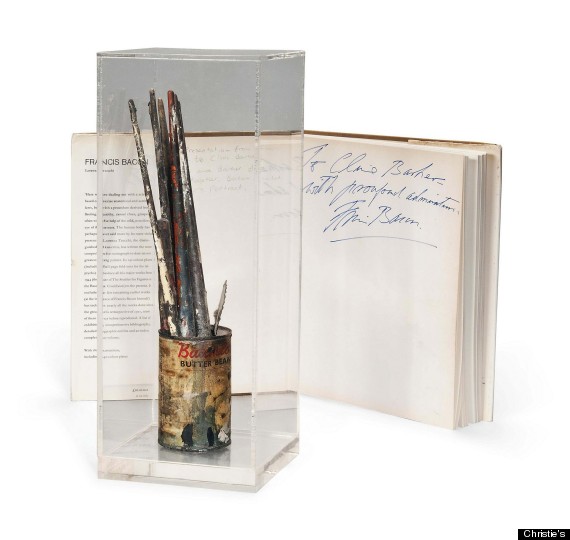 EIGHT OF FRANCIS BACON'S PAINT BRUSHES, CIRCA 1969, Estimate: £20,000-25,000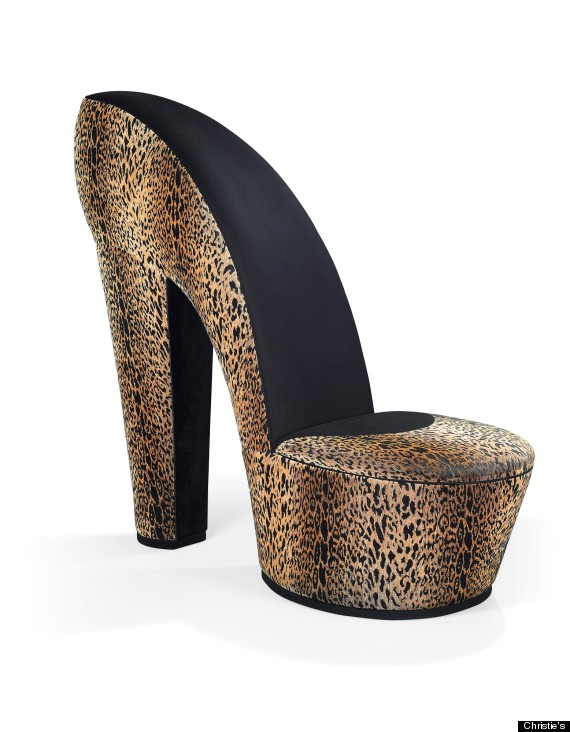 A German large-scale display-model chair, circa 1979, Estimate: £8,000-12,000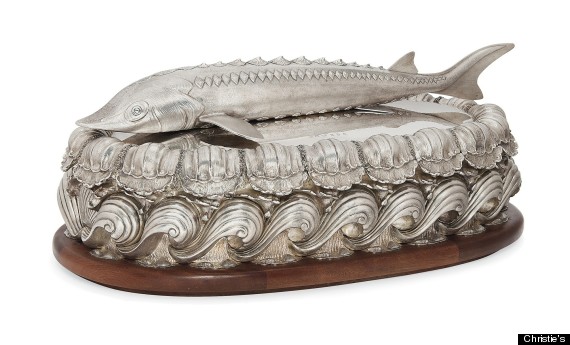 A massive silver caviar dish, mark of Erwin Eisenberg, London, 2002, Estimate: £80,000 - 100,000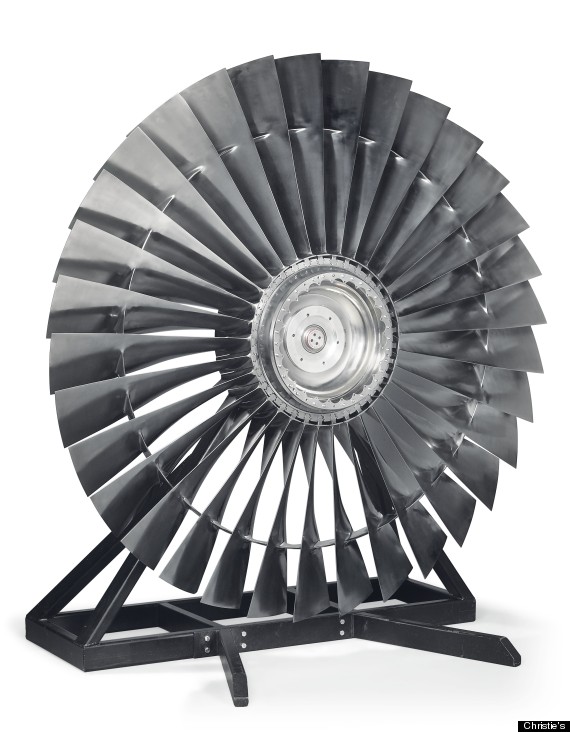 A Stage 1 Rolls Royce titanium turbine fan, circa 1970, Estimate: £60,000 – 80,000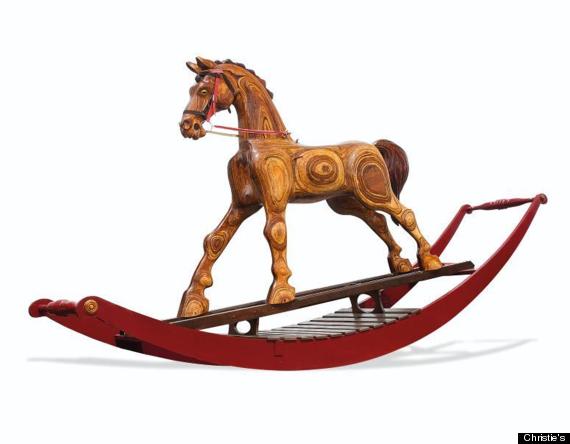 A massive marine-plywood model of a rocking horse 2012, designed by Anthony Dew, Estimate: £25,000-40,000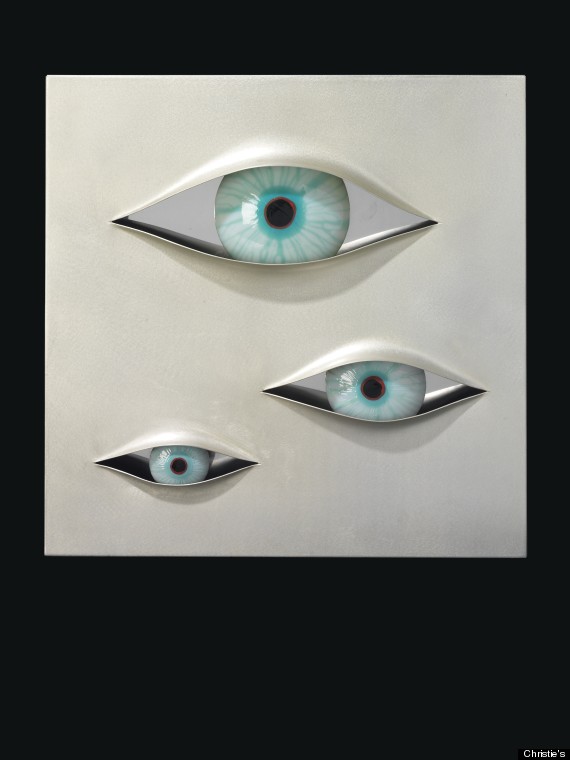 'MALIZIA' AN ANGELO BROTTO (1914-2002) ILLUMINATED WALL PANEL, CIRCA 1973, Estimate: £2,000 - £3,000
EARLIER ON HUFFPOST:
PHOTO GALLERY
BEFORE YOU GO
The Weirdest Items at Auction in 2012
PHOTO GALLERY
The Weirdest Items at Auction in 2012