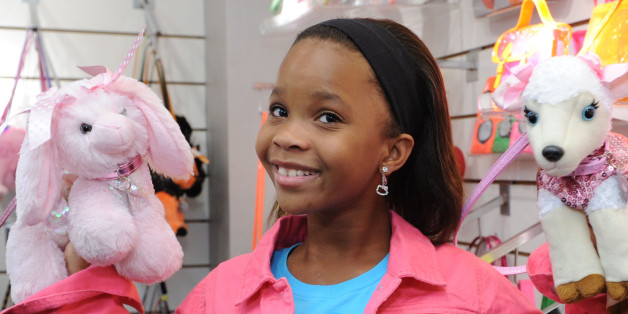 There are a few things you should know about Quvenzhané Wallis...
1. She's the youngest person ever nominated for an Academy Award in the Best Actress category.

2. She's gearing up to play the lead role in Sony's remake of "Annie."

3. She's arguably the cutest kid to hit Hollywood since Shirley Temple (evidence: this and that).
4. Last but certainly not least, she LOVES herself a puppy purse!
It was that adoration for the plush pup carryalls that brought us together on Thursday evening for a very special shopping date. Being the true star that she is, we didn't meet at a regular store -- we went straight to the source: the Poochie & Co. New York City showroom.
SCROLL DOWN FOR PHOTOS
Once we both got over the initial shock of entering what can only be described as puppy purse palooza -- a wondrous little world packed with dazzling sequin-encrusted doggies -- we got down to business. In between modeling embellished Bulldogs, fancy Labradors and bridal-themed Terriers, I chatted with the 9-year-old phenom about her signature style, her love for fashion and how she'll be spending her upcoming birthday.
When it comes to why she rarely hits a red carpet without a puppy purse on her arm, the little lady had a perfect explanation: "Cause I'm cute and I look good in it." I couldn't agree more. However, before I could enthusiastically co-sign that sentiment, Wallis quickly added: "Well, I guess you could say that -- but I don't want to be snooty or anything." Adorable and well-mannered? This chick is too much!
Wallis isn't just wowing on the red carpet, she's also inspiring others to copy her look. That includes celebrity kids like Halle Berry's daughter, Nahla, who was recently spotted wearing a Poochie & Co. kitty purse. But Quvenzhané isn't phased. "It's all good! She looks good too!" she said.
And if she couldn't get any cuter, Poochie & Co. executives asked their biggest fan to play editor and help them select which bags should be included in the company's spring 2014 collection. Wallis didn't waste any time on Thursday pointing out her faves, which included a hot pink pooch outfitted in a tutu, hat and glasses, as well as an extra-large canine-shaped tote perfect for slumber parties.
Wallis admitted that the pooch she carried at the Oscars holds a special place in her heart. However, since she owns "at least 40" of the furry carryalls, picking a favorite "gets complicated." Totally understandable (#FashionistaProblems).
Furthermore, her flair for fashion isn't fleeting. The pint-sized actress said if ever given the chance, she would love to design her own line of bags, clothing and even cosmetics.
"Nail polish, lipstick, makeup, handbags, clothing. All of the above," Wallis told The Huffington Post.
It's hard to believe how much Wallis has already accomplished, and she hasn't even been around for a decade. But that all-important double-digit birthday is just weeks away, and Wallis said she plans on spending it at Chelsea Piers roller skating and doing "everything else they have." No word yet on which lucky pup (purse, that is) will be joining her on her special day, but she'll definitely have one in tow. Obvi.
Here's a look at our super cool shopping adventure, and check out the slideshow below for more fun photos.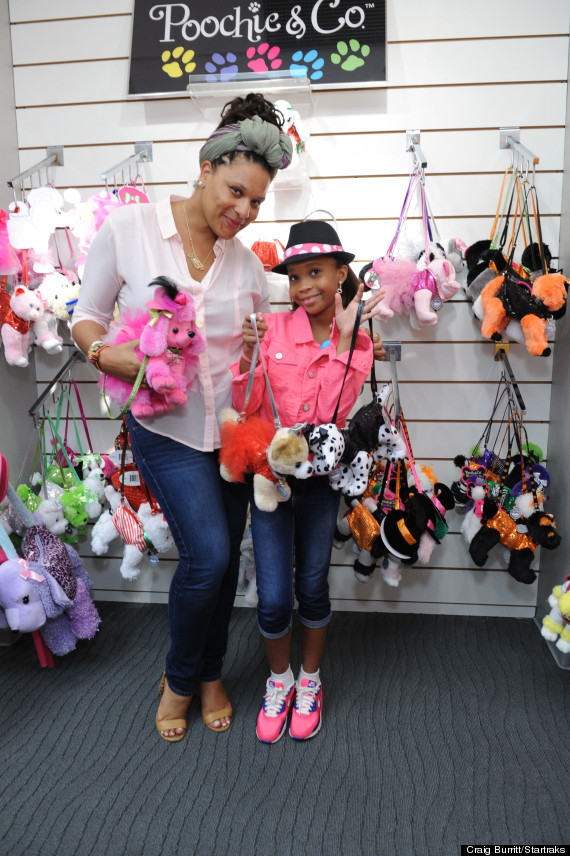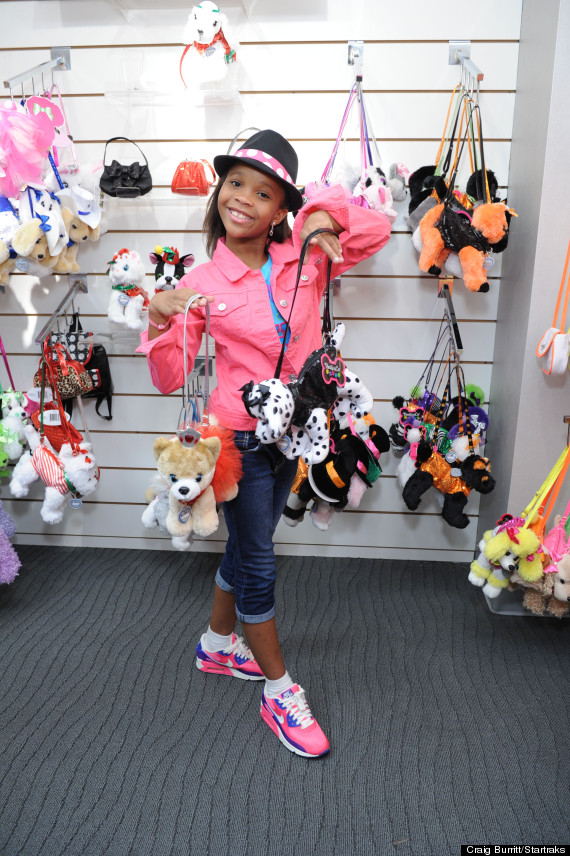 PHOTO GALLERY
BEFORE YOU GO
My Shopping Date With Quvenzhané Wallis
PHOTO GALLERY
My Shopping Date With Quvenzhané Wallis