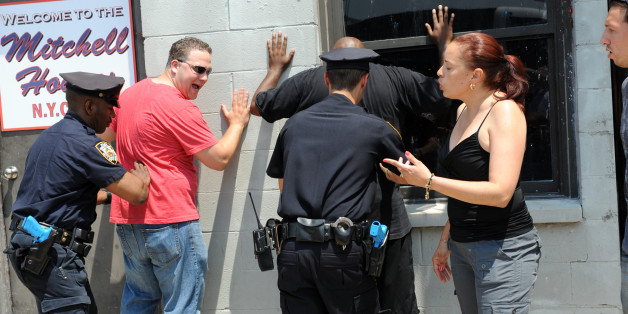 NEW YORK -- Democrats running for mayor of New York City were unanimous in embracing a federal judge's Monday ruling that the police department's stop-and-frisk policy is unconstitutional. But, perhaps unsurprisingly, some also seized the opportunity to snipe at their opponents' stance on the controversial tactic.
Beyond their general approval of Judge Shira Scheindlin's landmark decision, the candidates disagreed on whether the ruling went far enough. In her 195-page decision, Scheindlin wrote that the New York Police Department has been "conducting stops in a racially discriminatory manner," a practice that violated the Fourth Amendment, which prohibits unreasonable searches, and the Fourteenth Amendment, which guarantees due process and equal protection.
"No one should live in fear of being stopped whenever he leaves his home to go about the activities of daily life," she wrote.
But Scheindlin did not force the NYPD to completely abandon stop and frisk. She instead appointed Peter Zimroth, a former Manhattan prosecutor and top attorney in former Mayor Ed Koch's administration, as a federal monitor to see that the program comes in line with the Constitution.
Opinion polls have shown that New York Democrats oppose stop-and-frisk tactics by wide margins. Quinnipiac University found in May that 58 percent of Democrats disapprove of the practice.
"I don't think there's any doubt that if the politicians listen to what the public is saying, the cops are going to get a monitor," said Mickey Carroll, director of Quinnipiac's Polling Institute. "White voters don't like it and black voters hate it."
The contenders for the Democratic mayoral nomination have called for an array of reforms regarding stop and frisk. Some want to create an inspector general to oversee the police department; others are pushing a law that would allow victims of racial profiling to sue the NYPD; and Comptroller John Liu is calling for an outright ban on the practice.
Former city comptroller Bill Thompson, a moderate, was the only leading candidate who didn't demand additional changes. (Last month, however, he strayed into bolder territory by comparing stop and frisk to the shooting of unarmed Florida teen Trayvon Martin.)
"As I have said, the present stop-and-frisk policy violates the constitutional rights of all New Yorkers, but especially innocent blacks and Latinos," Thompson, who is the only black candidate, said in a statement after the ruling Monday. "I want ... all New Yorkers to know that I will protect our streets and protect the rights of our people. I will uphold the law and work with the Federal monitor to make sure New Yorkers never have to choose between their constitutional rights and their safety."
Council Speaker Christine Quinn favors creating an office for an inspector general, who would be appointed by the mayor, to oversee the NYPD, but she opposes legislation enabling people to sue the police for racial profiling. She said in June that if she wins the race, she will retain Police Commissioner Ray Kelly, but only if he reduces the number of stop-and-frisk cases. In the past decade, about 5 million people -- the majority of them black and Latino -- have been stopped under the policy.
"The NYPD Inspector General will help review and provide guidance to ensure that stop and frisk is done in a constitutionally sound manner that focuses on the quality of the stops, not the quantity," Quinn said in a statement Monday.
Creating an inspector general would also be one part of Bill de Blasio's three-pronged approach to eliminating the racial disparities of stop and frisk. He also supports the bill permitting lawsuits against the police department, and he says he would replace Kelly.
Monday's ruling prompted de Blasio to launch another attack on Quinn and Mayor Michael Bloomberg, two of his favorite targets.
"The courts have just affirmed facts that too many New Yorkers know to be true: under the Bloomberg Administration, with the acquiescence of Speaker Quinn, millions of innocent New Yorkers -- overwhelmingly young men of color -- have been illegally stopped," he said.
Ex-Congressman Anthony Weiner was likely pleased that Scheindlin ordered police in some precincts to begin wearing small cameras to record interactions, in an experimental program -- a proposal Weiner has also backed. Last month, Weiner made a controversial comparison to Hitler's "1938 Germany" when discussing stop and frisk.
"When the police stop tens of thousands of citizens who have done nothing wrong -- the overwhelming number being young men of color -- basic civil rights are being violated," he said Monday, adding that he hopes the federal monitor won't begin work before a new mayor and police commissioner take office.
Comptroller John Liu remains unique among the Democratic candidates in advocating for a wholesale termination of stop and frisk.
"The judge's call for reforms must be heeded, and -- longer term -- the tactic should be abolished. It's time to put an end to stop and frisk once and for all," he said.
Former City Councilman Sal Albanese, considered a long-shot challenger in the primary, is perhaps the most tolerant of stop and frisk, and on Monday was the most extreme in criticizing his opponents for wanting to change the policy.
"Today, the courts upheld what any reasonable New Yorker has known since day one: Stop and frisk is a legal police tool that keeps our city safe when it is used properly," he said. "Despite appointing a federal monitor, Judge Scheindlin didn't embrace the reckless proposals of my opponents. She didn't call to abolish stop and frisk as John Liu had hoped. She didn't call for the city to waste money on a toothless inspector general as Bill de Blasio and Christine Quinn would like. She didn't compare police officers to vigilantes, like Bill Thompson did, or to Nazis, like Anthony Weiner did."
George Arzt, a political consultant and former press secretary to Koch, doesn't think Monday's ruling boosts or hurts anyone in the mayoral race.
"Everyone was really coming along to a harder position on stop and frisk," said Arzt, who is not working with any of the mayoral candidates. "It remains a major issue and it will continue to be a top priority in the mayoral race, but almost all the candidates felt that the statistics showed it totally skewed towards minorities."