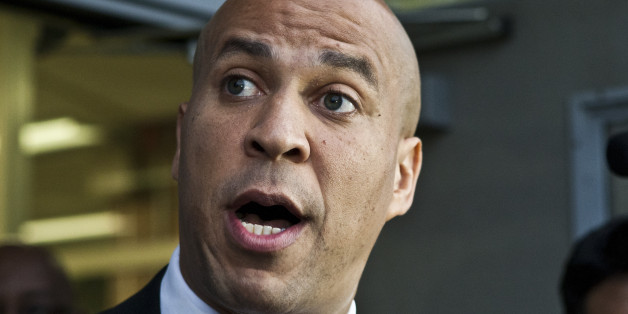 Newark Mayor Cory Booker has won the Democratic New Jersey Senate primary, the AP reports.
Booker defeated Reps. Rush Holt (D-N.J.) and Frank Pallone (D-N.J.) as well as state Assembly Speaker Sheila Oliver for the nomination. Former Bogota Mayor Steve Lonegan won the Republican nomination.
Booker and Lonegan will face off to fill the Senate seat of the late Sen. Frank Lautenberg, who passed away in June.
The election is on a compressed schedule. The day after Lautenberg's death, Republican Gov. Chris Christie scheduled the primaries for Tuesday and a special election for Oct. 16, 20 days before the voting day on which he's seeking re-election. The move drew criticism, with some opponents saying Christie was spending $12 million on an extra election so he could avoid being on the same ballot as Booker, a claim Christie denies.

Booker ran with the support of New Jersey's Democratic establishment and celebrities from across the country. Oprah Winfrey joined him at a fundraiser, and Eva Longoria campaigned with him.

Booker is famous in the political world for his life story and his social media fanaticism: He has 1.4 million followers on Twitter, which he uses to field complaints about local issues such as sinkholes and to dispense inspirational quotes.

...

Lonegan, who stepped down from his job as state director of the anti-tax group Americans for Prosperity, focused his primary campaign on blasting Booker. He held a news conference to ridicule Booker's broad anti-childhood poverty plan and another at the scene of a homicide in Newark to question whether Booker has done much to reduce crime. He's also been to the New York headquarters of Waywire, a technology startup Booker co-founded, to criticize his role in it.
Booker tweeted his thanks after his nomination was announced Tuesday night:
Honored to receive Dem nomination for #NJSen today. This is our victory - thank you. Please continue to run with me https://t.co/0lIwv7LWBb

— Cory Booker (@CoryBooker) August 14, 2013
Thanks 2 all who worked/canvassed/called & spread the word 4 our campaign. "If u want to go fast go alone, if u want to go far, go together"

— Cory Booker (@CoryBooker) August 14, 2013