'Nashville' Season 2 Teaser: Rayna Is In A Coma (VIDEO)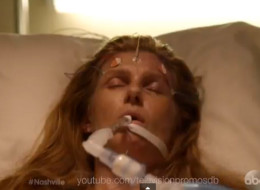 It's not looking great for Rayna Jaymes in this new "Nashville" Season 2 teaser (above).
The new TV spot features the major car crash from "Nashville's" Season 1 finale and hints at what happens to Deacon (Charles Esten) and Rayna (Connie Britton) following the big wreck. While Rayna's family is watching her in the hospital with fear in their eyes, Juliette Barnes (Hayden Panettiere) is busy lamenting, "Now I have to compete with a saint in a coma."
Though things don't look good for Rayna in the promo, ABC boss Paul Lee told journalists earlier this month that "Nashville" Season 2 will see Britton's character take the wheel. "I think they said to themselves they want to turn cards over more aggressively as they move through it," Lee said at Television Critics Association Summer 2013 press tour. "You're starting to see Connie [Britton] really drive plot, which is something I know the showrunners really wanted to do, and you're going to see that next season."
"Nashville" Season 2 will feature a few new faces as well: "Rules of Engagement" star Oliver Hudson will join the cast as a potential new love interest Rayna; "Sharknado" actress Aubrey Peeples will recur as Layla, a reality competition contestant; and Chaley Rose will play Zoey, Scarlett's friend. Chris Carmack and Lennon and Maisy Stella have also been promoted to series regulars.
"Nashville" Season 2 premieres Wednesday, Sept. 25 at 10 p.m. ET on ABC.