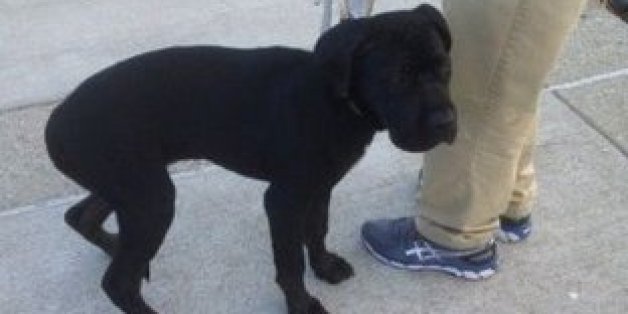 Tales of survival in the frigid waters of the San Francisco Bay are generally reserved for Alcatraz escapees and serious triathletes. But now, thanks to a good samaritan and a group of wind surfers, an adorable puppy has survived the swim, as well.
According to the San Francisco Chronicle, Adam Cohen, 55, was on his unusual commute home from San Francisco to Berkeley via a motorized raft in the bay on Monday when he spotted a group of windsurfers gathered with their sails down.
Thinking they may be in trouble, Cohen stopped to check in.
"They had this little puppy, this sweetheart of a puppy on one of their boards," said Cohen's wife, Lisa Grodin, to KTVU. "They were trying to keep her out of the water and she was found paddling in the middle of the bay."
The windsurfers were reportedly trying to convince the Coast Guard to rescue the puppy, who was shivering and disoriented, when Cohen offered to take her home.
"We reached down, picked her up and put her in the boat," Cohen told the Chronicle.
Story continues after slideshow...
Once home, Cohen and his wife dried her off and wrapped her in blankets. A few hours later, she was reportedly fine and recovering well.
According to KTVU, Cohen's wife took the dog to the vet the next morning. Though the puppy had no microchip, the vet said she likely had an owner since she was well-fed and had a nice collar.
The couple told KTVU that they may keep the dog, but are hoping to find her owner.
Cohen's isn't the only unbelievable Bay Area-based dog rescue. Last year, Kabang -- the famed hero dog who lost her snout saving two children from an oncoming motorcycle in the Philippines -- was treated at UC Davis before returning home seven months later.

SUBSCRIBE AND FOLLOW
Get top stories and blog posts emailed to me each day. Newsletters may offer personalized content or advertisements.
Learn more