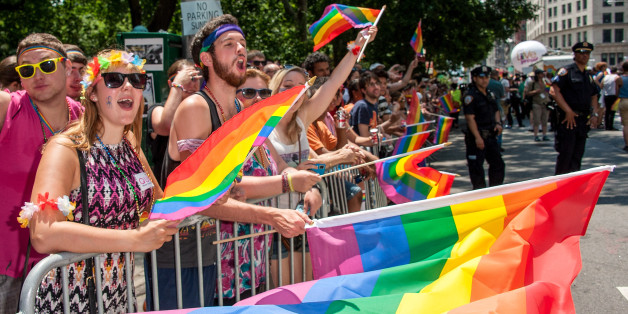 The original "Ex-Gay Pride" might have been an overall bust, but that hasn't stopped the right-wing group behind its inception from trying a second time.
As Right Wing Watch originally reported, Voice of the Voiceless and Equality and Justice for All have declared September "Ex-Gay Awareness Month," which will include a special "lobbying day and evening dinner" in Washington, D.C. on Sept. 30.
Details of those events, which include a "pre-event get-together and lobby education training" event on Sept. 29, can be found here.
Both Voice of the Voiceless and Equality and Justice for All are two new ex-gay rights organizations that were to be launched by the Family Research Council's legislative affiliate, FRC Action, in July.
Right Wing Watch also pointed out that Voice of the Voiceless' co-founder DL Foster had been an extensive blog condemning the 2011 repeal of "Don't Ask, Don't Tell." Though the original blog post has since been removed, Right Wing Watch contains an excerpt:
The assassination of DADT created an even larger, more critical issue for the military who right now is a general with no clothes on. One is that its given this unchecked, almost covert power, to a group of people who demonstrated numerous times that they want revenge for the perceived and real injustices done to them by their heterosexual neighbors.
The blog apparently continued:
But now, homosexuality has the "get out of jail" free card while the other proclivities are still in stripes. That's patently unfair. It's an unspoken belief that soon because the filed will need to be leveraged, other sexual activities will go the way of homosexuality and be sanctified. Then something Al Qaeda can't do will be accomplished by our own hands.
Scheduled for July 31, the group's original "Ex-Gay Pride" event was reportedly canceled due to "harassment" and "security threats."
Meanwhile, a July 31 "ex-gay lobby day" on Capitol Hill drew less than 10 people, according to Right Wing Watch.
ALSO ON HUFFPOST:
PHOTO GALLERY
BEFORE YOU GO
Ridiculous 'Cures' For Homosexuality
PHOTO GALLERY
Ridiculous 'Cures' For Homosexuality