Jason Simione's Facebook page lists his relationship status as, "It's complicated." That's quite an understatement if what police say is true.
Simione, the owner of a military equipment manufacturing company, was arrested in Dania Beach, Fla., on Monday after allegedly trying to hire a hitman to kill his 28-year-old wife, her mother, her brother and their 9-month-old son.
The 39-year-old former firefighter allegedly asked one of his El Salvadoran employees if he could help him hire a hitman. The employee said Simione offered $150,000 for the killings and said he wouldn't mind if the hitman also raped his wife in the process, according to police.
Simione allegedly didn't want his infant son, Jett, to live if he didn't get custody. (The child's mother, Megumi Simione, had moved out in February when the couple split up.)
Authorities said Simione was in possession of a virtual arsenal of weapons, as well as bomb-making materials, the Miami Herald reports. In all, police said they found 68 rifles, shotguns and handguns, including a .50 caliber military-style sniper rifle that could "put a hole in an engine block," according to Broward County Detective Louie Rivera.
Check out a photo of the .50 caliber sniper rifle here.
Witnesses told authorities that Simione, who owns Fort Lauderdale-based Bulldog Tactical Equipment, was stockpiling weapons and making bombs, threatening to kill anyone who tried to remove his child.
Police described him as a "survivalist" who was preparing for a government collapse or natural disaster, the Miami Herald reports.
Simione's behavior at work was erratic, too, employees say. According to an affidavit, Simione would sometimes use "racial epitaphs" [sic] to refer to his employees, and he talked about how President Barack Obama should be killed for being a "n**ger."
The affidavit and a press release from the Broward County Sheriff's Office say Simione was allegedly also injecting himself with an unknown substance thought to be steroids.
Simione is charged with three counts of solicitation to commit first-degree murder, one charge of threatening to discharge a destructive device, and one count of child abuse for allegedly throwing his son on a table during an argument at work.
All Simione's guns were legally-owned, the police statement says.
LOOK: Some of Simione's guns on display at a police press conference following his arrest. (photo credit: Broward County Sheriff's Office)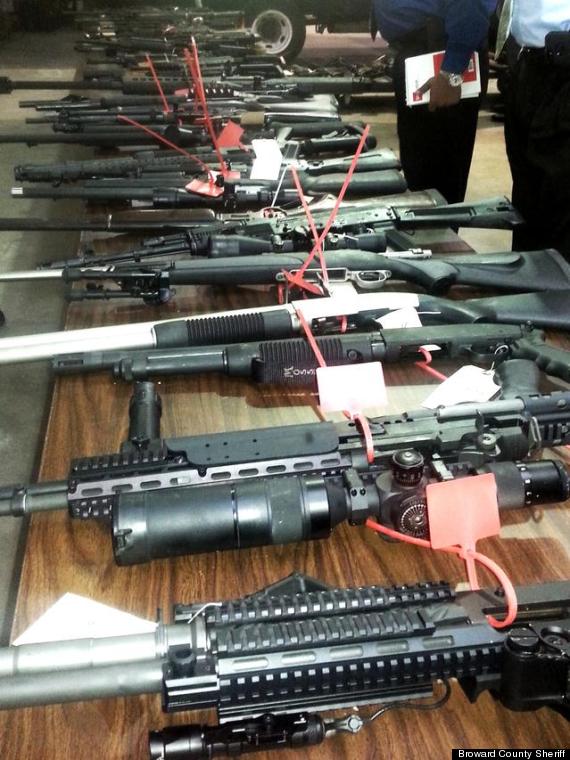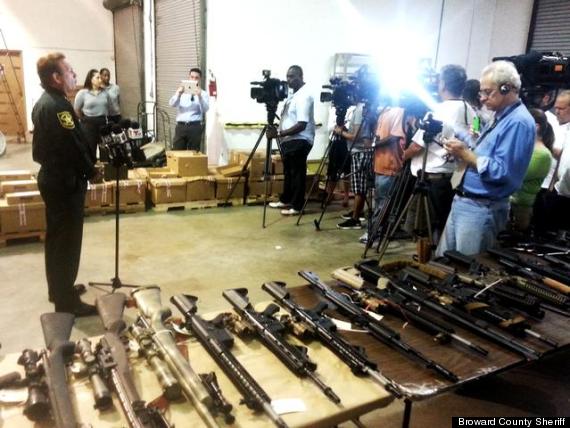 Correction: This article has been revised to reflect that Simione is a military equipment manufacturer, not a weapons manufacturer.

(hat tip Reddit)
ALSO ON HUFFPOST:
PHOTO GALLERY
BEFORE YOU GO
Questionable Parenting
PHOTO GALLERY
Questionable Parenting