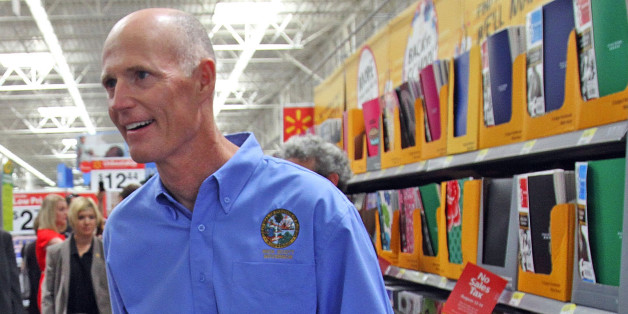 The good news: Gov. Rick Scott is offering Florida teachers $250 debit cards to buy school supplies.
The bad news: They get the cards over a month after school has officially begun.
The timing is such a fail that only seven of the state's 67 school districts have enrolled in the program, reports the Tampa Bay Times.
Scott's program was announced on July 31 via Twitter:
OFFICIAL UNVEILING- Teacher Supply Debit Card. Purchases made with this card are tax free all year. #ItsWorking pic.twitter.com/YplKBr1edA
— Rick Scott (@FLGovScott) July 31, 2013
Despite the hashtag "#ItsWorking," the program has one major flaw: By July 31, most teachers have already reached for their own wallets to stock their classrooms, expecting $180 to be reimbursed by check as in previous years.
"If they could have had the cards at the beginning of the school year, or even a few weeks before, it might have made more sense," Nadine Drew with the Broward school district told Tampa Bay Times. Broward initially agreed to participate in the program but later opted out.
The cards likely won't be distributed until around September 30, according to a statement by Pinellas County Schools, which chose not to enroll in the card program so that their teachers could be reimbursed sooner.
The seven counties to enroll in the program include the state's largest districts, Miami-Dade and Orange, as well as smaller districts like Hamilton, Hendry, Jefferson, Lafayette and Levy.
Teachers in the remaining 60 school systems will still be reimbursed up to an average of $250, but via checks.
Scott's debit card program was one of several pushes to improve investment in education in the state, including teacher pay raises and support for Florida's transition to Common Core standards.
"Because of Florida's hardworking teachers, the Sunshine State jumped to the top ten in the nation for the overall quality of its education system, and that's among the many reason we worked to secure $480 million for teacher pay raises and additional resources for school supplies," he said in a statement. "Supporting Florida's teachers is a vital part of our ongoing commitment to make Florida the best place in the world to find a job and raise a family."
Yet critics are quick to point out that it was Scott and other GOP leaders that initiated an "assault" on Florida's education, and that his latest tactics do not "erase the Republicans' long record of hurting our parents, teachers, and students."