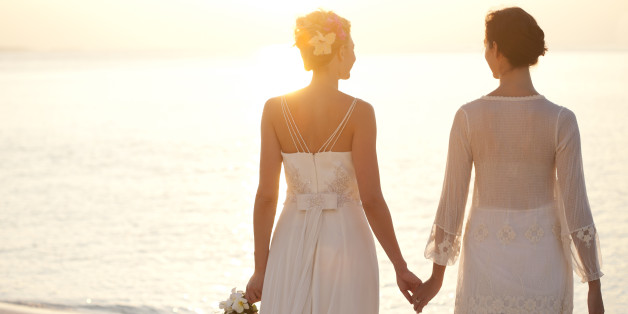 Now that more same-sex couples can legally tie the knot, questions are being raised about the "right" way to plan and celebrate the nuptials of two brides or two grooms. While we believe there's no right or wrong way, per sé, we want to offer our readers at least a little bit of guidance.
Over the weekend, our reader Dana Kacedon Lane asked us about the protocol for same-sex wedding showers, writing: "If it's a gay couple, do you still invite the ladies? Do you have separate showers? We ran into this problem with my best friend's wedding when she and her partner got engaged and we ended up not doing a shower. Now my brother and his partner are getting married and I just don't know what to do. Any advice on what other couples have done?"
We turned to LGBT wedding planning expert and HuffPost blogger Bernadette Coveney Smith to help us navigate these murky waters. See what she had to say below:
Wedding showers and bachelor and bachelorette parties are heterosexual traditions but they're also a really good time -- and another excuse for a party.

Same-sex couples who are more settled tend not to have these parties, while couples that are starting out (and of typical marrying age) often do. And these parties are typically open to all genders!

The gay men have wedding showers, too -- they are not reserved for just the brides. Showers are joint operations, with both partners in attendance. Although some guys call it a "thunderstorm" not a shower -- how butch!

When it comes to the bachelor/bachelorette parties, some same-sex couples have a joint party and some have separate parties. If they have separate groups of friends, separate parties are generally the way to go. But if their friend groups are merged, then I suggest a big party. Right now, I have two brides who are partying independently and meeting up at a club at the end of the night.
Below, 10 beautiful same-sex weddings photos.
PHOTO GALLERIES
Beautiful Same-Sex Weddings
Keep in touch! Check out HuffPost Weddings on Facebook, Twitter and Pinterest.