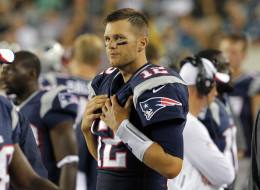 FOXBOROUGH, Mass. -- Patriots quarterback Tom Brady limped off the practice field after appearing to hurt his left leg while throwing a pass.
Brady was not hit while throwing a fade to rookie Aaron Dobson that fell incomplete, but ended up on the ground holding his leg. He walked off gingerly but without assistance.
He was met by a member of the team's athletic training staff and walked to the adjacent indoor practice facility. He had not returned to the field after about 30 minutes.
Brady tore the anterior cruciate ligament in his left knee during a game in 2008 and missed most of that season.
The Patriots were holding a joint practice with the Tampa Bay Buccaneers. Ryan Mallet replaced Brady at quarterback after he the former league MVP came out.