A David Sedaris story is getting the movie treatment for the first time, and the new trailer for "C.O.G." provides insight into the popular author's life. The autobiographical short story of the same name, published in the 1998 collection "Naked," chronicles a pompous young man (Broadway staple and "Glee" actor Jonathan Groff) who goes "off the radar" in Oregon and finds work on an apple farm. The dramedy co-stars Corey Stoll, Denis O'Hare, Casey Wilson and Troian Bellisario.
"C.O.G." premiered at the Sundance Film Festival and served as the opening-night selection at last month's Outfest. The movie hits theaters Sept. 20.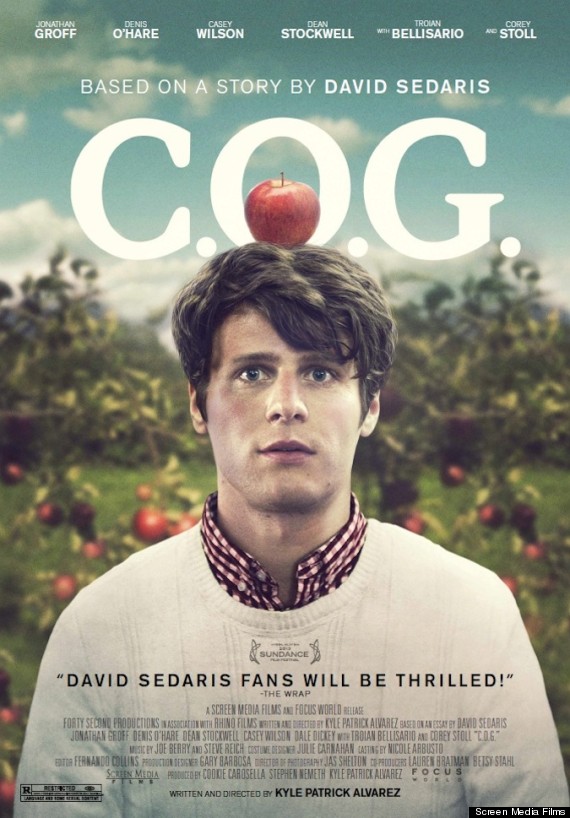 Bumped from 2012 after the tragic murders at a "Dark Knight Rises" screening in Aurora, Colo. this past July, "Gangster Squad" puts Ryan Gosling back in theaters for the first time since 2011.

He told you he'd be back.

Nicholas Hoult (Jennifer Lawrence's boyfriend) stars as a zombie who finds love in this comedy from "50/50" director Jonathan Levine.

Steven Soderbergh's final theatrical film co-stars his "Magic Mike" muse Channing Tatum, so you know it must be good.

Get used to seeing Melissa McCarthy. The "Bridesmaids" scene-stealer stars in two high profile comedies in 2013. "Identity Thief" is the first. From "Horrible Bosses" director Seth Gordon.

Actual movie alert: Jason Schwartzman (!), Bill Murray (!!) and Charlie Sheen (!!!) star in a new comedy from director Roman Coppola.

Happy Valentine's Day, motherf---er!

Fresh off her wet and wild performance in "The Paperboy," Nicole Kidman stars as mommie dearest in "Stoker," the English-language debut from director Park Chan-wook ("Oldboy").

We're off to see the wizard, and he looks like ... James Franco.

Tina Fey and Paul Rudd made a movie together so you can die now.

Steve Carell and Steve Buscemi star as a pair of fading Las Vegas magicians who try to overcome a younger(ish) upstart played by Jim Carrey. This one has the best bad wigs since "Kingpin." Alan Arkin and James Gandolfini co-star to help with your "Argo"/"Zero Dark Thirty" fanfic.

Go, Joe! Set for release in the summer of 2012, "G.I. Joe Retaliation" will arrive in theaters in 2013 with more dimensions (it's in 3D) and more Channing Tatum (reshoots were done to add the 2012 It-Boy to further scenes).

More Gosling! 2012 was unfortunately devoid of The Gos, but 2013 will feel like 2011 all over again. In addition to "Gangster Squad," Gosling stars with Bradley Cooper in this indie thriller from Derek Cianfrance ("Blue Valentine").

Sandra Bullock + Melissa McCarthy + "Bridesmaids" director Paul Feig (x) M.I.A.'s "Bad Girls" = !!

Robert Redford directs an all-star cast (including himself) in this political thriller.

A look at how Jackie Robinson became the first African-American to break baseball's color barrier. Harrison Ford (and some hilarious make-up left over from "J. Edgar") stars as Branch Rickey.

According to star Ben Affleck, "To the Wonder" makes "The Tree of Life" look like "Transformers." Terrence Malick forever, y'all!

Tom Cruise stars as WALL*E an engineer working on the remnants of Earth to repair drones in the post-apocalyptic future. Spoiler: He's not alone. From director Joseph Kosinski ("TRON: Legacy").

Michael Bay's own private "Out of Sight": The passion project -- based on a Miami New Times article series -- stars Mark Wahlberg and Dwayne Johnson as a pair of steroid-addled bodybuilders whose kidnapping and extortion plans go wrong.

He's back and darker than ever -- at least judging from the trailers thus far. Director Shane Black ("Kiss Kiss Bang Bang") replaced Jon Favreau.

All Gats everything. Baz Luhrmann -- with some help from Jay-Z -- adapts the famed F. Scott Fitzgerald novel of excess in West Egg. Leonardo DiCaprio stars as the title great one; Tobey Maguire is Nick Carraway.

Secrets: The final frontier. J.J. Abrams' "Star Trek" sequel is a mystery wrapped in a riddle wrapped in three dimensions. Benedict Cumberbatch plays the bad guy who isn't Khan. (Or is he?)

The 2012 festival favorite stars Greta Gerwig as the title Frances, a young woman who doesn't totally have her life together (but does have it together enough to dance down the street while David Bowie plays on the soundtrack). Noah Baumbach directs.

Last call for The Wolf Pack.

Yep, another one.

Will Smith stars with his son Jaden Smith in the latest from M. Night Shyamalan.

What happens when "Inception" meets "The Prestige"? This, apparently.

You never got that "Wedding Crashers" sequel, so "The Internship" will have to suffice. Vince Vaughn and Owen Wilson star, of course.

You will believe Zack Snyder can make a good movie.

The incredibly filthy (and funny) red band trailer above does more to goose enthusiasm than any little blurb could ever hope. Early contender for the most lolarious movie of 2013.

Brad Pitt fights zombies.

This prequel to "Monsters Inc." takes Sully and Mike back to college.

Jamie Foxx is the President of the United States. Channing Tatum is the Secret Service agent in charge of protecting him. Roland Emmerich is the director. This is going to be the most ridiculous(ly awesome) blockbuster of 2013.

Johnny Depp plays Tonto in this big-screen adaptation of "The Lone Ranger" from "Pirates of the Caribbean" director Gore Verbinski.

Monsters vs. robots!

Adam Sandler, Chris Rock, David Spade and Kevin James reunite for another installment of "Grown Ups." From the files of "why not?": Taylor Lautner co-stars.

Neill Blomkamp's last film was "District 9," so everyone should be sufficiently excited for "Elysium." Matt Damon and Jodie Foster star.

Nothing says summer action duo like Jeff Bridges and Ryan Reynolds.

He's back and better than ever. At least that's what everybody hopes following "X-Men Origins: Wolverine."

Aubrey Plaza's indie sex comedy stars your favorite people (Plaza, Rachel Bilson, Connie Britton, Bill Hader, Alia Shawkat, Andy Samberg).

Ben Affleck and Justin Timberlake go toe-to-toe in this drama about online gambling

Vince Vaughn is back in a new comedy about a man who realizes his many trips to the sperm bank 20 years earlier led to 533 children. Yep. TV faves Chris Pratt and Cobie Smulders co-star.

The first of two potential Oscar movies from Tom Hanks focuses on Richard Phillips, who took on Somali pirates and survived. Paul Greengrass (the "Bourne" franchise) directs.

Spike Lee's remake of the cult South Korean film from Chan-wook Park stars Josh Brolin as a revenge-seeking mystery man.

Simon Pegg, Nick Frost and Edgar Wright. See you there.

Move over, Avengers. The sequel to "Thor" puts your favorite god (Chris Hemsworth) back in front of his own movie.

The odds are good you'll see the "Hunger Games" sequel over Thanksgiving next year.

Bring a snack.

He's Ron Burgundy. Again.

What's cooler than being cool? George Clooney's World War II-era heist thriller, which stars Clooney, Matt Damon, Bill Murray and Daniel Craig.

Tom Hanks' second Oscar bid is about Walt Disney's efforts to make "Mary Poppins."

Ben Stiller's long-gestating passion project is a high-concept comedy about the wild imagination of Walter Mitty. Stiller directs and stars with help from Adam Scott and Kristen Wiig.

George Clooney and Sandra Bullock star in the new film from Alfonso Cuaron ("Children of Men"). Get excited ... now.