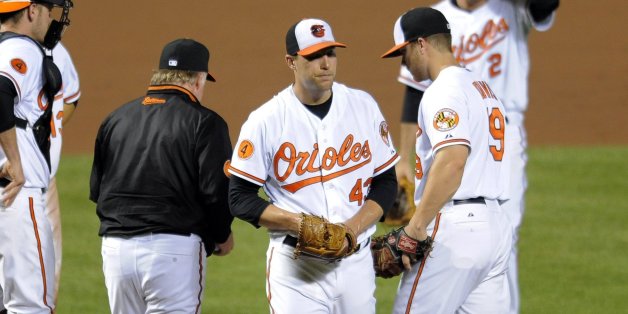 In a world where Mariano Rivera can blow three straight save opportunities there may be no sure bullpen options. Not even the relief pitcher with the most saves in the majors this season can be trusted.
Baltimore Orioles closer Jim Johnson led all pitchers with 39 saves this season when play began on Thursday but he also led both leagues with nine blown saves. A year removed from notching an MLB-leading 51 saves, which set a franchise record, Johnson is anything but automatic in 2013.
For the second time this season, Johnson has blown three consecutive save opportunities of his own. According to ESPN Stats & Info, he went all of 2012 with a total of three blown saves in 54 chances. Ray Fager of CSN Baltimore pointed out that Johnson is approaching the single-season record for most blown saves (14).
Despite Johnson's struggles, Orioles manager Buck Showalter doesn't sound like he's going to make any changes to the bullpen.
"Am I going to sit Adam Jones because he had a rough day today?" Showalter said after Baltimore's third straight loss on Wednesday, via the Associated Press. "I as a manager can't live in that world. We've got a lot of pieces in the chain that have to work and every club does. And I'll be the first guy to make adjustments if they need to be made, but there's a lot of things that we've got to shore up besides that."
Do you think Showalter should shake things up and use a different reliever to close games?
Here are all of Johnson's blown saves this season.
PHOTO GALLERY
BEFORE YOU GO
Jim Johnson's Blown Saves
PHOTO GALLERY
Jim Johnson's Blown Saves