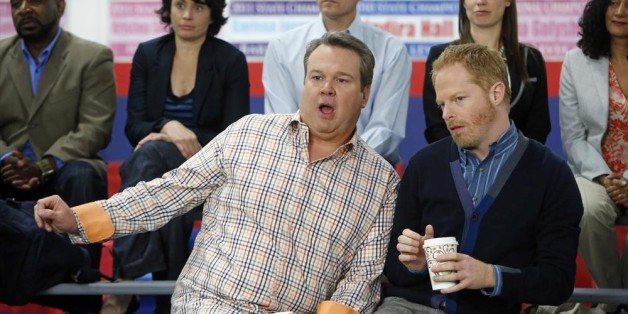 Will Cam and Mitch finally tie the knot in Season 5 of "Modern Family"? Though it's not yet clear, Deadline reports that the ABC comedy's upcoming premiere will take on the recent legalization of same-sex marriage in California.
At an onstage table read on Tuesday night, "Modern Family" writer Jeffrey Richman admitted that the writing team had started writing their storyline ahead of the June 26 Supreme Court ruling that legalized gay marriage in California, according to Deadline.
"We would have been extremely unlucky writers had the decision gone the other way," Richman said.
Creator Steve Levitan and the rest of the "Modern Family" cast stayed quiet on any major plot points of Season 5, including whether or not same-sex couple Cam (Eric Stonestreet) and Mitch (Jesse Tyler Ferguson) will get married.
But at the Entertainment Weekly & ABC-TV New York Upfronts party in May, Ed O'Neill -- who plays family patriarch Jay Pritchett and Mitch's dad -- said he could definitely see it happening.
"It's not a bad bet," O'Neill told The Huffington Post.
For more on the "Modern Family" premiere, head over to Deadline.
Season 5 of "Modern Family" will premiere on Wednesday, Sept. 25 at 9 p.m. on ABC.
PHOTO GALLERY
BEFORE YOU GO
'Modern Family'
PHOTO GALLERY
'Modern Family'