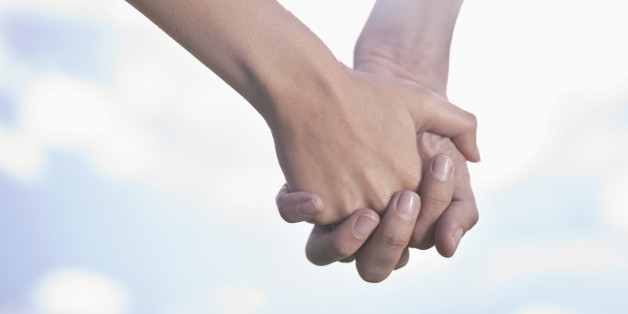 Getty
Pride House International, a coalition of lesbian, gay, bisexual and transgender sports and human rights groups, has launched a campaign that calls for athletes, spectators, coaches and attendees at the 2014 Olympic games to hold hands in response to Russia's violence and legislation targeting the LGBT community.
The act of same-sex hand holding will, beyond a symbolic gesture of unity and opposition, directly violate Russia's anti-gay "propaganda" law.
Russian officials have repeatedly stressed that the law will remain in effect and apply to all those attending the 2014 Sochi Olympics. Additionally, the International Olympic Committee announced in a statement earlier this week that attendees and athletes must adhere to the anti-LGBT legislation, despite previous contradictory statements from officials.
According to Pride House, Konstanin Yablotskiy, a Pride House member from the Russian LGBT Sports Federation, originally envisioned the same-sex hand-holding initiative. In a statement via The New Civil Rights Movement, Yablotskiy said:
Long after the 2014 Olympics, we in Russia will continue to live under this horrible law. For a few weeks we have the opportunity to bring the attention of the world to the situation in Russia. The Same-Sex Hand-Holding Initiative enables everyone to get involved with a simple yet iconic gesture. We know from gestures like Usain Bolt's lightning stance the impact of such images that are simple, replicable, and identifiable.
Previous initiatives in response to the violence and legislation targeting LGBT individuals have varied in range from protests of Stoli Vodka to petitioning the International Olympic Committee to acts of self-mutilation.
Pride House states that they are "betting the world can have an effect on public opinion in Russia, if we all just stand united, hand in hand."
Gay Pride Around The World
YOU MAY LIKE
CONVERSATIONS
FOLLOW HUFFPOST